Key Points – Thursday, May 18, 2017:
Synopsis: Good Thursday morning, another day another busy forecast! Today we discuss another windy start to the day, the chance for strong storms along a front later tonight, as well as the increasing confidence for heavy rainfall into the weekend…a pattern change looms next week that will bring cooler than normal temps to the Midwest. Have a wonderful day! 
Current Radar: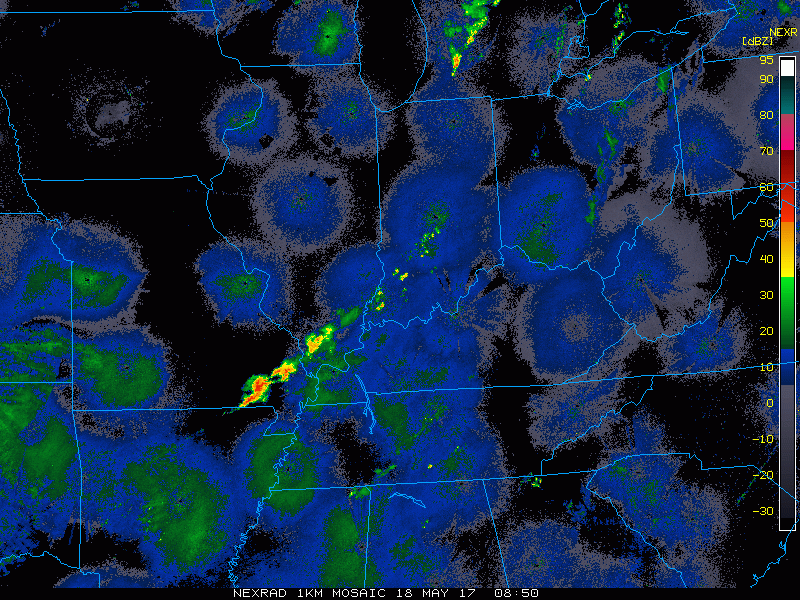 Another windy day especially across the northern half of Indiana, southern Michigan into Ohio…again, think gusts topping 40mph will be possible.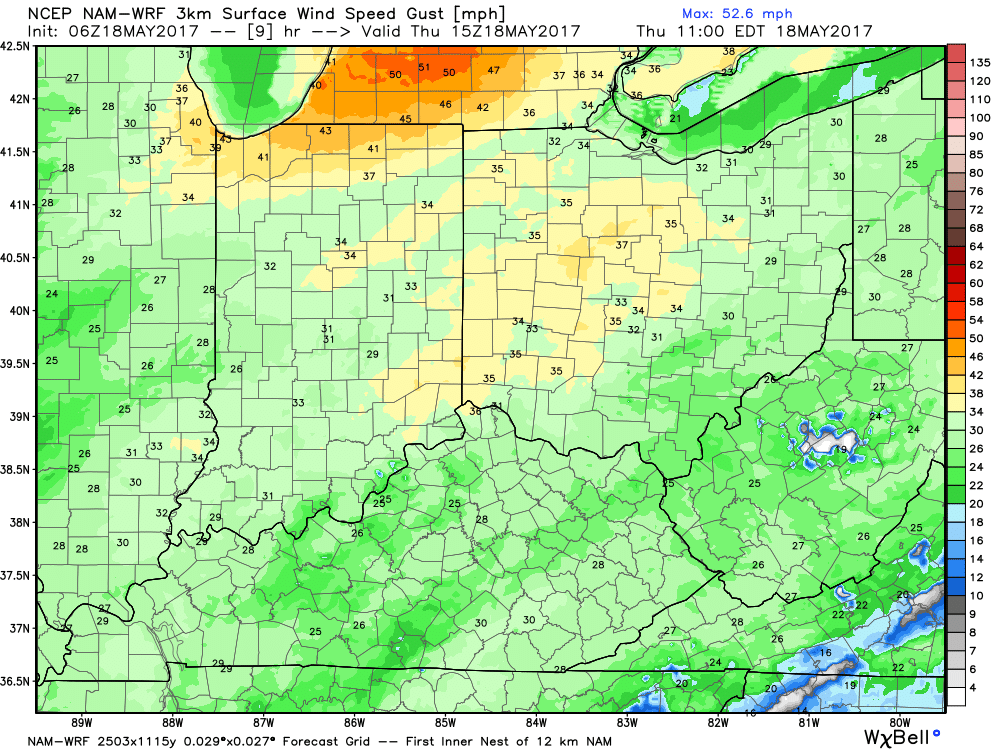 Slight risk for strong storms today favoring northern Indiana and Northwest Ohio with the risks mainly of damaging winds and isolated large hail…but there is a low chance for an isolated tornado along the front.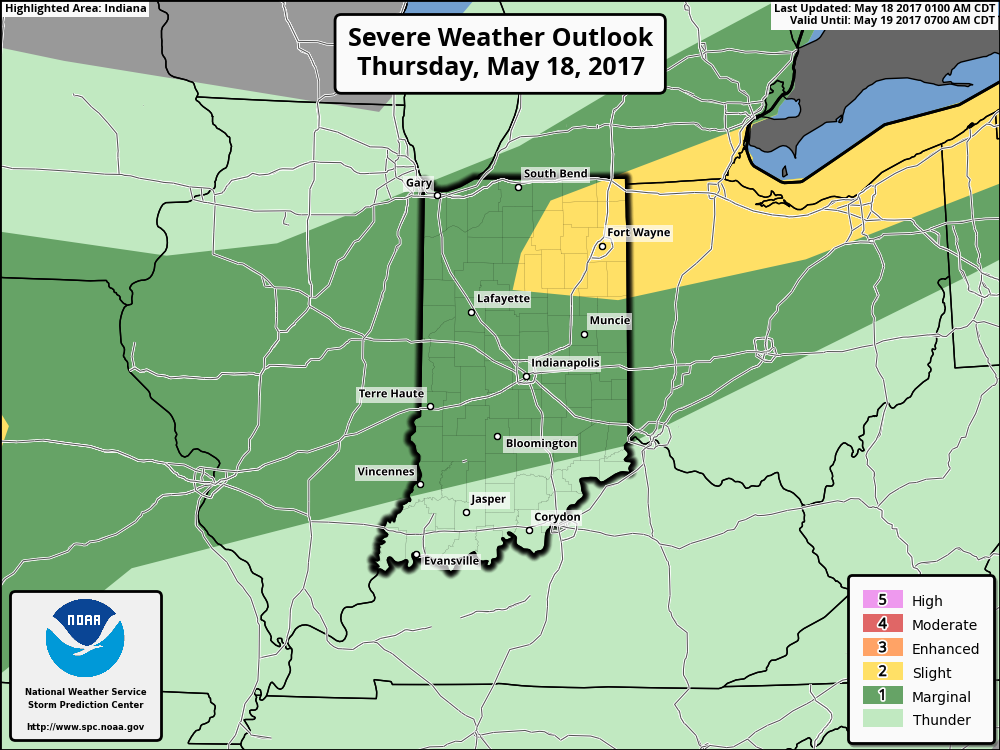 Simulated radar product from the NAM-3km model that shows the ~30% coverage of storms tonight along the frontal boundary.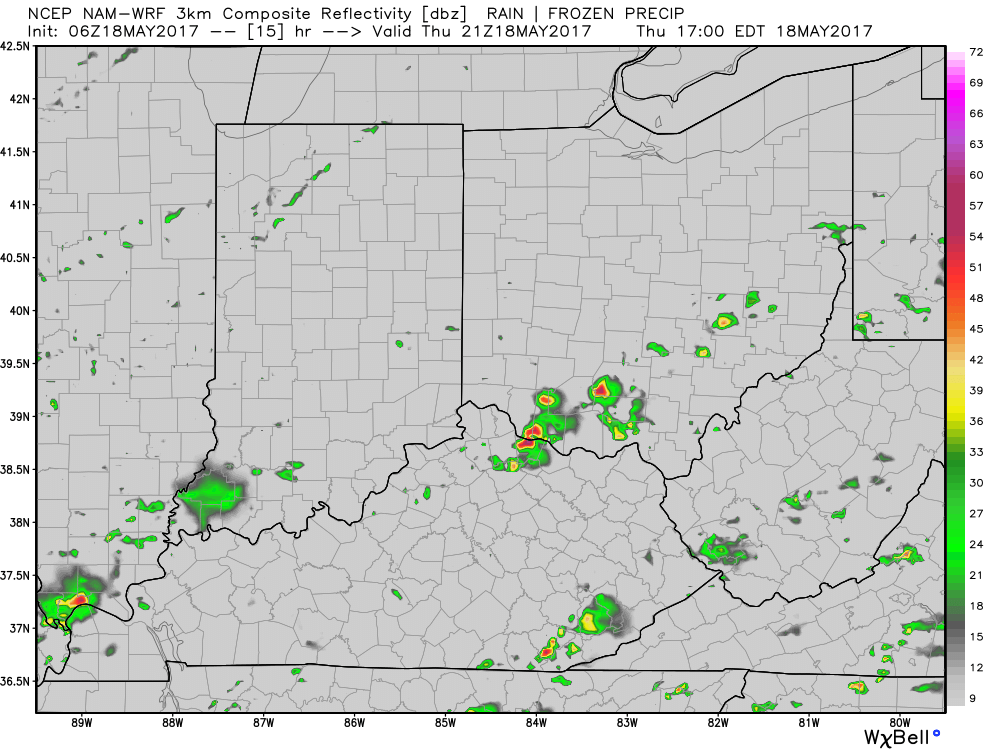 What's also very interesting is we are watching for a storm complex to move east early tomorrow morning that could have heavy rainfall, even a strong storm cannot be ruled out.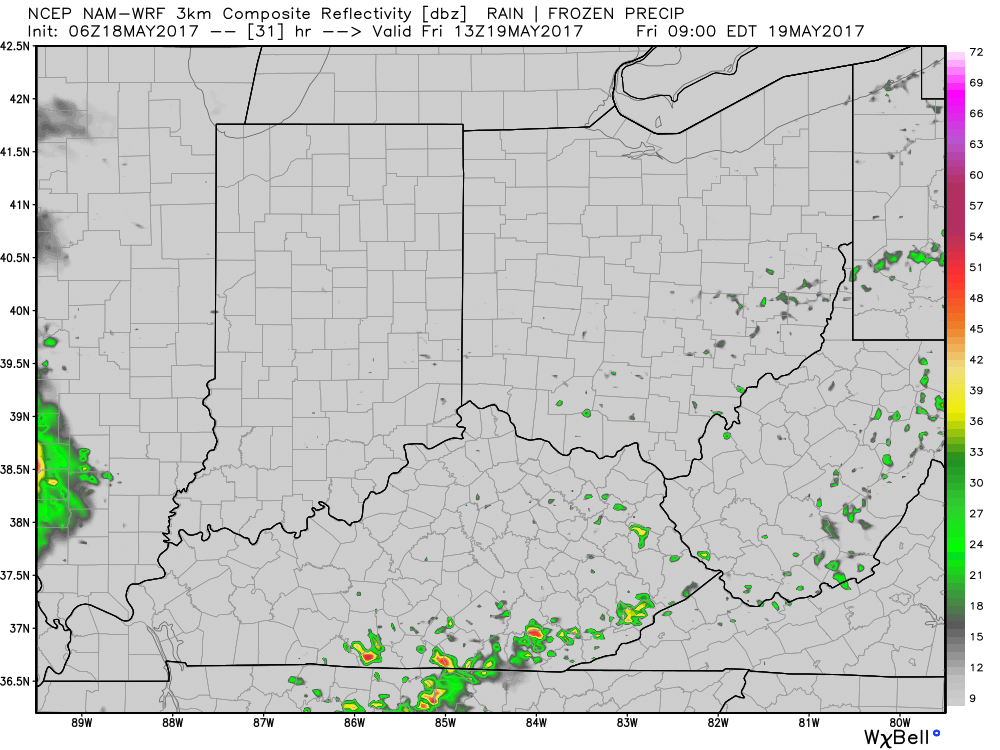 Strong storms risk on Friday into Saturday…again, these aren't widespread severe weather events, but given how active the pattern is we can't rule out some strong storms through the weekend mainly looking at gusty winds and isolated large hail…as well as heavy rainfall.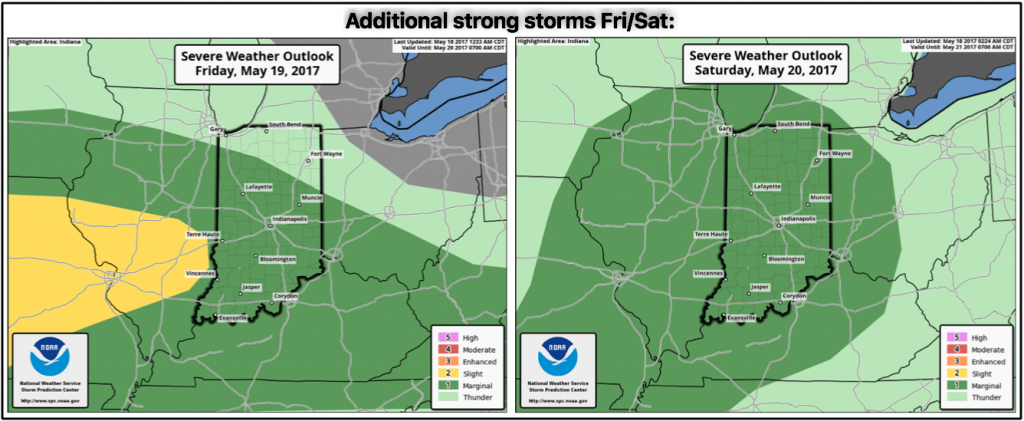 Rainfall totals next 72 hours from the RPM coming in hot with additional heavy rains…wouldn't shock us for some locations across IN/OH to see 2-3″ especially for those that get under stronger storms. Not everyone gets under these, however.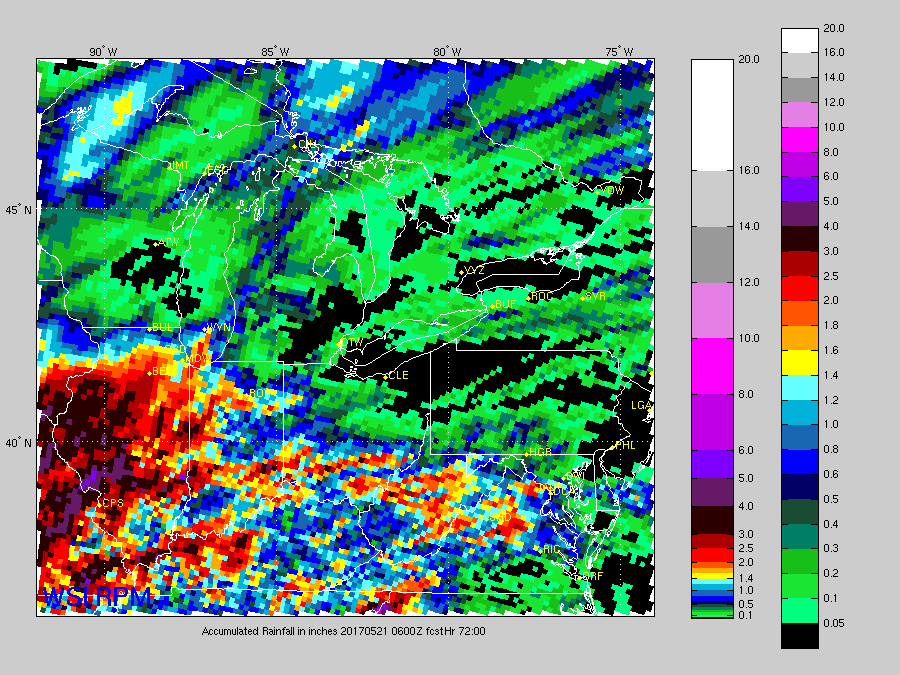 European model solution through weekend, some gusty storms and heavy rains will move east as a low pressure moves through the Midwest: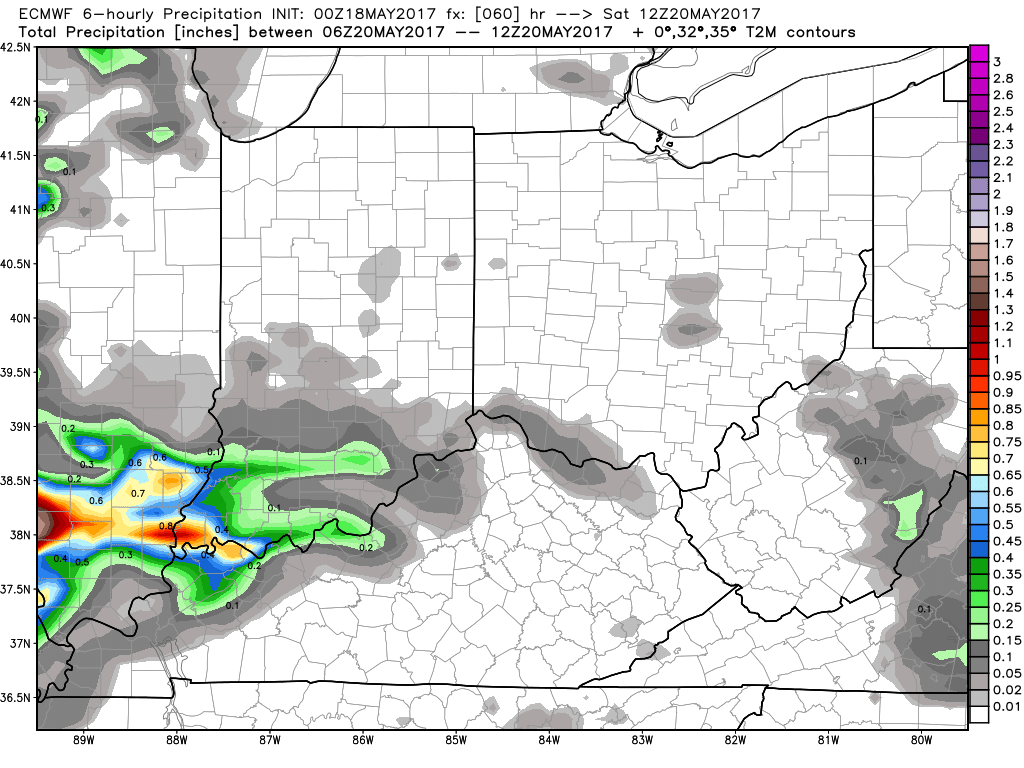 Heavy rainfall and isolated flash flooding risks here as well…can't rule an isolated flash flooding threat especially west and south: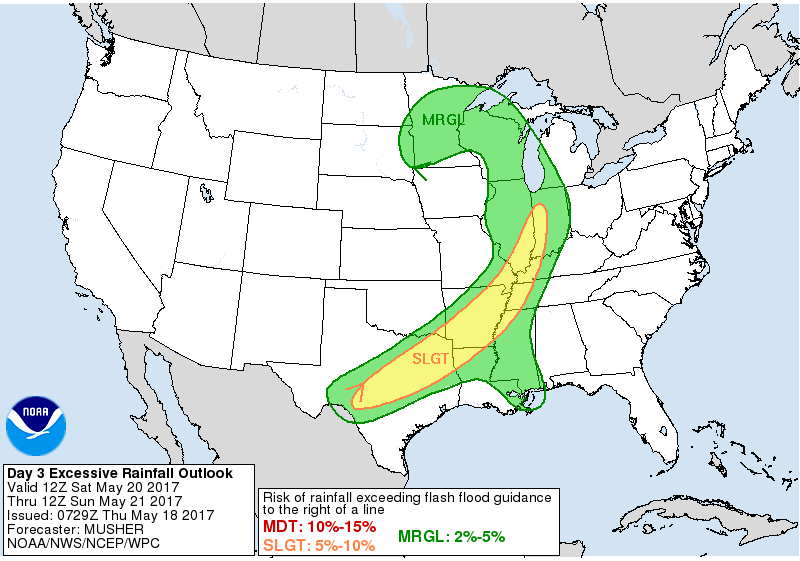 Total rainfall from the European through Monday morning…the GFS and Canadian have slightly higher amounts possible in this same timeframe, which is a risk especially if we get stronger storms.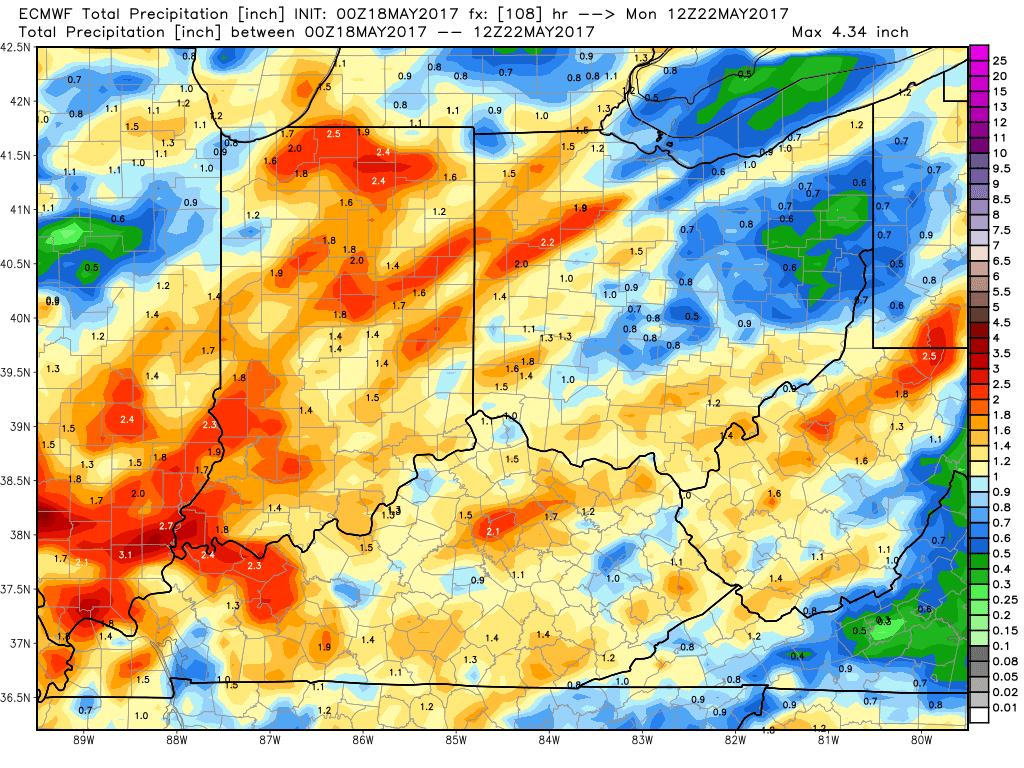 We turn much cooler into next week as lower heights and more troughing push into the Midwest. 
Confidence and Risk:
Above average confidence showers and storms possible today into tonight along a frontal boundary.

Above average risk for strong storms across IN/OH as well with gusty winds/hail possible..can't rule out an isolated tornado.

Above average confidence we stay very active with multiple storm chances through the weekend.

Average risk additional heavy rainfall possible in spots with 2.0″+ totals possible.

Average confidence the pattern shifts to cooler into next week.
Today's video (8 min):