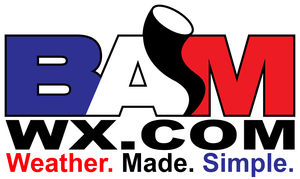 Contact: Terry Powers
[email protected]
(317) 771-9671
FOR IMMEDIATE RELEASE
January 3, 2020
BAMWX selected to serve as official weather provider for Butler University
Greenwood, Ind. – BAM Weather (BAMWX.COM) announced today that it has been selected as the official weather provider for Butler University, to provide weather forecasting and monitoring for Butler Athletics and the University's Police Department.
"We are excited to support Butler University and provide guidance on severe weather that could impact the campus community," said Michael Clark, co-owner and head meteorologist at BAMWX. "We will be providing their staff with current and accurate information that will assist them to make critical decisions involving weather."
In addition to daily forecasts and weather monitoring by a team of meteorologists, BAMWX will also provide an on-campus lightning safety system, which will protect the entire campus. "The Thor Guard system is the world leader in lightning prediction and warning systems," Clark added. "This state-of-the-art system allows Butler to be proactive with the weather, to implement its plans instead of waiting and reacting."
BAM Weather will provide real-time data in addition to forecasts, allowing Butler University's athletics and public safety staff to make informed procedural decisions based on approaching weather.
ABOUT BUTLER UNIVERSITY:
"Butler University is committed to providing the utmost safety to our many students, faculty, and staff, as well as the visitors and camp participants who frequent our campus," said John Conley, Butler's Chief of Public Safety. "We have partnered with BAMWX for real-time weather updates and monitoring of potential severe conditions that might affect our campus community. Their service has improved our ability to make decisions regarding weather for the safety of all." Butler University is a nationally recognized comprehensive university encompassing six colleges: Arts, Business, Communication, Education, Liberal Arts and Sciences, and Pharmacy & Health Sciences. Approximately 4,890 undergraduate and 600 graduate students are enrolled at Butler, representing 46 states and 38 countries. Ninety-five percent of Butler students will participate in some form of internship, student teaching, clinical rotation, research, or service learning by the time they graduate. Butler students have had significant success after graduation as demonstrated by the University's 98 percent placement rate within six months of graduation. The University was recently listed as the No. 1 regional university in the Midwest, according to U.S. News & World Report Best Colleges Rankings, in addition to being included in The Princeton Review's annual "best colleges" guidebook.
ABOUT BAM WEATHER: BAMWX specializes in delivering a very simple yet unique and personal, site specific forecast. In addition to universities, BAMWX also provides forecasting services for industries including school districts, professional sports, motorsports, concerts, fairs and festivals, agricultural, snow removal, landscape, energy, and more. With a focus and extreme attention to detail in both short- and long-term forecasting, BAM's #1 goal is to assist its customer in high cost decision support based on accurate weather analytics.