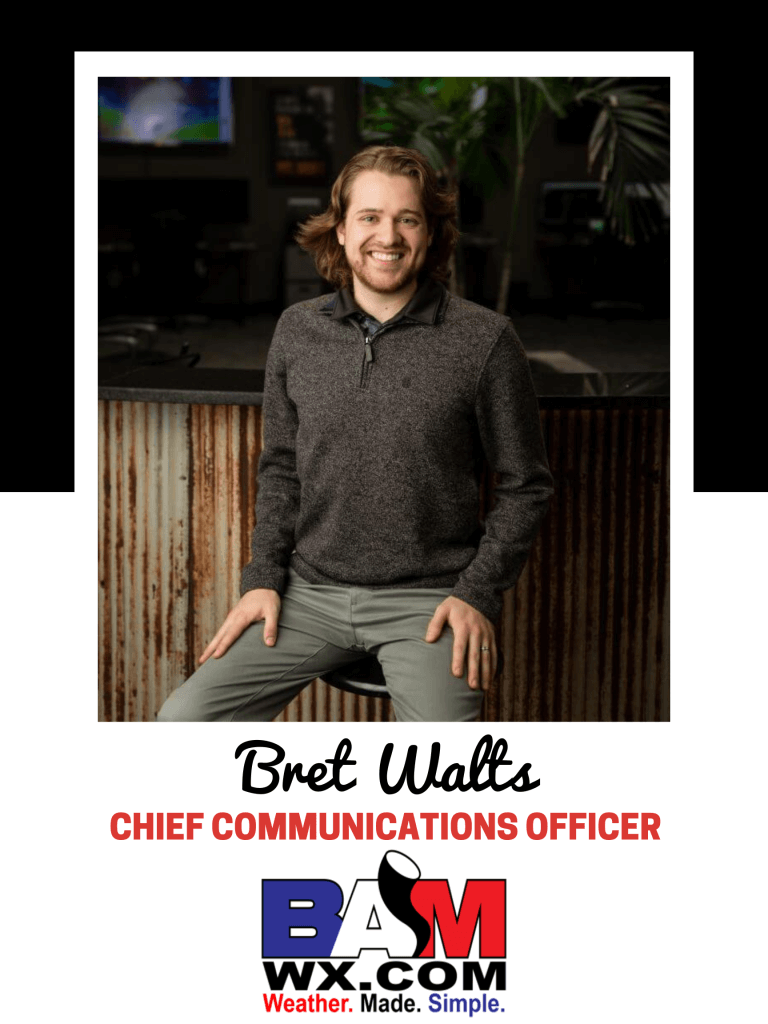 FOR IMMEDIATE RELEASE
November 23rd, 2022
Lead Ag & Energy Meteorologist Bret Walts has been promoted to Chief Communications Officer at BAMWX LLC.
GREENWOOD, IN – BAM Weather (BAMWX.COM) announced today that Bret Walts, who has been with BAM Weather since December of 2017, has been promoted from the lead Ag & Energy meteorologist to Chief Communications Officer for the company. Bret's role will transition to managing the communications department, increasing brand recognition and producing advertising and marketing campaigns.
"I'm very excited to officially announce that our former Lead Ag/Energy Meteorologist Bret Walts has been promoted to Chief Communications Officer of BAM Weather!" said COO Kirk Hinz. "Bret has been and very much still is a very valuable asset to this team over the last 5 years since joining BAM, constantly raising the bar on growing our brand awareness and social media presence. One of the things I love about Bret is his creativity and ingenuity, along with his work ethic. Bret looks at problems not as problems, but as opportunities to help people on a daily basis. Bret also is a great teacher, always educating our new employees on the wealth of knowledge he's accumulated over the last half decade. Myself as well as all of us at BAM are excited to watch him continue to grow in the years ahead!"
Bret will also continue in his role of Ag/Energy Meteorologist producing long-range forecasts and analysis for clients.
"I am so excited for the opportunity to take on a leadership role within the company as CCO," said Bret Walts. "Weather impacts every single person, and I am confident BAM can help every single person better manage and prepare for weather events. I see limitless potential in BAM's brand and I look forward to continuing to explore new and creative ways help BAM reach new levels. BAM gives it's employees an incredible opportunity to push beyond the limits of a job title, grow and learn new things. There is truly no other company like it."
About BAM WX LLC:
BAM WX specializes in delivering a very simple yet unique and personal, location specific forecast. In addition to universities, BAM WX also provides forecasting services for industries including school districts, professional sports, motorsports, concerts, fairs and festivals, agricultural, snow removal, landscape, energy, and more. With a focus and extreme attention to detail in both short and long-term forecasting, BAM's #1 goal is to assist customers in high cost decision support based on accurate weather analytics.
To learn more about BAM WX, visit BAMWX.com and weatherporthole.com.