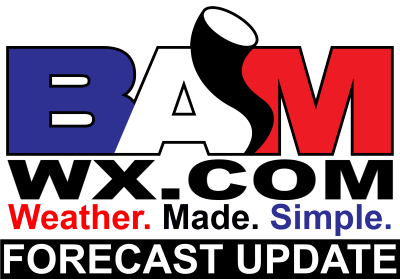 ---
Video:
The video covers the details of what to expect through Friday….overall not a lot to track until we get to the weekend.  Data is showing concern for a heavy rain threat Saturday/Sunday as a storm system slowly works east into the region, drawing up copious amounts of Gulf moisture.  Here is the European model solution from 2am Saturday to 7am Monday.  This solution would suggest a washout of a weekend with rounds of heavy rainfall.  
The German (ICON) model is very similar to this solution for the weekend:
The European ensemble 7-day precipitation totals are shown below…picking up on heavier rains this weekend: 
Note that we are still several days away and details regarding this system can change.  Heavy rain is not a given by any means but it's an increasing potential.  Will depend how the storm evolves and how strong the ridge to our east can build to slow the storm's east progression.
High temperatures over the next 4 days.  Definitely want to make some outdoor plans over the coming days!!
Low temperatures over the next 4 days:
Wind forecast over the next 4 days:
---
Copyright © BAMWX.COM 2017