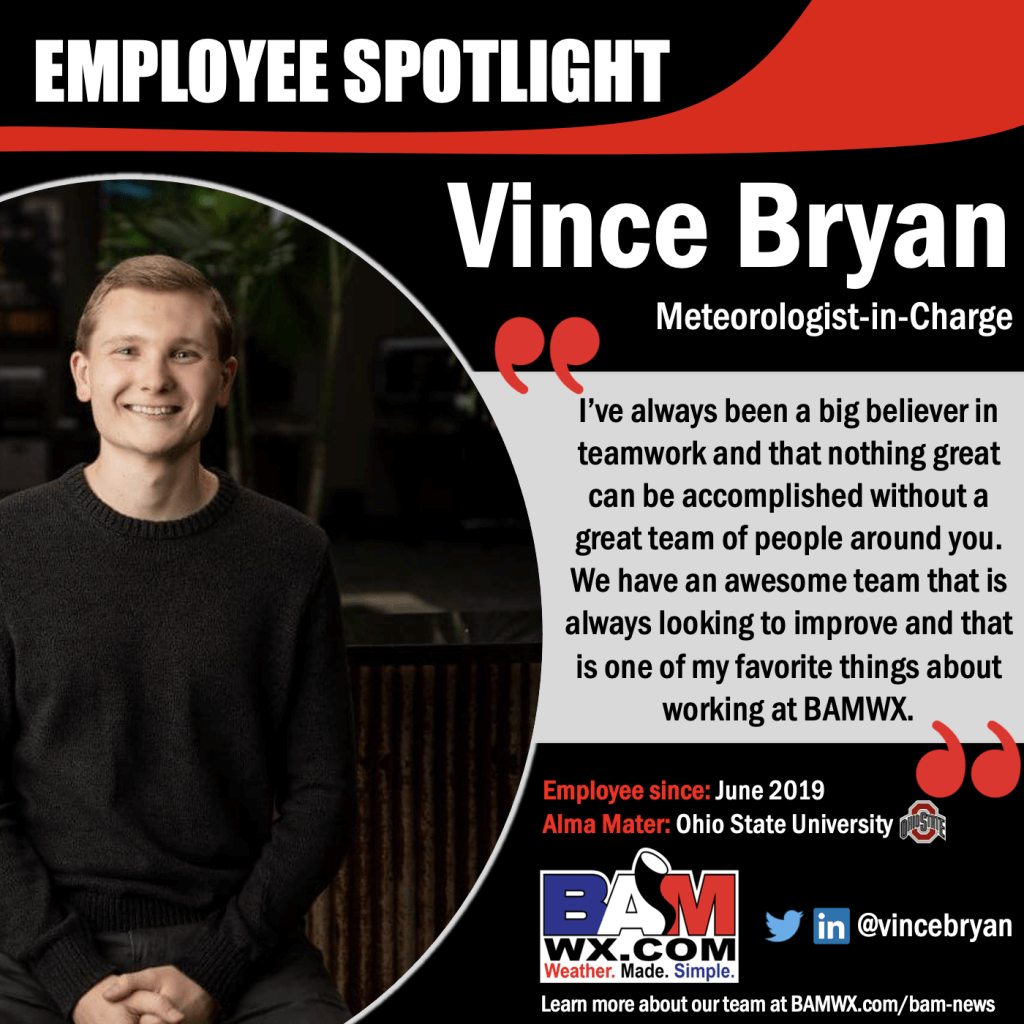 A graduate and avid fan of the Ohio State Buckeyes, Meteorologist-in-Charge Vince Bryan has worked at BAMwx since the Summer of 2019. In his free time he enjoys taking a run and exploring Indiana's state parks with his fiancé, Ashley. A Cleveland and Columbus sports fan all-around, Vince encourages those passionate about weather and bettering themselves to look into applying for a career with BAMwx! Learn more about Vince and his position in our question & answer session below!
How would you summarize what you do?
My main responsibilities include leading our team of meteorologists, organizing event + shift schedules, training new hires, and ensuring clients receive top notch customer service! 
What do you enjoy the most about your role? 
Every day is different! Thanks to weather, every day will provide different forecast challenges/ obstacles to overcome and things will never be the same from day to day. I also love interacting with clients and trying to provide the most detailed/accurate forecast to help them plan their day to day operations.
What is the most challenging part of your role at BAMWx?
The toughest part of the job by far is weather education/communication. Weather is no doubt an imperfect science, however in 95+% of instances, weather information can be a LOT more detailed than "scattered thunderstorms" like apps love to say. Everyone has their certain "go to" weather app, however data going into any app will NEVER be perfect which is where a meteorologist comes in. We are certainly not 100% correct all the time, but we can certainly fill the gap of explaining what "30% PM storms" means. Some folks forget at the end of the day we are trying to predict the future! 
What drew you to BAMWx initially? How has the company changed since you started?
I loved the idea of working for a smaller business and not being just another name at a big company. After my first interview, I could tell this is a very tight knit group of people. Even though the company has more than doubled in employees since I first started, the "family" feeling is still one of my favorite things about BAMWX. The biggest change by far has been the development and growth of the Weather Porthole platform! 
What is your favorite type of weather? 
Warm! I'll take 90 and thunderstorms over 30 and snow any day.
What is your favorite company value? 
Teamwork: I've always been a big believer in teamwork and that nothing great can be accomplished without a great team of people around you. We have an awesome team that is always looking to improve and that is one of my favorite things about working at BAMWX. 
What's the best advice you can give to someone who wants to work for BAMWx?
Hard work pays off! You will 100% thank yourself down the road for forcing yourself to do things you may not want to do initially. 
What is your favorite quote?
"Whether you think you can or can't, you're right" – Henry Ford.
Outside of your career at BAMwx, what is something you'd really love to do or accomplish in your life? 
I'd love to travel to all 7 continents + all 50 US states.