BAM Forecast Update
NOTE: Forecast updates may not be used for any commercial purposes unless you are a valid commercial subscriber. This includes any revenue generating purposes including, not limited to, municipalities, schools, golf courses, landscape/snow removal, etc. Also REDISTRIBUTION will not be tolerated. ALL violators will be shut off immediately and NO refund will be issued. If you have ANY questions about what this means please contact us at
bamwxcom@gmail.com
Thanks BAM
---
04/10/2017
#AGwx #Plant17 #Energy Sunday Work-Week Outlook…Dry time short-lived? Details here! K.
Synopsis: Hey there and thanks for checking out today's work-week update! Simply put, we wanted to provide you with an overall, broader view of what to expect in the weather-department this week. 
Below is a look at the average temperatures across the Country during the first 7 days of April…the Northeast, western Ag Belt into the Southwest remained cooler than normal; meanwhile, the remainder of the US was above normal.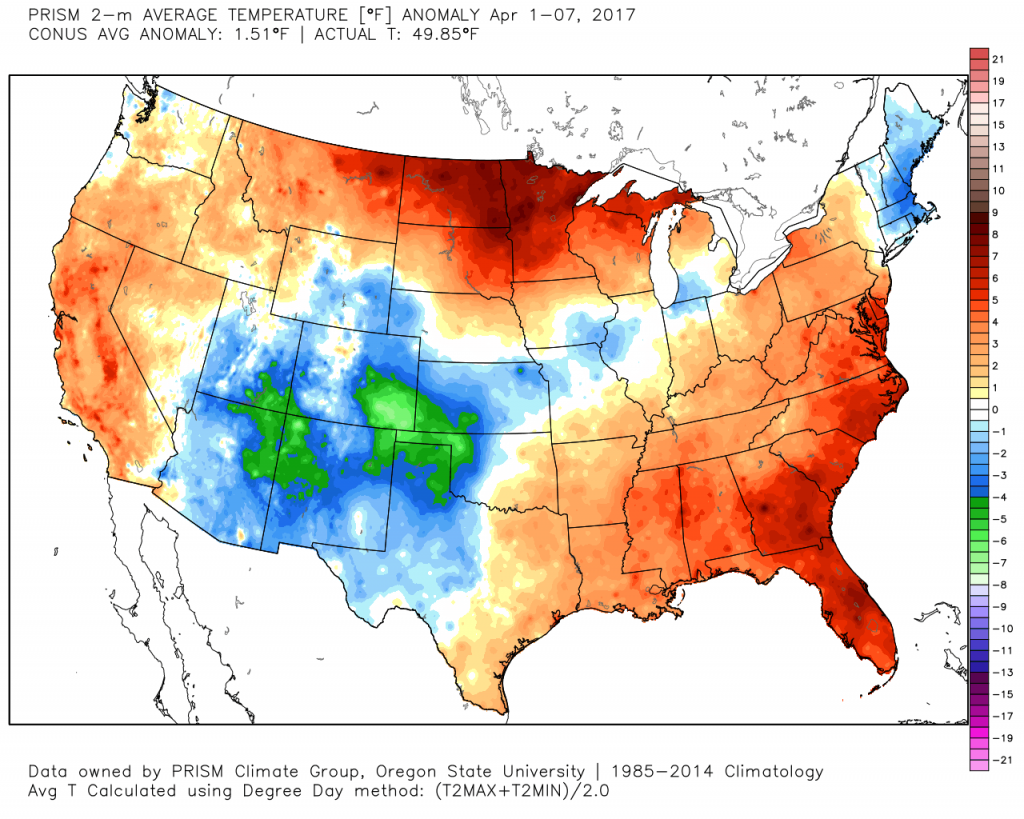 This is good news for increasing soil temperatures, especially across the northern Plains where, slowly but surely, ground temps are warming because of the above normal warmth lately (below is a comparison of the avg ground temps last week of March vs avg ground temps first week of April). 

Percent normal rainfall over the past 7 days, we've been overall very wet across the Ag Belt with the exception of the northwest sections and far eastern into Indiana, Kentucky and Tennessee. Some folks have seen 400-800% percent the normal rains!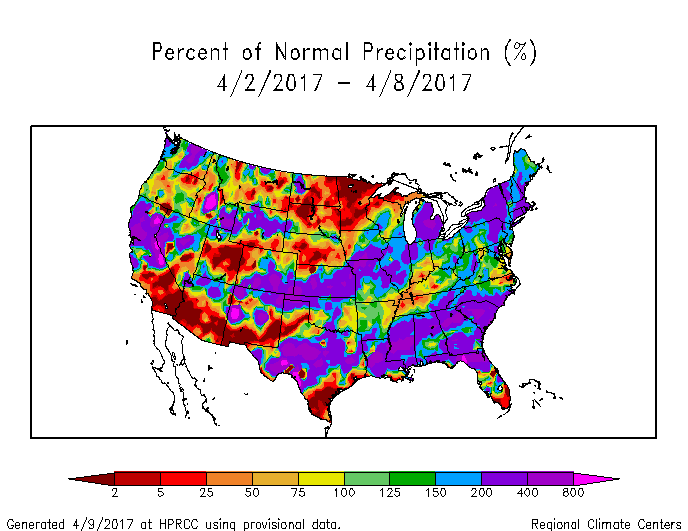 In terms of what's ahead for the next week when looking at precipitation anomalies, we see above normal rainfall forecasted from Texas north through the central Ag Belt into portions of the Northern Plains and Pacific NW. This is the dry stretch we've been mentioning possible for the eastern Ag Belt…although we believe this is short-lived.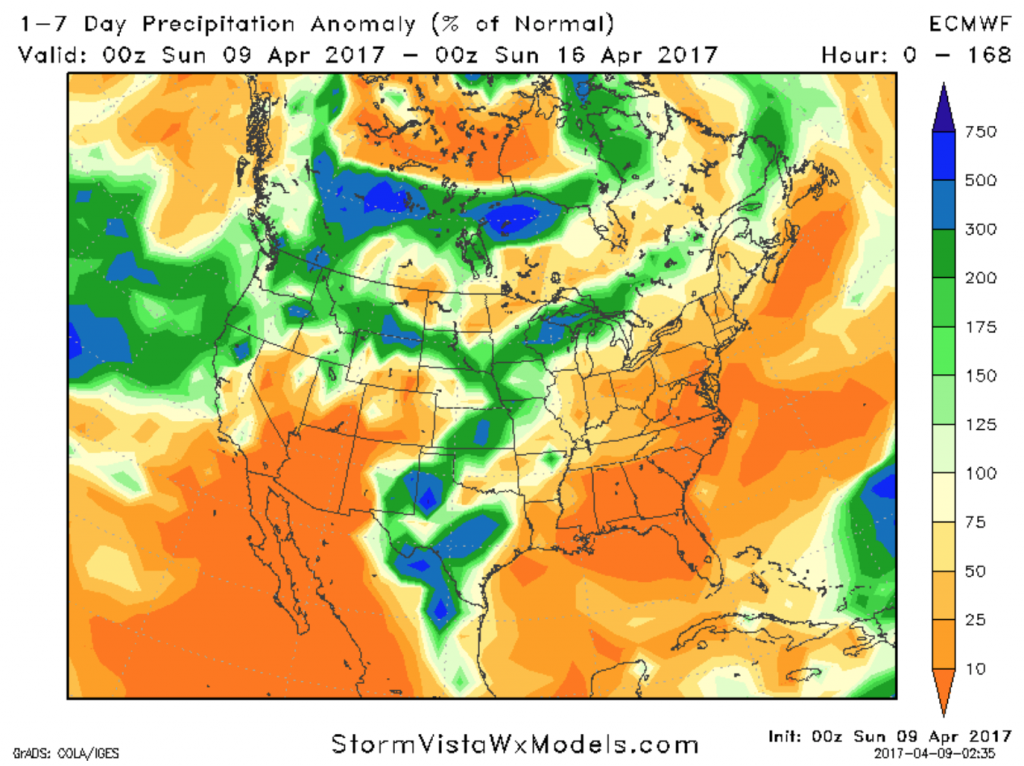 This rainfall comes in the form of a storm system every ~3-5 days which makes it very difficult to plan ahead for getting out and planting. This is also why it's CRUCIAL to watch the daily short-range updates as these will help you plan ahead for when conditions are more favorable to get into the fields.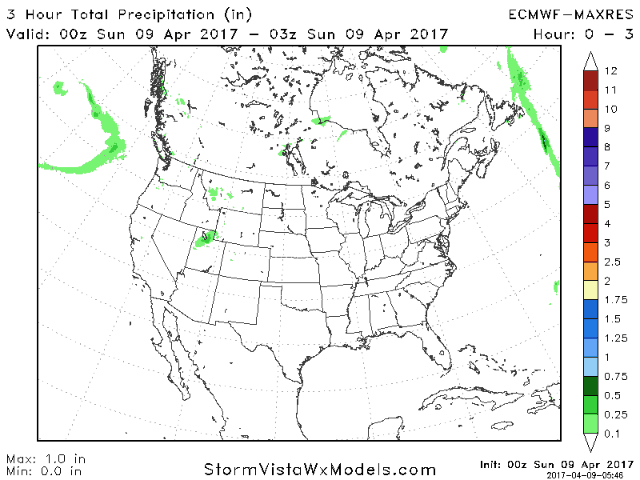 Temperatures over the next week will favor above normal warmth across most of the Country except the Pacific NW and portions of California. Again, this will help warm-up soil temperatures, but at the same time if we get a storm system every ~3-5 days, we really aren't going to improve to where we need to be, as quickly as we need to.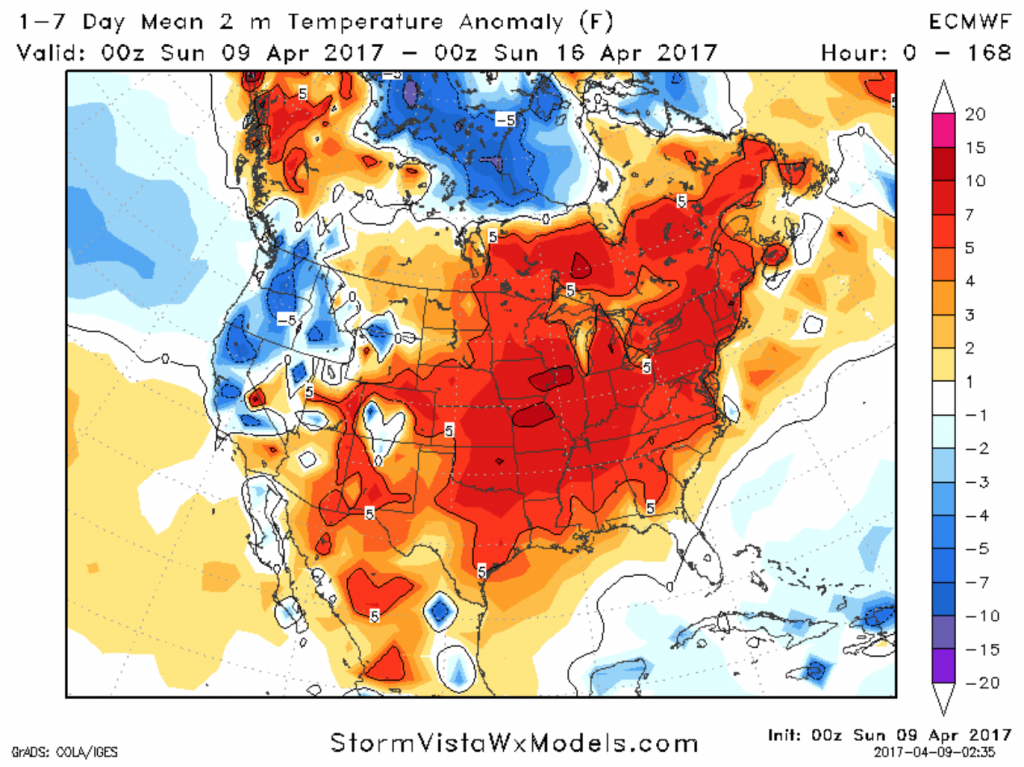 Now, it needs to be noted that just because day time highs may be above normal, night-time lows may still follow far enough where frost on vegetation is still possible. This is illustrated very well with the graphic below which pinpoints the northern and western quadrants of the Ag Belt still conducive for frost threats this week. We expect this threat to continue through the month going forward.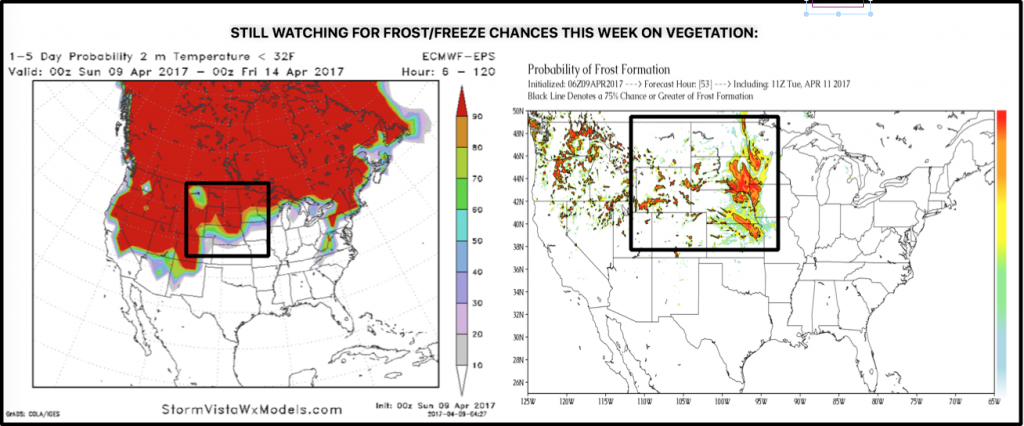 Before signing off I wanted to share with you some of our outside the box, pattern recognition techniques that help us paint the long-range forecast picture. Below is the forecast from the GFS and Euro Ensembles across the equatorial Pacific. Without getting too in-depth today, basically the blues mean easterly trade winds and the reds mean westerly trade winds. For over a month we've been seeing the blues, meaning La Nina like conditions. What's interesting is both models indicate westerly trade winds to start mixing in getting into mid-April, which is what we need to see to transition more into an official El Nino pattern. Also to note, the La Nina-like trade winds and background state have played a huge role into why we've seen so much severe weather and rainfall throughout the Ag Belt. With more westerly winds will go a long way in shutting off the severe weather and heavy rains.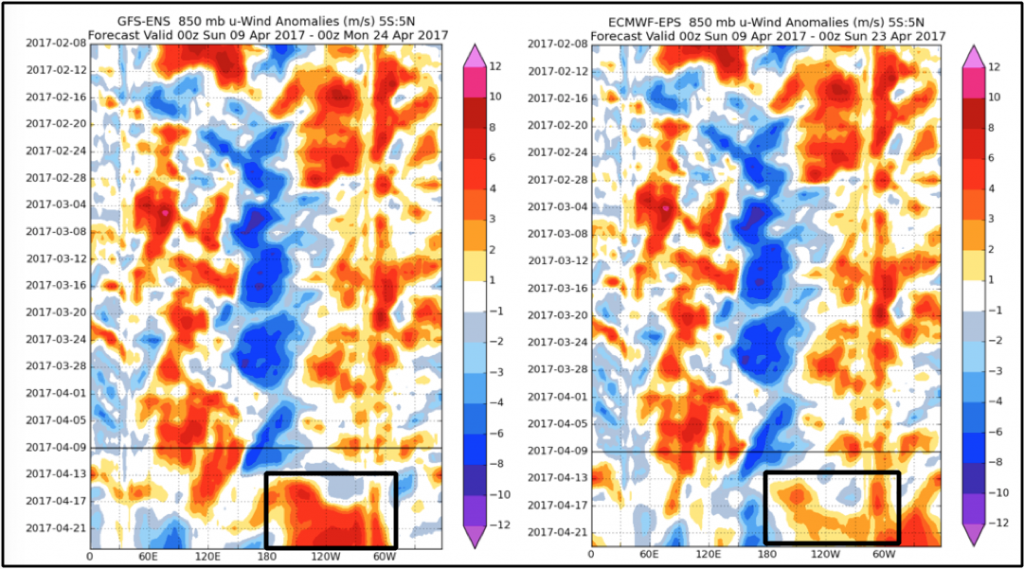 This is also supported by the Southern Oscillation Index (SOI), which can be seen below. These are the last 3 runs from the European Ensemble. Basically, a positive SOI means La Nina and a negative SOI means an El Nino-like background state. Largely over the next 10 days or so we are forecasted to see a big drop and a negative overall SOI. So the fact that we are seeing models indicating more westerly trade winds is supported here by the SOI background state. It's all connected. Also, that big drop forecasted there ~12-13th, I'd watch for a big-time system around the 1st of May (we connect a big SOI drop to a big storm system in the Midwest around 20 days later).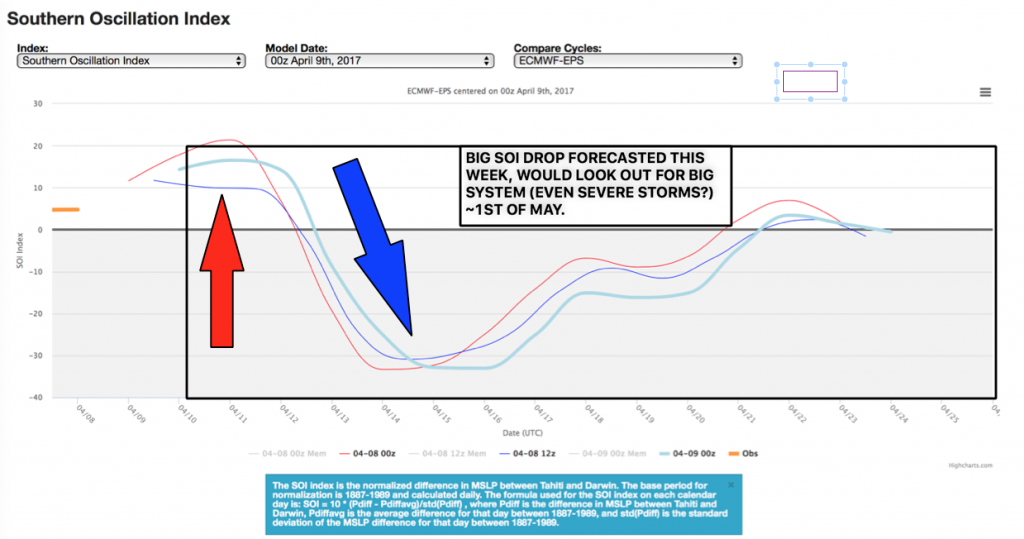 For more support we can look at the atmospheric angular momentum (AAM), where phases 5-8 are El Nino and 1-4 are La Nina-like background states. The takeaway is, look at the forecast on the left from 5 days ago vs current on the right, and we are definitely hinting at more neutral to El Nino-like favorable conditions ahead. It makes sense.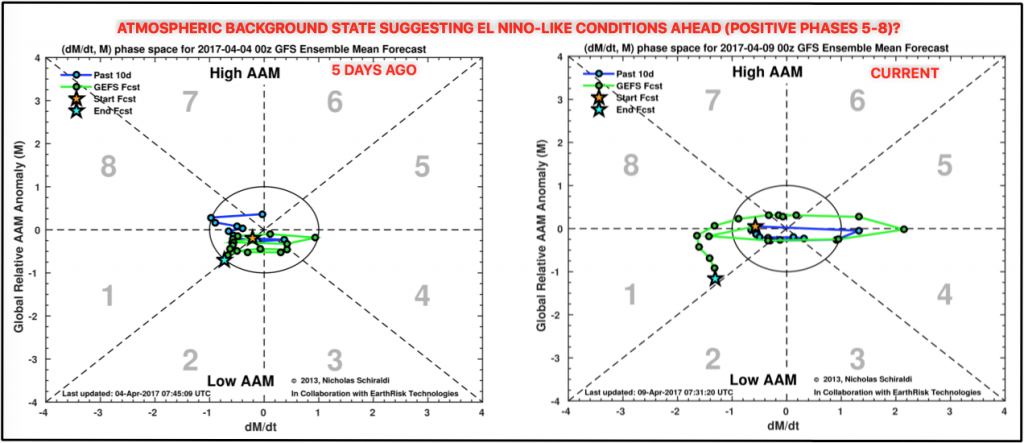 Above I mentioned some brief dry time for the eastern Ag Belt, but I also mentioned it was short-lived. This forecast is supported by all global model ensembles as seen below, which really turns the rainfall faucet on for much of the US in the 11-15 day period. It's a trend we are watching very closely, because we know these dates are the timeframe where many folks are making decisions on getting out in the fields.

Again, the pattern ahead continues to be active through April…we just aren't convinced that the amount of dry days ahead in the next week will fully help us "dry out" how wet we've been the past 2-3 weeks. Highly recommend watching the short-term videos every day going forward, and let us know if you have any questions. Have a blessed week! 
-Kirk
Copyright © BAMWX.COM 2017