Key Points – Thursday, May 18, 2017:
Synopsis: First and foremost, highly encourage everyone in the severe risk areas tonight to pay close attention to the forecast and radar going forward…have severe weather alerts turned on. In the video we go into the "why" behind the potential for severe storms risk including strong tornadoes across parts of Kansas. We discuss the additional severe weather tomorrow as well as the excessive rainfall threat through the weekend. Highly encourage if you have any questions as to the forecast details to contact us, stay safe and have a blessed day.
High Risk issued for severe storms including strong, long-track tornadoes possible across the southern forecast area…additionally, very large hail and damaging winds will be possible.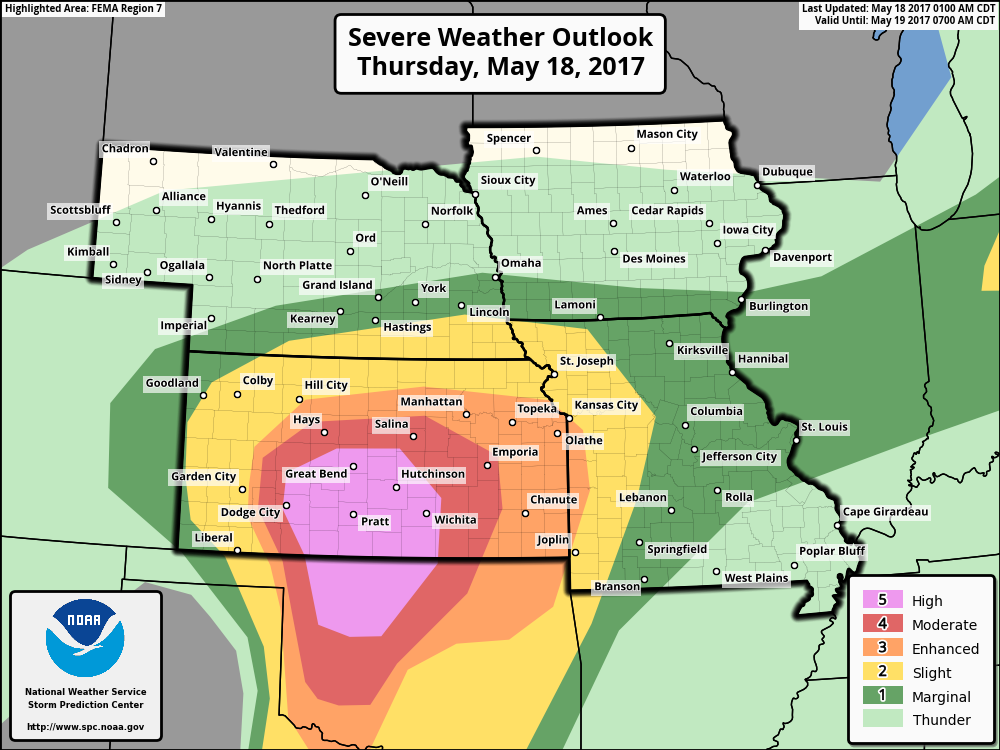 Simulated radar…first of the storms look to erupt by ~4-5pm today and continues through the overnight for locations further north and east.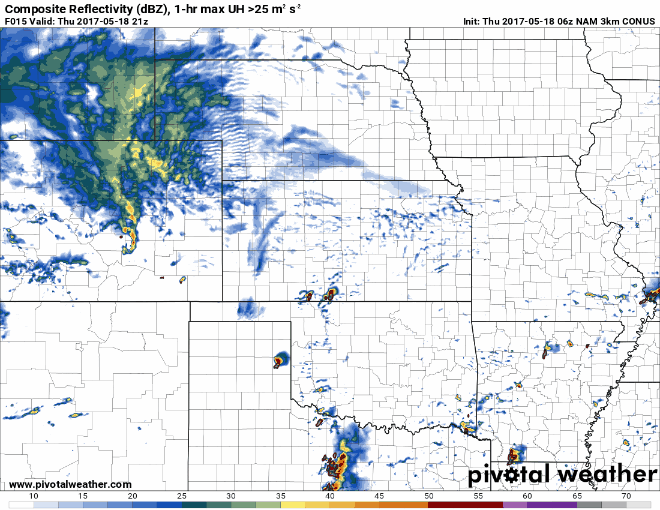 An additional severe weather threat emerges on Friday in a similar area with all modes of severe weather possible once again.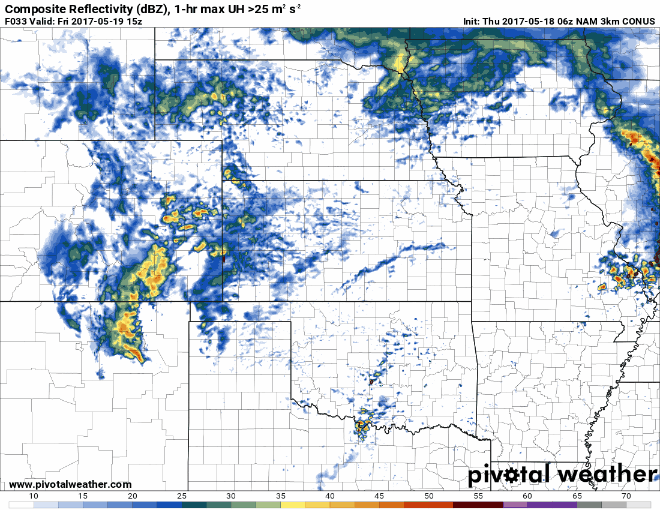 Severe risk for Friday focused mainly across the southern half of the central Plains…large hail, damaging winds and isolated tornadoes remain possible:
Total Rainfall through the weekend via the NAM and RPM forecast models…the locations where we think the heaviest rainfall will be extends from eastern Nebraska, eastern Kansas, north and west Missouri and the Southern half of Iowa.

Excessive rainfall risks including flash flooding also exist next 2 days:

Although confidence is on the lower end right now, as unbelievable as it is, we can't rule out some snow showers later Friday into Saturday across western Nebraska and northwest Kansas…something to monitor going forward.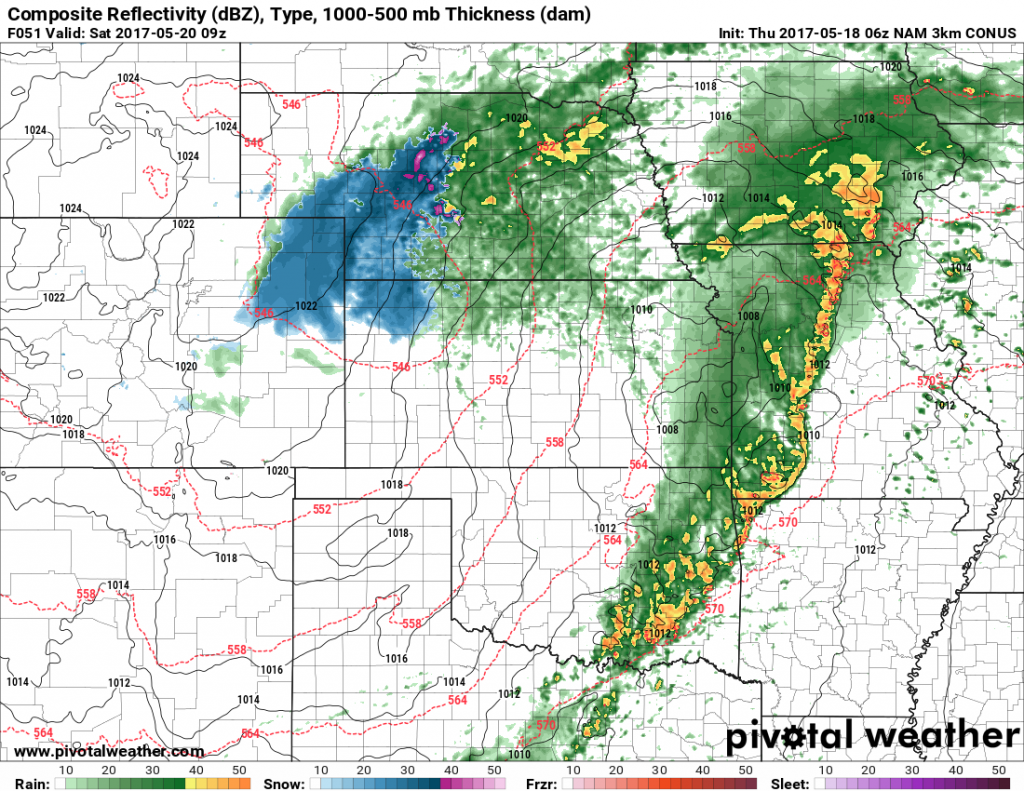 In the video we also discuss the pattern change that's currently on-going to a cooler than normal central Plains as we go into the latter half of May…we think largely this pattern will carryover into June.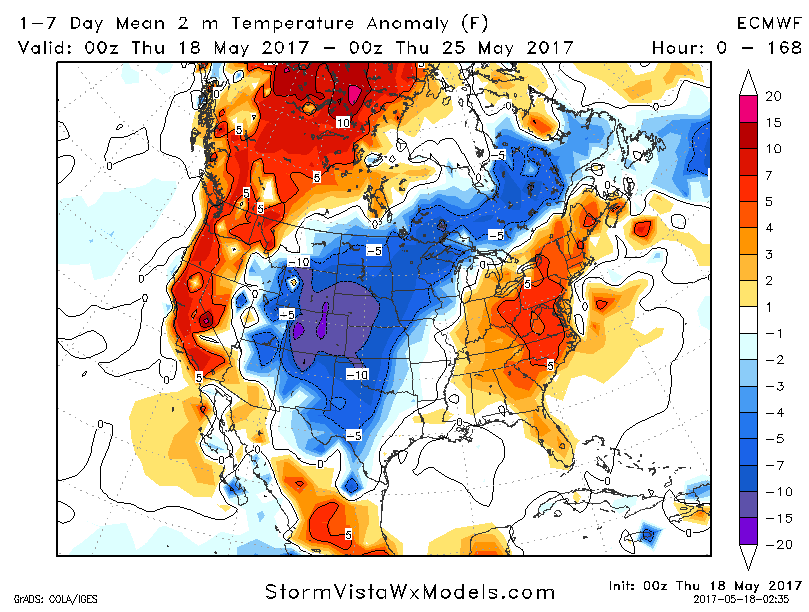 Confidence and Risk:
We have average to slightly above average confidence of severe storms today with potential large tornadoes as well…although there is still some risk to the forecast.
Average risk for additional strong to severe storms tomorrow across parts of the Zone mainly south.
Above average confidence locations under the stronger storms will see 2.0″+ of rainfall through the weekend.
Above average risk for some wintry precipitation working in later Friday into Saturday morning for areas west.
Above average confidence we turn cooler than normal largely across the central Plains heading into the second half of May.
Today's video (8 min):