12/20/16 Winter Threat Assessment – Targeting January Winter Threats…Looks Active!
Synopsis: First things first, for details on winter storms and weather in the 1-7 day range or digging deeper into the long-range, email us at "Info@BAMwx.com" to sign up today! Welcome again for another update of the winter threat assessment blog! As we dig deeper into the pattern it really starts to get hard to ignore the "warmer" risks to the forecast, more specifically the return of the southeast ridge. Before diving into our next targeted system, I'd like to focus on the "why" behind the warmer risks over the next couple of weeks. Below is a graphic that illustrates the general pattern and "problems" as we end December and usher in January. The strength of the southeast ridge, whether we get any high latitude blocking and how things shape up in the Pacific really drive how systems move across the Country from west to east and if we have potential for winter weather.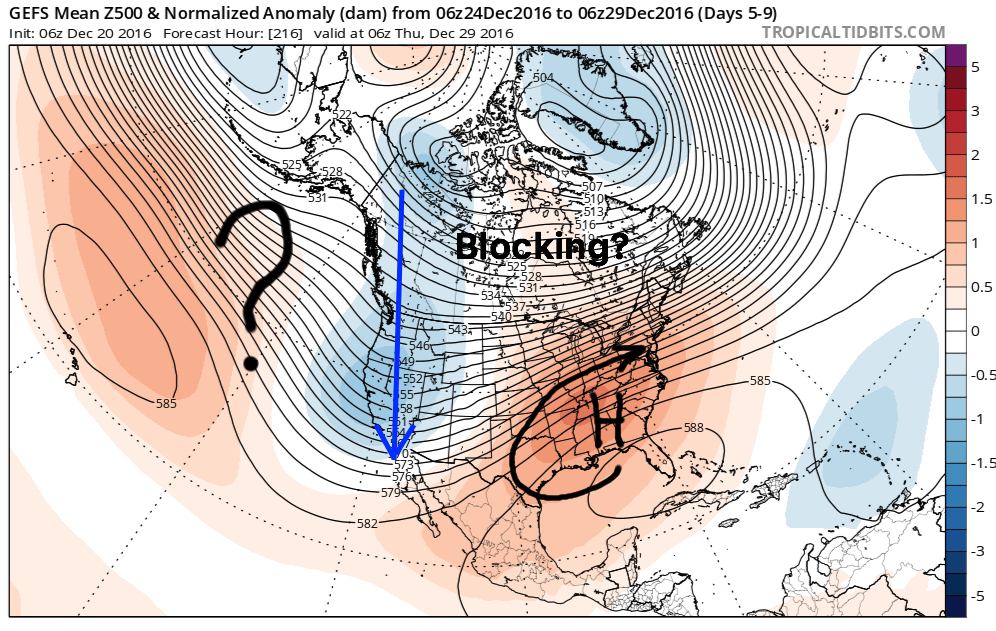 What concerns me is the strength of the -PNA over the next 2 weeks and the lack of blocking in central Canada. In simple terms, the stronger the negative PNA, the stronger the southeast ridge and the lack of blocking means 2 things: our storm track for many of the  opportunities for wintry weather likely gets pushed north of I-70 and we see above normal warmth. Hard to ignore these signals.
This does not take away from the fact that we have an active Ohio Valley/Midwest/Interior Northeast storm track, though. The issue becomes the cold air supply that's available for these systems to produce snow…we can see the -PNA sets up a trough in the west and a ridge in the east, specifically the southeast ridge in this case.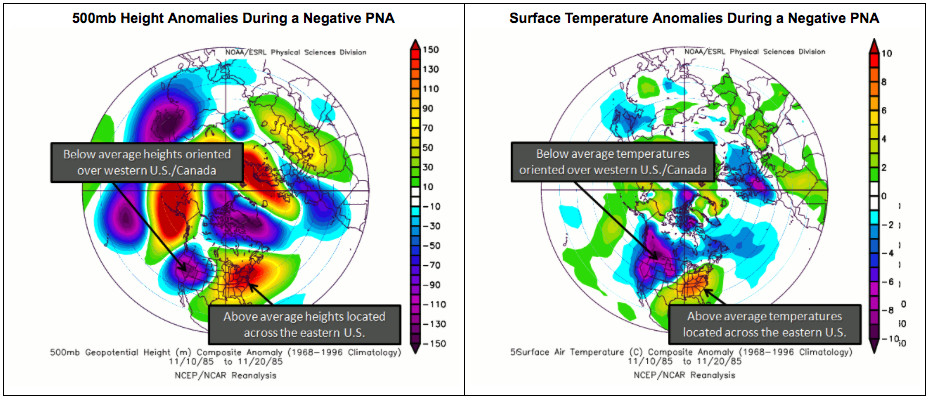 With that being said, to find winter storm potential we have to take in all of the data and find these systems in East Asia, the North Pacific, by an SOI drop, and by tracking the trends in our teleconnections. Let's dive into our next targeted winter threat.
Next Targeted System (December 30-Jan 1): We first noticed storm potential in this timeframe by looking at East Asia and seeing a consistent trough ~23rd…if we add 6-10 days to this it falls right in line with when this system should show up in the Midwest.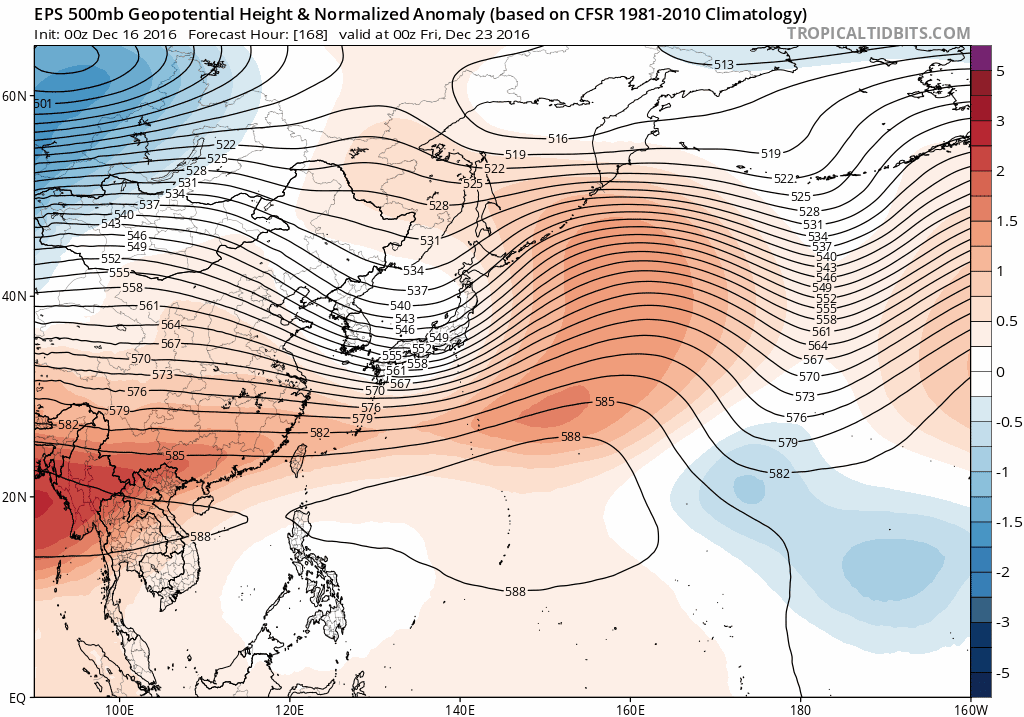 The European and the GFS are both sniffing out this system already with consistent upper level features, which increases confidence in the placement of this system through the Midwest eastward.
European solution at 500mb ~Dec 30th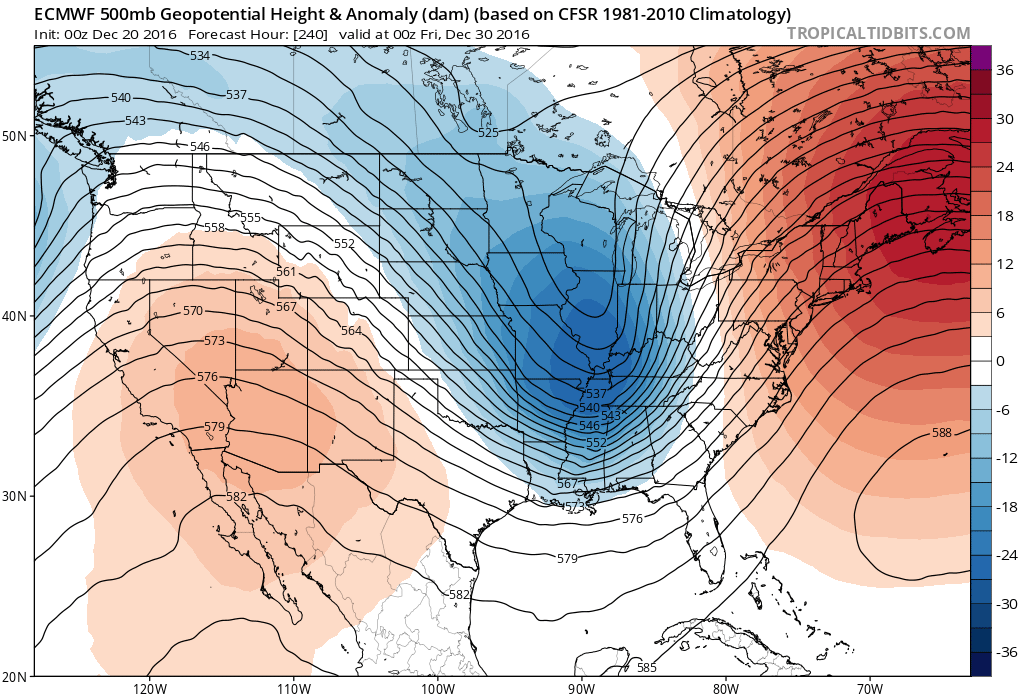 GFS Parallel solution at 500mb ~Dec 30th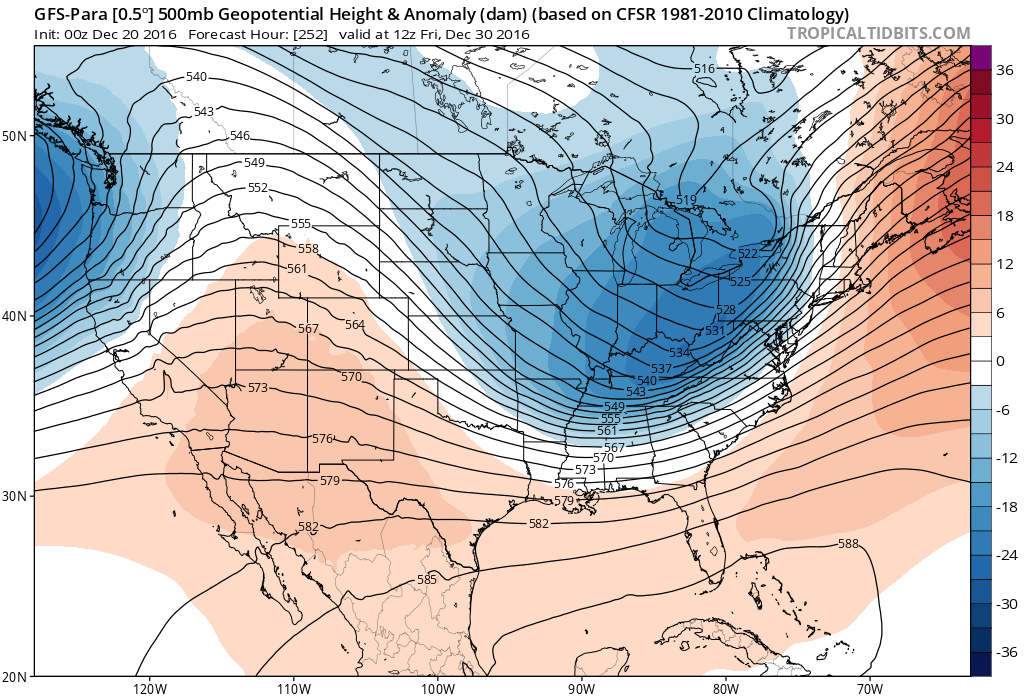 The question isn't whether we have a system, but do we have cold air available for snow. According to the latest European, we do have cold digging in with this system and a neutral to negative tilt which increases our confidence of having winter implications. Below is our official winter threat assessment with this system.
Winter Threat Assessment: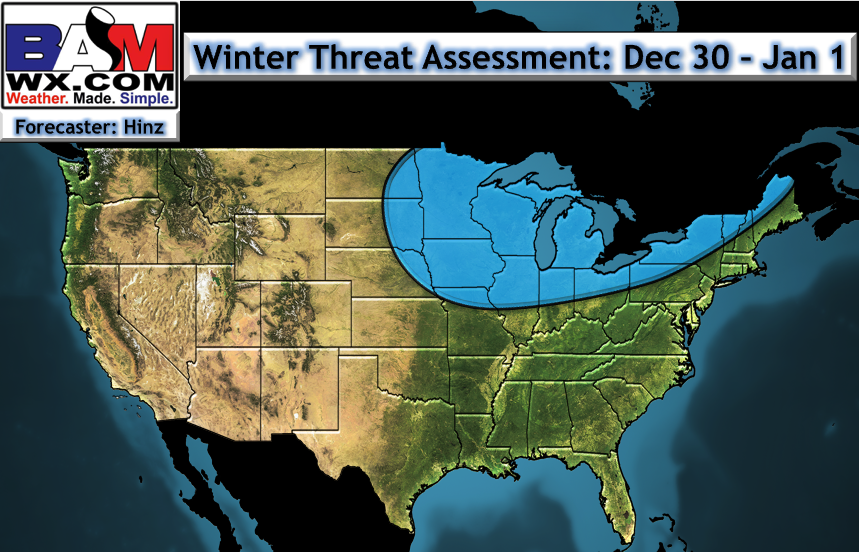 Confidence and Risk:
Increasing confidence we see an influence of a southeast ridge over the next 2 weeks given the current teleconnection forecast

We have above average confidence despite a southeast ridge we see a continued active storm track through the Midwest/Ohio Valley/Northeast

We have increasing confidence in a wintry threat ~Dec 30th
Interested in getting the details any of these systems within 7 days or long-range, including timing, intensity, precipitation-type etc? Send us an email to "Info@BAMwx.com" expressing your interest and we will get you taken care of (both personal/commercial services as well)!
Thanks for checking out the latest Winter Threat Assessment blog! Here at BAM Weather, we specialize at giving you the most accurate weather information possible for when you have to make those high-cost decisions such as whether to plow or not, to pre-treat, lay salt, etc. We take the guesswork out of your daily weather-related tasks, no longer will you need to waste precious time and money averaging out 5 different forecasts from the local news stations to still not have a clear picture what's going to happen. You also get the option to speak to an on-call meteorologist 24/7, so your needs will always be met. We provide verified snow totals as well to certify your work. We make weather as simple as possible for you, while providing exemplary customary service.
This forecast was brought to you by Davis Wholesale Supply LLC