Synopsis: Data has come in a bit further south this afternoon but nothing drastic. For days the European has had the same idea with its forecast and Ive decided today I'm just not doing to ignore it any longer. Ive updated to the official forecast to reflect those changes. Still see plenty of mixing issues and even rain on the south end of this storm. The overall timing and thoughts have not changed from this mornings video I have just adjusted the snowfall map in regards to totals. The latest HRRR out to the next 18hrs tends to agree with the European and our thoughts going forward so I have attached an 18hr forecast radar loop of the HRRR. Note you can see the time at the top so just click on it and watch the loop. I feel like its handling this system well based on current conditions. 
Here is latest radar loop as of 1:30PM EST. This snow moving west will be the start of whats to accumulate. 1-2″ possible with this initial wave as it heads east.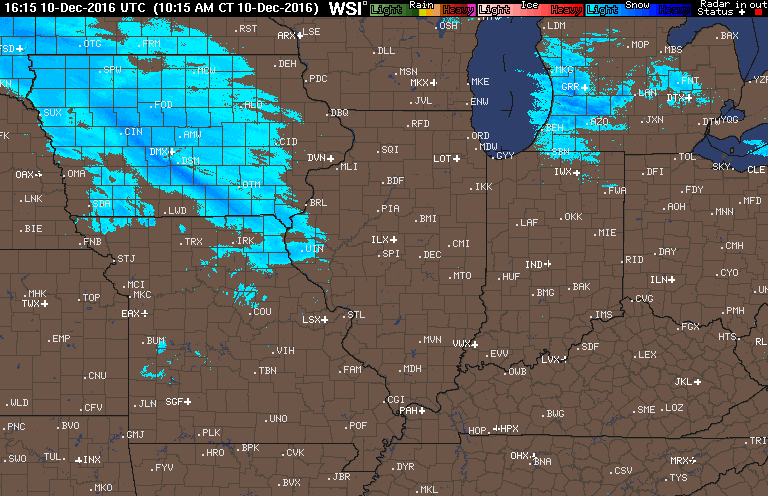 Forecast future radar from the HRRR over the next 18hrs: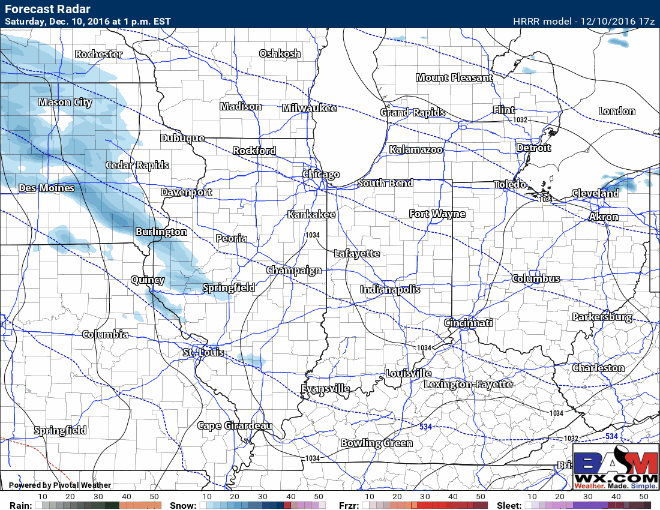 Forecast total snow the next 18hrs. Remember warm air works in on the southern end Sunday. We will update again this evening with the specific timing on that so check back and reach out if you have questions.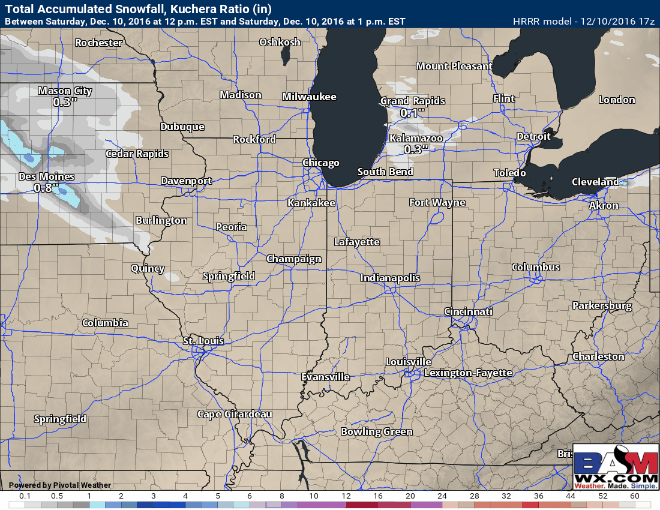 It is possible as warmer air works in aloft that surface temps could be stuck a 32ºF or below for a period of 3-6 hours Sunday evening allowing for some freezing rain to develop for a time. Below is a loop from 1pm-7pm from the latest NAM on possible ZR aka freezing rain.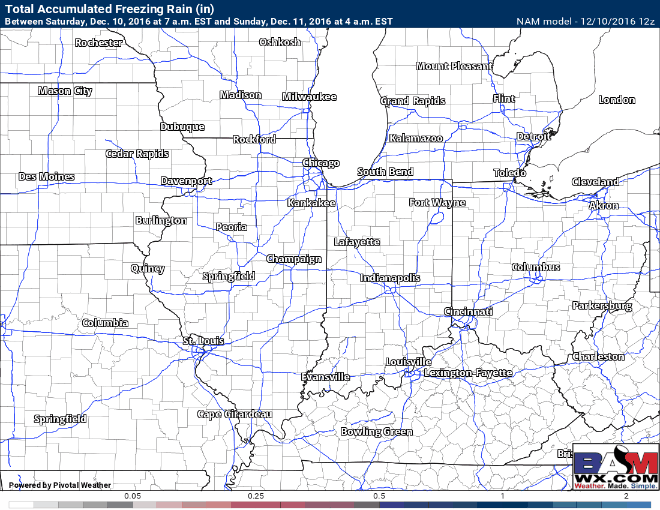 Still have concerns for slick surfaces to develop quickly Mon AM with possible black ice in spots.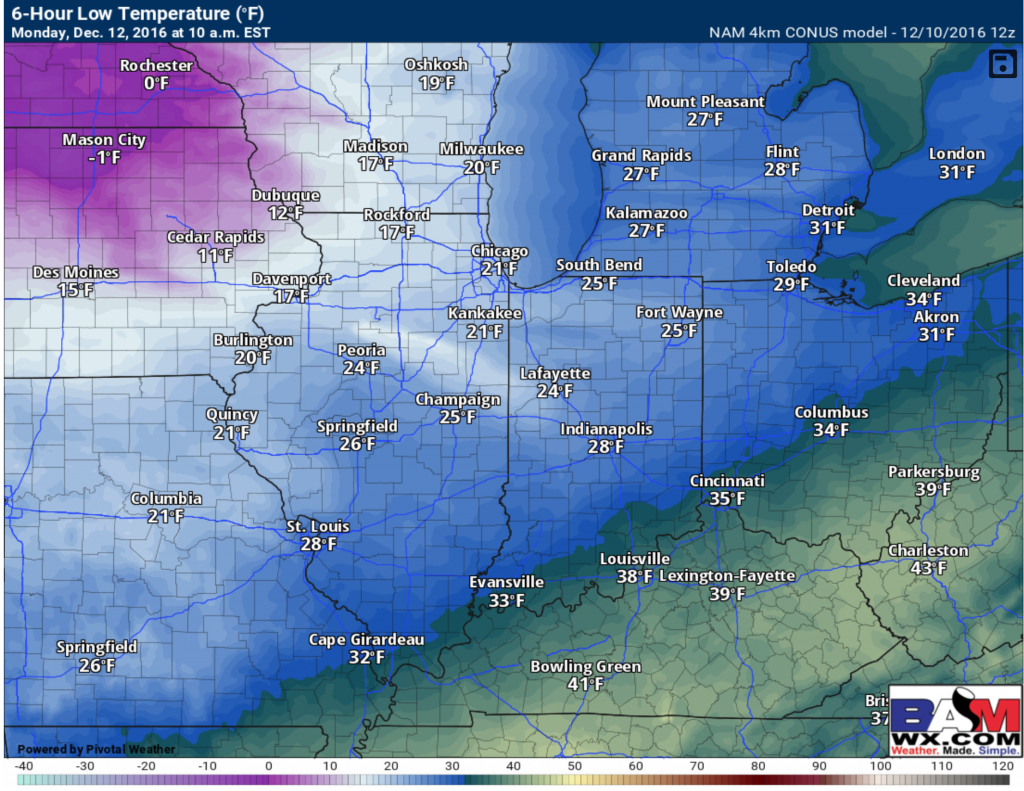 Here is our updated snowfall forecast. Please understand the gradient between 5″ of snow and no snow is rather significant so we just need to watch this going forward. This snow map won't be perfect but should be very close as we take literally everything into consideration and our team has worked hours on this today.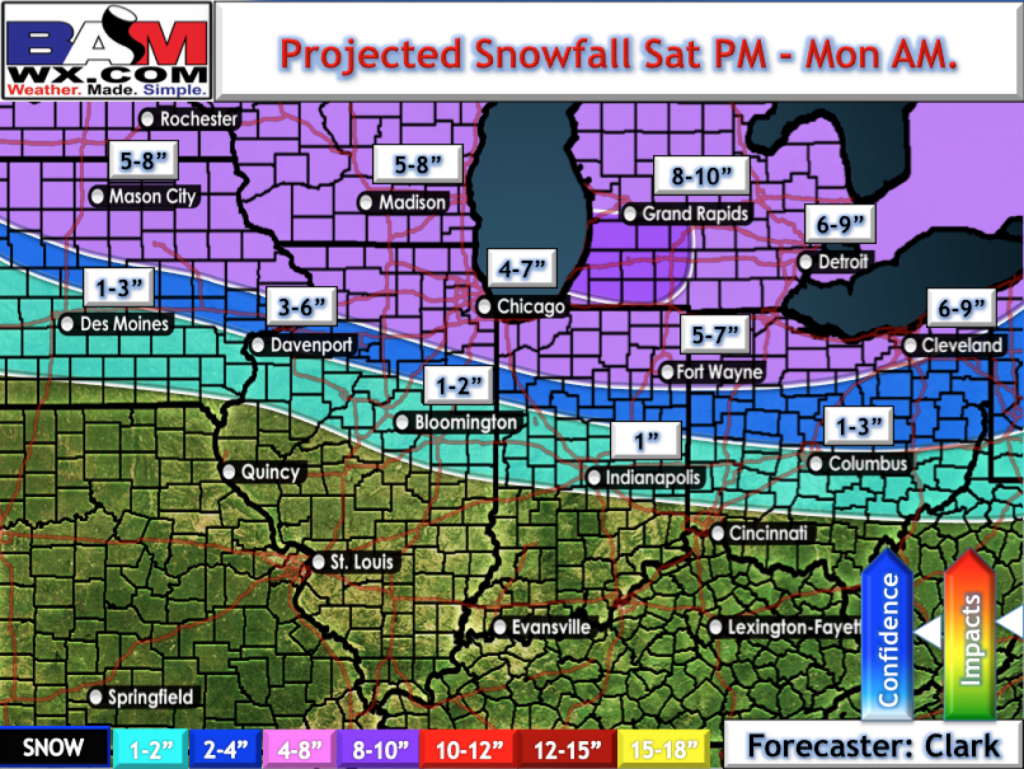 Look for a fresh new update tonight ~6pm. Ill also be texting commercial clients as necessary to your specific location with any big time changes from this forecast if need be. If you're invested in the personal text alerts let us know. M.
Please note the biggest uncertainty of this forecast is surface temps and how long they are at or below 32ºF on the southern end of the storm.