12/7/2016 Winter Threat Assessment Blog – Targeting a Very Cold Pattern Conducive for Multiple Snow Events
Synopsis: The coldest air of the season sweeps into the US over the next 2 weeks, which will no doubt increase energy demand leading up to the week of Christmas with temps next week dipping below 0 degrees at times in many locations across the northern half of the US…additionally, if you get a snowpack down anywhere where this cold sets up it will have an even greater impact on making temperatures colder. We are discussing multiple winter systems throughout our Zones and long-range forecasts here on the site, NOW is the time to subscribe to our weather services with both personal and commercial options (energy, snow removal/landscape, ag, etc)…contact us today! Info@BAMwx.com
GEFS model shows trend to cold for 2/3 of the Country next 2 weeks (TropicalTidbits.com map)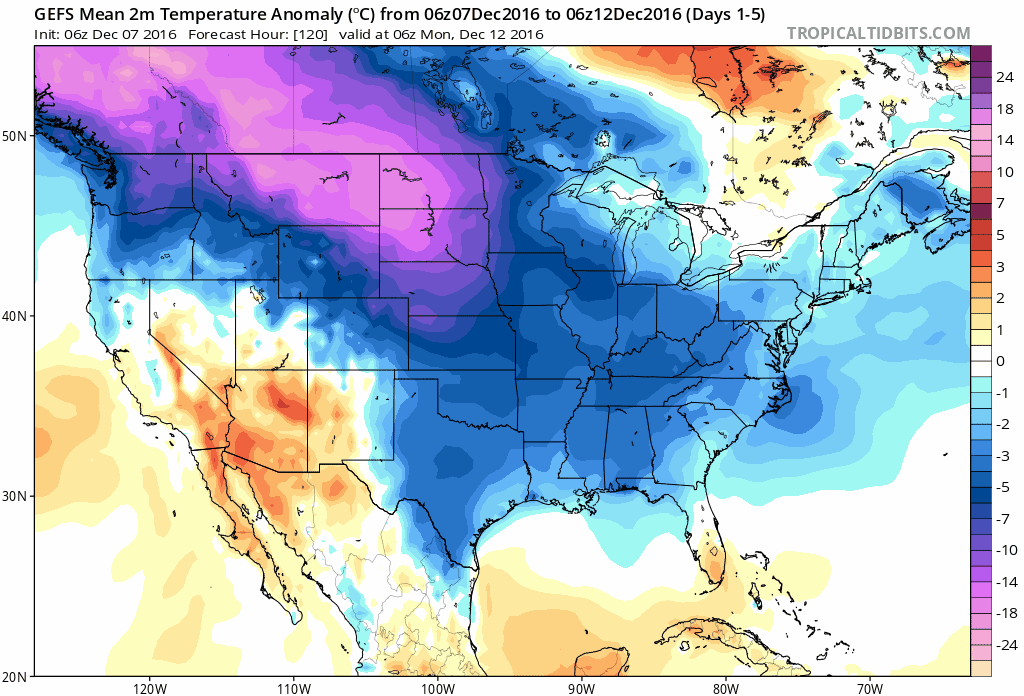 Coldest air on the Planet moves in next week…increasing energy demand with temperatures plummeting throughout the core of the Country (TropicalTidbits.com map).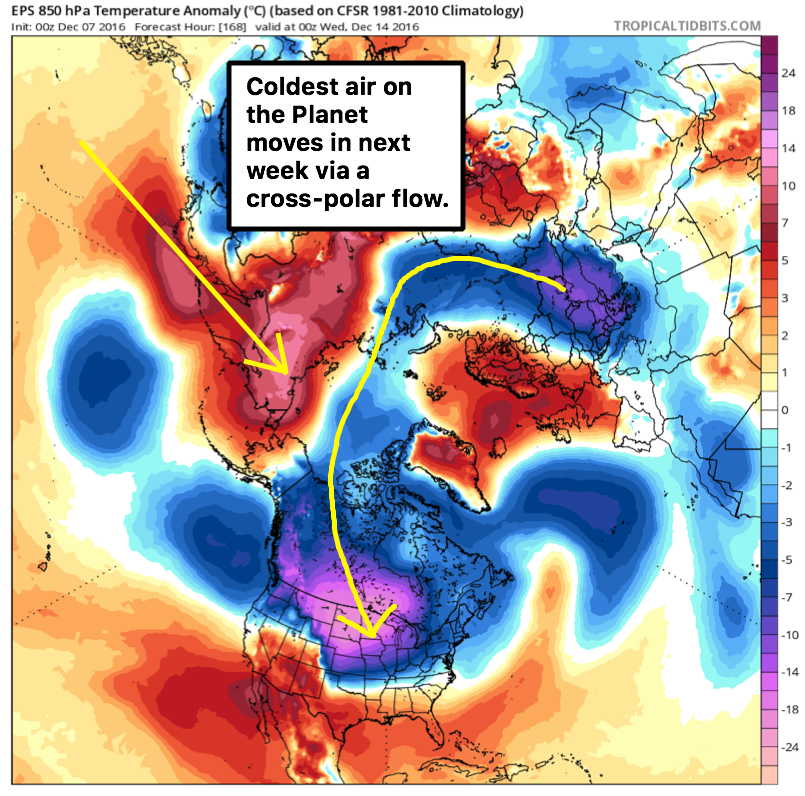 Next Targeted System (December 13-15th): This will be the last update on this system as our next update the system will be within 7 days.
Here's the first look at this system from the BSR on the 14th of December (Graphic: OrganicForecasting.com)

The Big 3 Global Forecast models all share a very consistent pattern set-up with this system…the GFS/Euro are very similar in timing, the Canadian is still trying to phase this system but has plenty of wintry potential still attached to it.

Winter Threat Assessment (Dec 13-15th):
Second Target System (December 16-18th): Here's this system showing up on the BSR ~December 17th give or take a day (Graphic: OrganicForecasting.com).

The last 3 GFS runs have been relatively consistent dropping in a sizable trough into the Plains east during this timeframe. We need to watch this system evolve in the coming updates to increase confidence of our Winter Threat Assessment target area…but at this time we feel there is real potential here for another Plains/Midwest/Interior Northeast wintry system.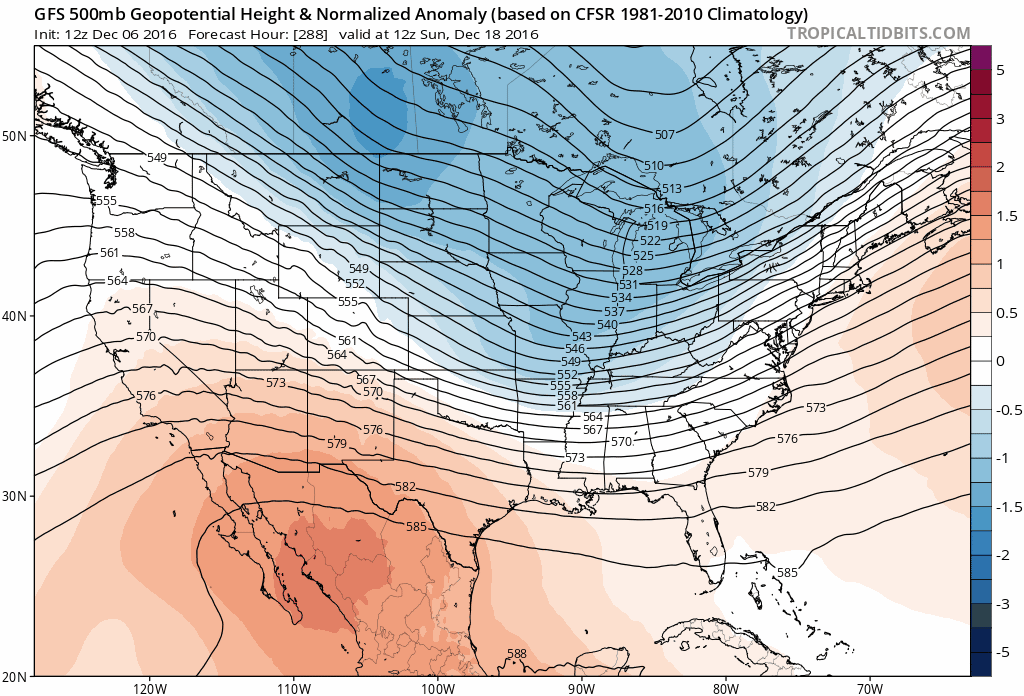 Winter Threat Assessment (Dec 16-18th): Pattern conducive for a "Miller B" type storm system. Perhaps an energy transfer situation off to the east coast.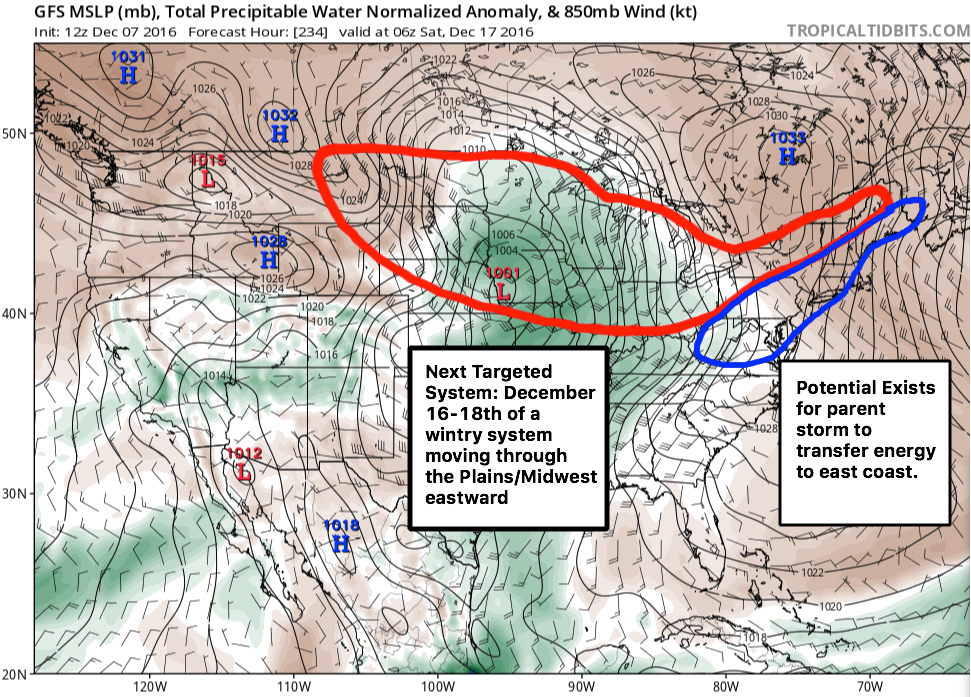 -Kirk
Confidence and Risk:
Above average confidence of a very cold pattern setting in over the next 2 weeks that will increase energy demand
Increasing confidence right now in our targeted system December 13-15th

Increasing confidence in our targeted system December 16-18th
Interested in getting the details any of these systems within 7 days, including timing, intensity, precipitation-type etc? Send us an email to "Info@BAMwx.com" expressing your interest and we will get you taken care of!
Thanks for checking out the latest Winter Threat Assessment blog! Here at BAM Weather, we specialize at giving you the most accurate weather information possible for when you have to make those high-cost decisions such as whether to plow or not, to pre-treat, lay salt, etc. We take the guesswork out of your daily weather-related tasks, no longer will you need to waste precious time and money averaging out 5 different forecasts from the local news stations to still not have a clear picture what's going to happen. You also get the option to speak to an on-call meteorologist 24/7, so your needs will always be met. We provide verified snow totals as well to certify your work. We make weather as simple as possible for you, while providing exemplary customary service.