Key Points – Tuesday, December 6, 2016 – weekend
Synopsis: Patchy dense fog continues this morning across portions of Zone 4, some freezing fog even being reported near the Chicago metro area as well which is typical with warmer air riding over a snowpack. Otherwise, our system continues to move through Illinois/Indiana border from the southwest to the northeast throughout the morning. A few spotty snow showers also possible across northern Zone 4 near Rockford and Chicago…no accumulation is expected. Skies turn mostly sunny later on today before our next system moves through the Midwest early Wednesday morning…the NAM and RPM models suggest the potential for a rain/snow mix turning to snow moving from the NW to the SE across central/southern Illinois with a dusting of snow forecasted. The coldest air of the season moves in Thursday morning across Zones 3/4, wind chills in the single digits or even lower likely Thursday and Friday mornings across eastern Iowa to the northern half of Illinois. Our focus turns to system #3 where uncertainty is VERY high as to the track of this system, precipitation-type and accumulation…details in the video. New European weeklies came in last night showing a colder, stormy pattern over the next 1-2 weeks…uncertainty arises with whether the cold we will see the first half of December hangs around the second half.
A few areas seeing some residual fog even freezing fog across Zone 3 this morning.
Our system continues to push through southern IL locations to the NE this morning, before exiting the state by ~10-11amCDT timeframe. An additional 0.1-0.25″ possible across southern IL locations. Decreasing clouds likely throughout the day as well.
We are still focusing on system #2 to move through Wednesday morning into Thursday across Zones 3/4, models still not handling the precipitation type and accumulations very well, but with the strong dynamics in play we would not be surprised to see a dusting to 1.0″ of snowfall across portions of Zone 3.
BAM Snowfall Accumulation Wed-Thurs system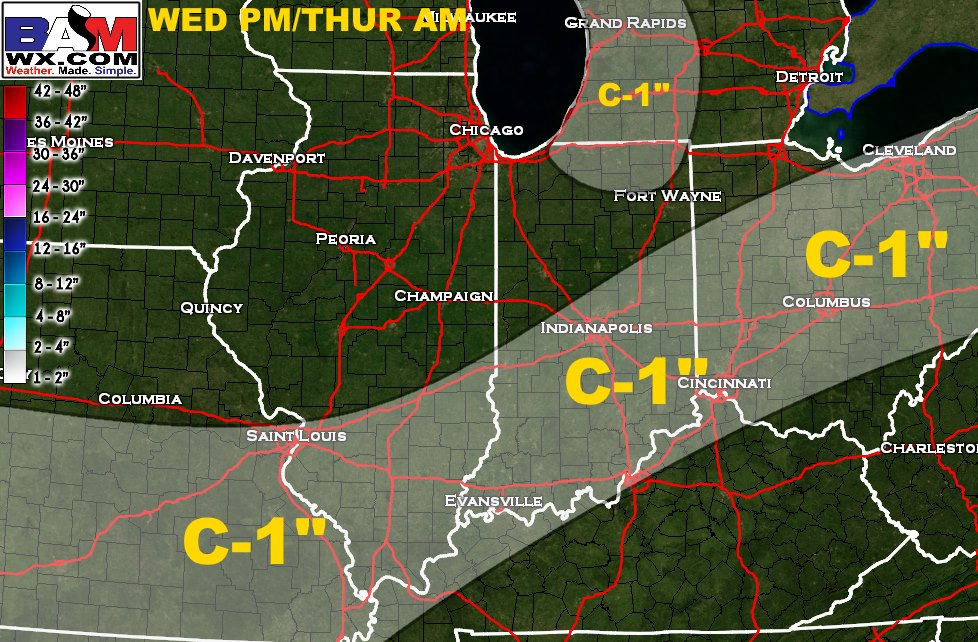 The season's coldest air moves into the Midwest Thursday morning, wind chills in the single digits to teens likely especially across eastern Iowa and the northern half of Illinois Thursday and Friday mornings. Still cold across Zone 3, wind chills likely in the teens to lower 20s.
Uncertainty arises with system #3 moving into the Midwest late Saturday into Sunday. The GFS and Canadian models are very similar in nature with the track, timing and precip-type, the European sees a system as well just different slightly on the track and precip-type. We talk about this in detail in the video, but we need to watch to see if the system comes south, which historically clipper systems like to do coming from the northwest…which would push higher snowfall accumulations into our Zones.
Early look at weekend snowfall accumulation totals from the European (15:1 ratio)…again, this needs fine-tuning but we wanted you to have an idea:
-Kirk
Confidence and Risk:
High confidence in the timing of our showers moving off to the northeast later this morning, giving way to mostly sunny skies
Above average confidence locally dense fog hangs around portions of Zone 4 into the late morning hours
Average confidence still in our system Wednesday into Thursday as to the timing, precip-type and accumulations
High confidence we see the coldest air of the season Thursday and Friday mornings across Illinois
Below average to low confidence in our weekend system…we need more consistent data at this timing…but stay glued to the forecast of details
Today's Video (7 min):