12/5/16 Winter Threat Assessment Blog – Discussing a Cold and Active Pattern Next 2 Weeks of December
Synopsis: Firstly, I wanted to show a verification post of the system that occurred yesterday and what we had posted over a week ago for our target area…doesn't get much better. If you're looking for quality weather forecasts that are reliable, affordable and accurate inquire today for both personal and commercial services! Info@BAMwx.com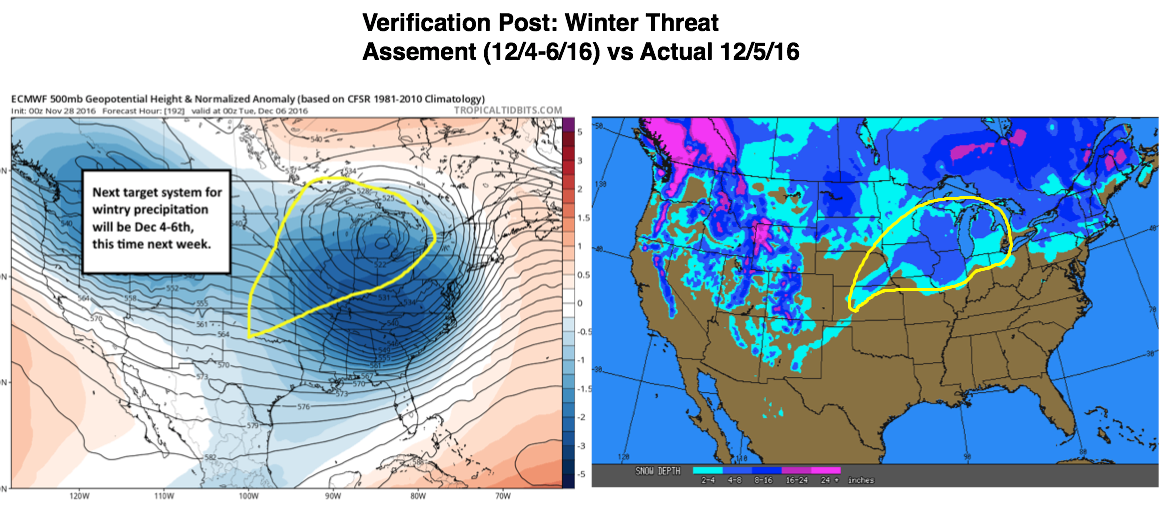 Latest look at our forecasted average temperatures over the next 2 weeks from the GEFS…we continue to see cold air intrude into the US through the heart of December. As good as it is that we have a good timespan of below normal temperatures across a good portion of the CONUS, we need to start seeing a better moisture supply to be give us those accumulating snow systems to push through the Plains eastward. There still is big variability from mid to late month as to whether the cold sticks around as well…we will update this in future blogs.
Temperature anomaly through December 21st shows below normal temps spreading east across the US
(Maps provided by TropicalTidbits.com)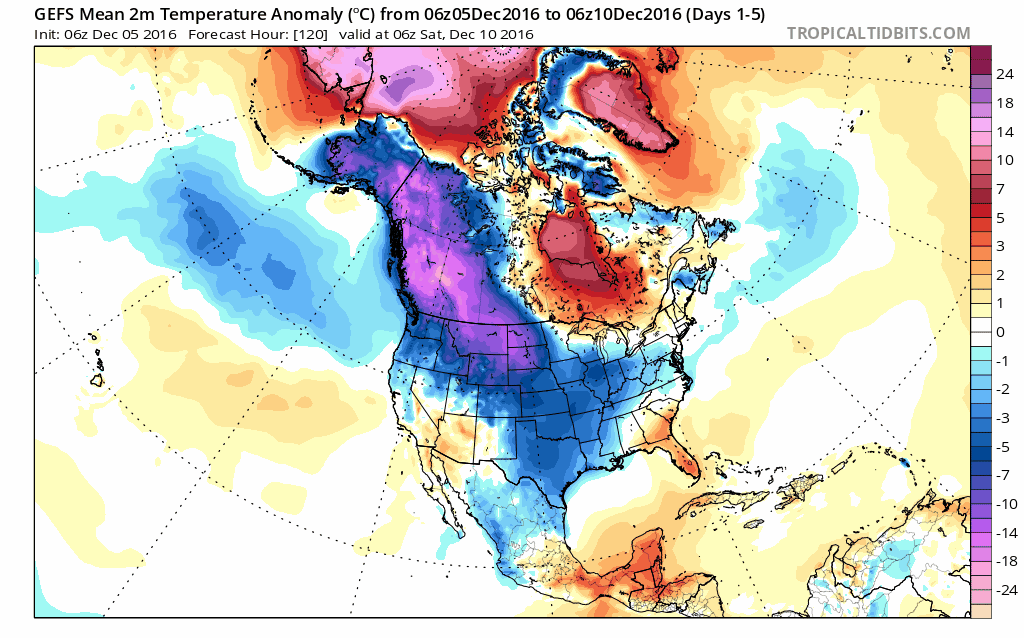 We see a favorable pattern over the next week for cold air filtering into the Lower 48, with big time ridging in the Bering Sea which has to force that colder, cross-polar flow into the CONUS bringing the coldest weather of the season.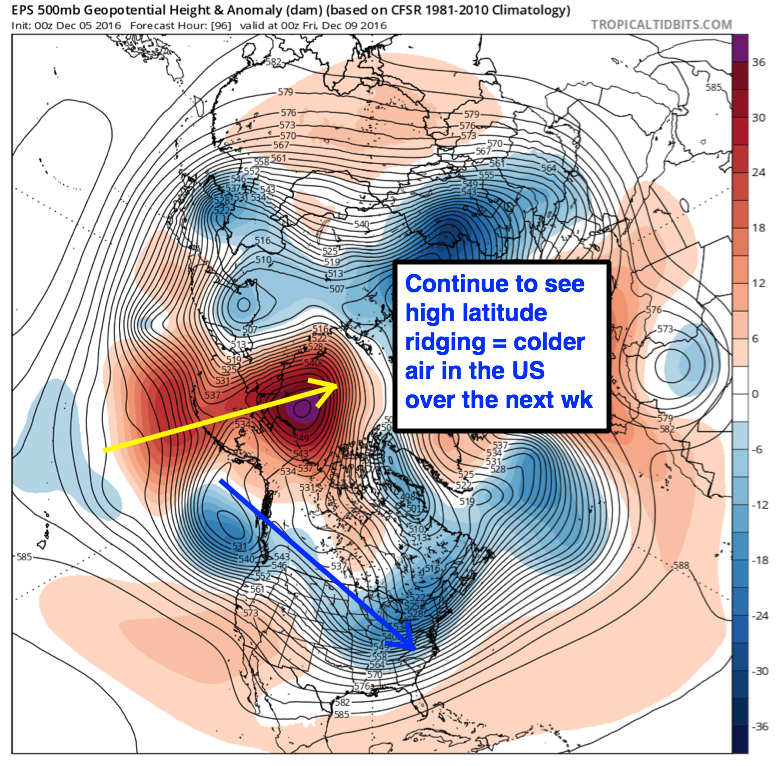 Next Targeted system (~Dec 13-15th): Here's the first look at this system from the BSR on the 14th of December (Graphic: Organicforecasting.com).

Here's what the GFS has for a solution of this system via the 500mb pattern.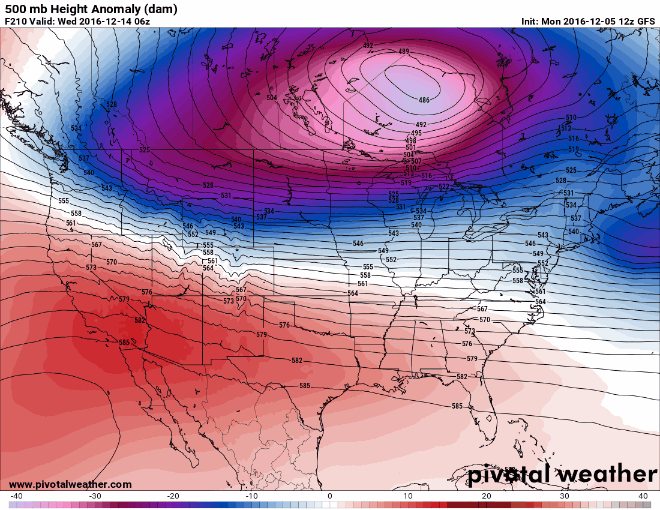 Here's what the European has for a solution via the 500mb pattern…the two models are fairly close in time and impacts this far out.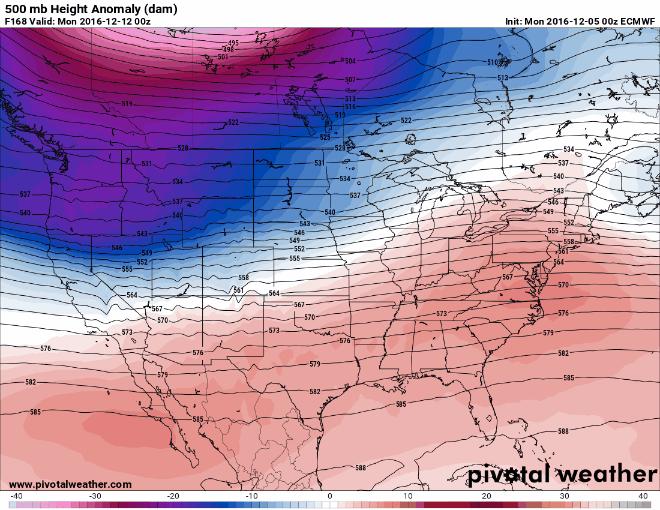 Winter Threat Assessment: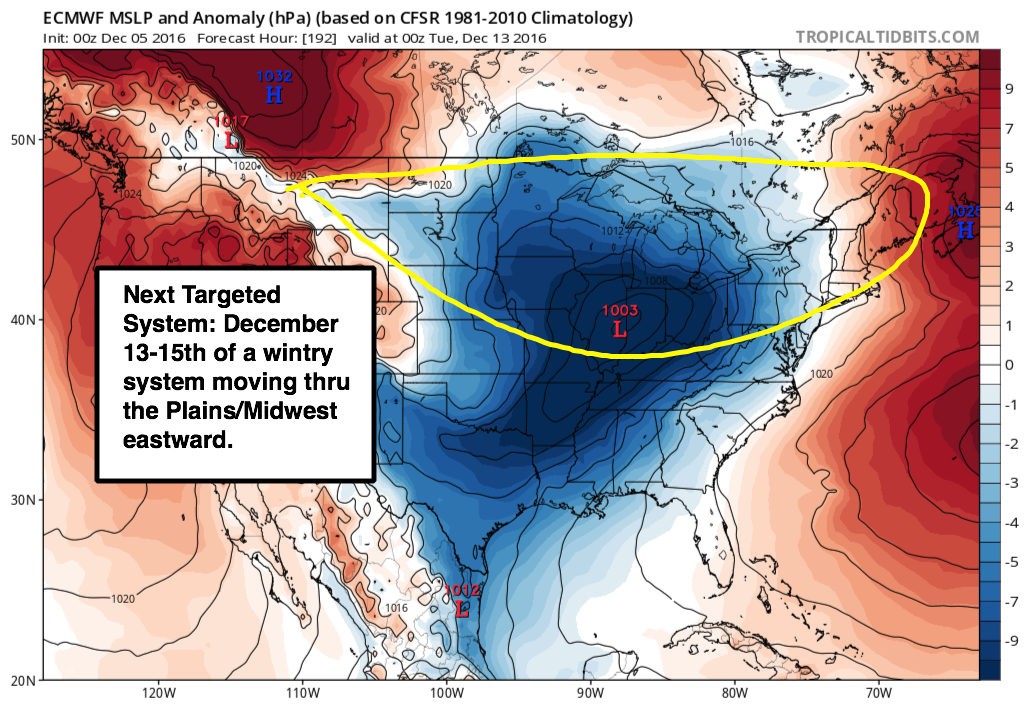 Confidence and Risk:
We have above average to high confidence the pattern over the next 1-2 weeks turns cool to colder and active from west to east
We have below normal confidence the cold sticks around from the 15th beyond based off of latest data
Average to below average confidence in a wintry system moving through from December 13-15th
Interested in getting the details any of these systems within 7 days, including timing, intensity, precipitation-type etc? Send us an email to "Info@BAMwx.com" expressing your interest and we will get you taken care of! 
Thanks for checking out the latest Winter Threat Assessment blog! Here at BAMwx, we specialize at giving you the most accurate weather information possible for when you have to make those high-cost decisions such as whether to plow or not, to pre-treat, lay salt, etc. We take the guesswork out of your daily weather-related tasks, no longer will you need to waste precious time and money averaging out 5 different forecasts from the local newstations to still not have a clear picture what's going to happen. You also get the option to speak to an on-call meteorologist 24/7, so your needs will always be met. We provide verified snow totals as well to certify your work. We make weather as simple as possible for you, while providing exemplary customary service.