#ILwx #INwx #OHwx Friday All Zones Update – Warm, windy and wet today…winter-like feel this weekend with lake effect snow possible. K.
Key Points – Friday, November 18, 2016 – short-term
Synopsis: Massive temperatures changes in the forecast over the next 24 hours, we go from the 70s to the 20s this weekend…just incredible stuff for mid-November. Possible strong to severe storms in the forecast as well so make sure to check out the video for timing of these; damaging winds are the main focus but an isolated QLCS tornado is not out of the question out of ahead of the cold front. Lake effect showers likely on the backside of this low pressure as those NW winds flow over those warm Lake Michigan waters. Otherwise a cold, winter-like weekend is in store…we briefly mention our Thanksgiving week system as well as we know many of you will be traveling a lot this week. Have a great weekend!
Today: Here's forecasted high temps for the remainder of the day…folks to the west in IL have already experienced their highs for the day as the front has already passed…we go from 70s to 20s this weekend!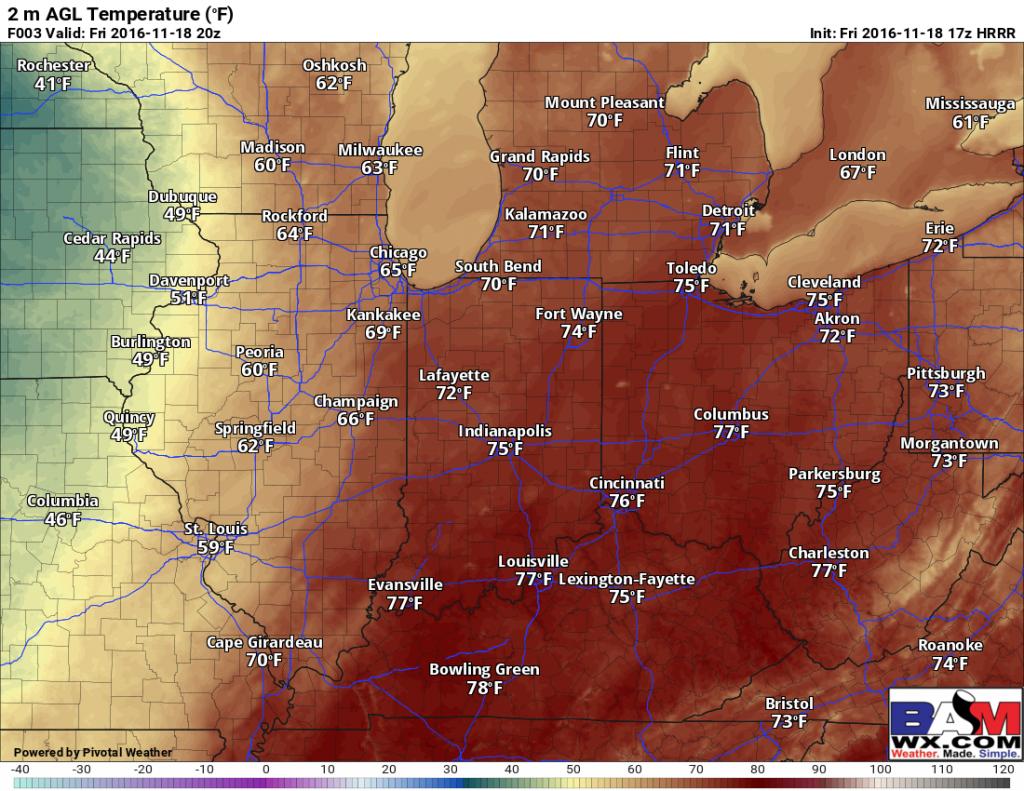 Latest look at satellite and radar…showers and storms moving from the SW to the NE into Indiana/Ohio this afternoon into tonight.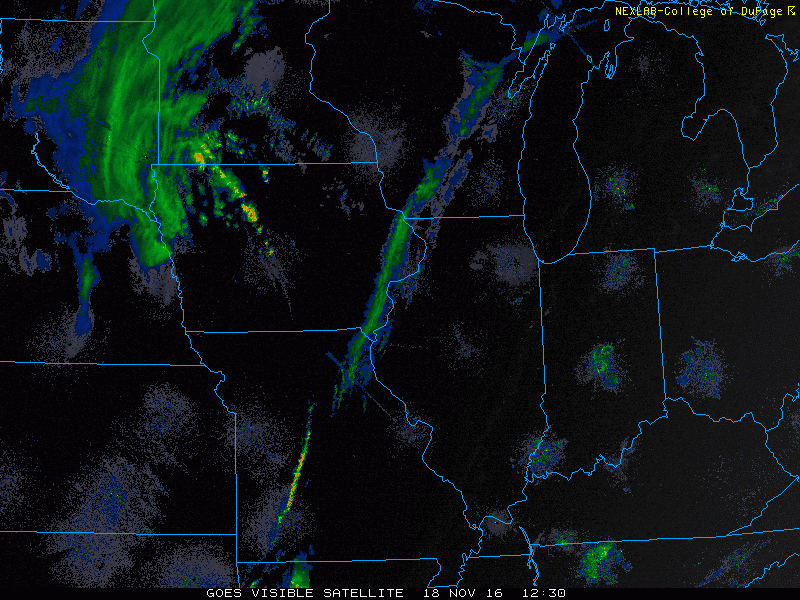 Eastern IL and western IN locations have been placed in a SLIGHT (video mentioned marginal, we've since been upgraded) risk for strong to severe storms this evening…a mesoscale discussion has just been issued as well mentioning damaging winds as the main threat going into this evening…again, an isolated tornado is not out of the question given the dynamics.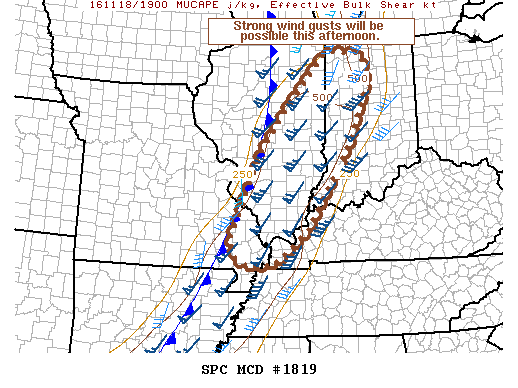 We discuss timing of the showers and storms in the video…here's a look at rainfall totals…0.5-0.75″ possible as this line moves east…dries up and weakens after sunset as we lose that daytime energy, so folks near SW OH will get on lower rainfall totals.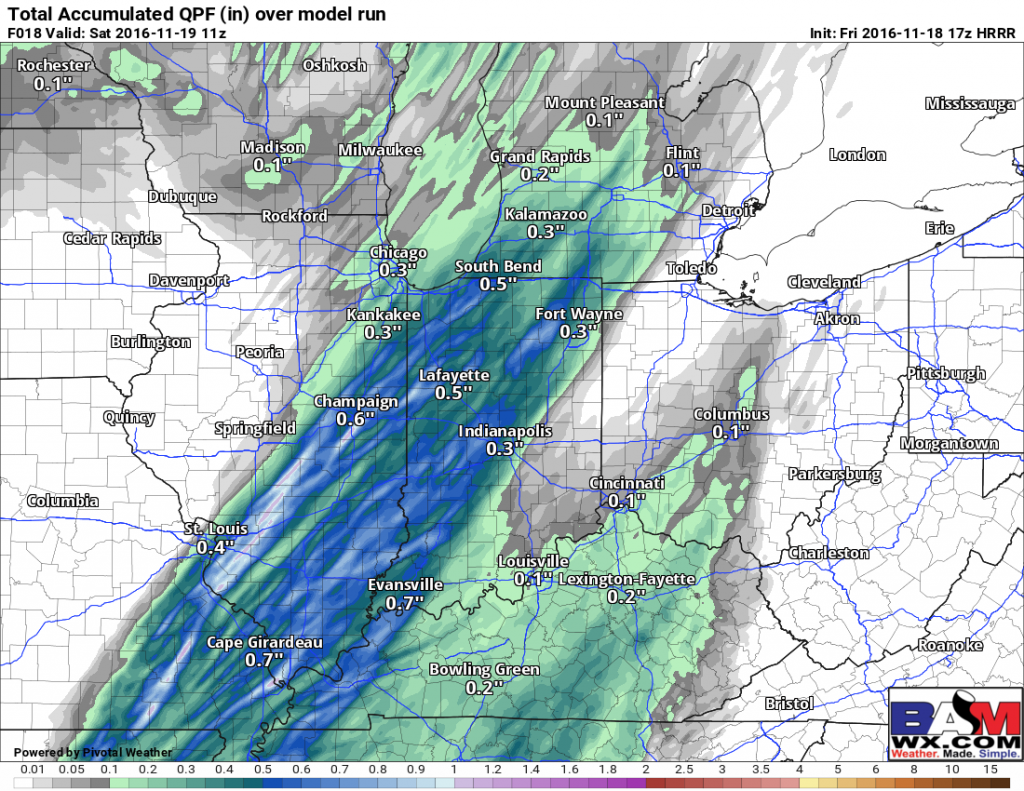 Lake effect showers possible as this low pressure moves off to the east and those cold NW winds flow over the warm Lake Michigan waters…northern IL folks could see some flurries with no accumulation expected early Saturday morning. Meanwhile, northern IN, southern MI and NW OH folks could see around 1″ with isolated higher amounts possible in southern MI and northern IN. A few moderate bands of snow are possible tomorrow morning so at times visibility could be reduced, otherwise road conditions shouldn't be too bad as today's high winds will likely wick away and rainfall that occurs. A few slick roads aren't out of the question, though.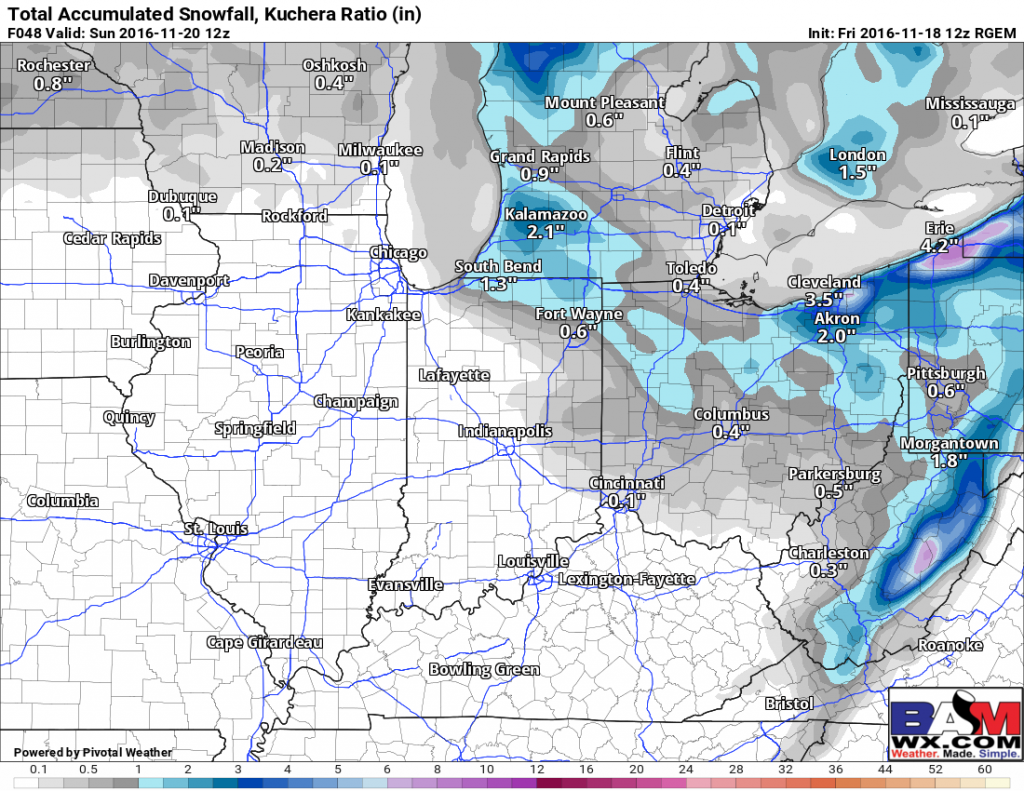 Wind chills this weekend likely to dive into the lower 20s to teens by Sunday morning…it will no question feel like winter out there, folks.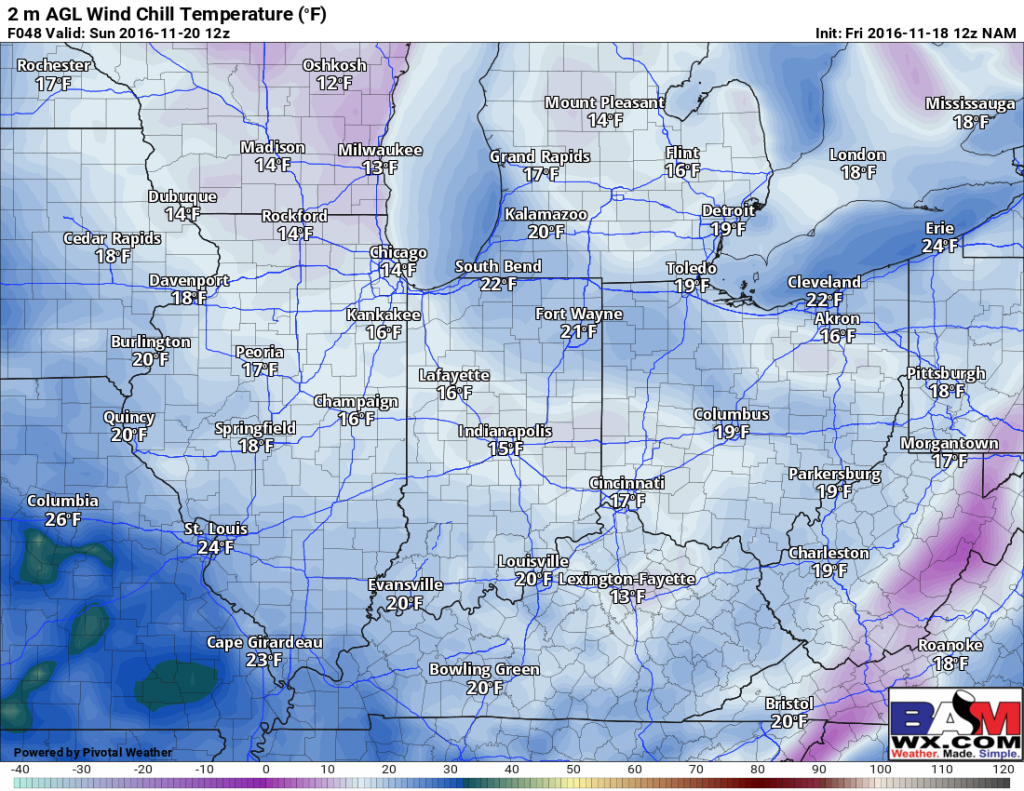 Confidence and Risk:
– Above average a few stations hit all time record highs today as the cold front pushes very warm air out ahead of the system
– Average confidence in strong storms this evening across eastern IL and western IN…damaging winds are the main risk, although an isolated tornado is not impossible
– Above average confidence in the timing of our showers and storms into tomorrow
– Above average folks in northern IN, southern MI and NW OH see some lake effect showers Sat morning
– High confidence brutal wind chills we haven't felt all season will occur this weekend, widespread wind chills in the teens expected by Sunday morning
Today's Video (6 min):