11/18/16 Winter Threat Assessment Blog – Very Active Pattern Evolving
*****Our annual Black Friday Cyber Monday subscription sale is getting closer! Our weather subscriptions are excellent "stocking stuffers"! Email us at: Info@BAMwx.com for info!
Synopsis: A very impressive winter storm continues to bring blizzard-like conditions to portions of the Dakotas and Minnesota today, while also bringing the chance for strong storms along a cold front to folks in the Midwest…quite the storm. Today's update will discuss how things are shaping up ending November ushering in December.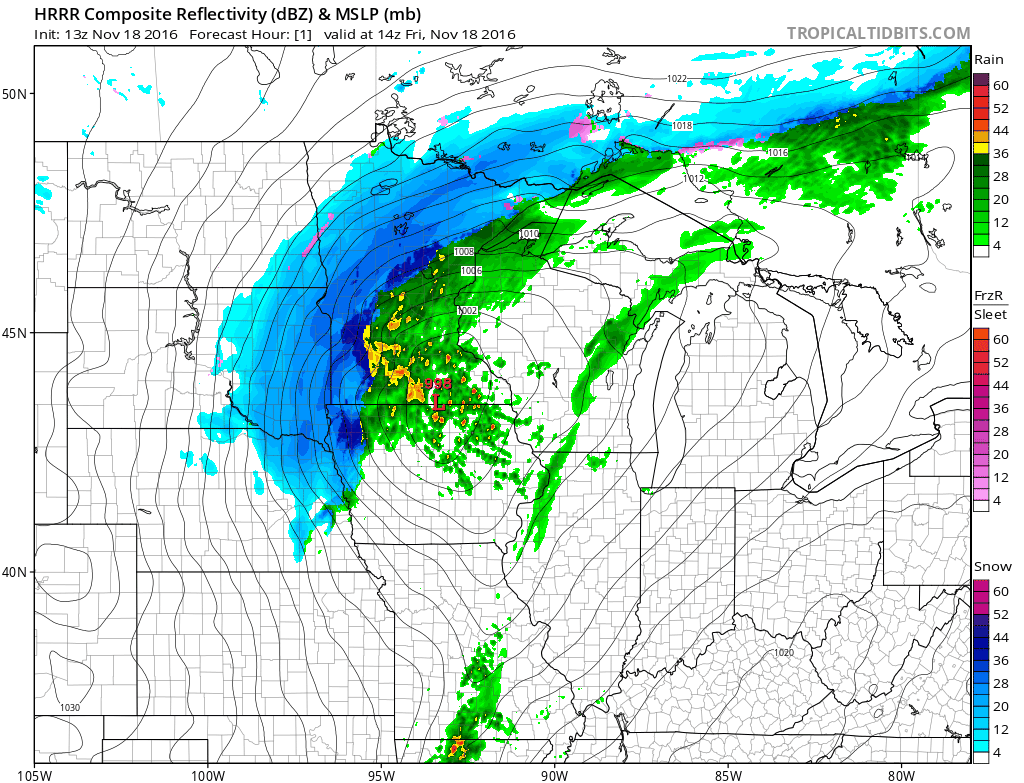 Long-range (7+ days out): I wanted to cover for you 2 more dates that we are keeping an eye on going forward. The first being November 27th-29th…the question continues to be what the cold supply from this system would be…the GFS has a slightly deeper trough which would suggest more available cold air, but it is nice to see the Euro chiming in with a system at nearly the same time period.
Euro/GFS solutions Nov 27-29th…fairly consistent on the timing as well given that it's 10 days out…the confidence is low as to where the track of this system comes from:
Another set of dates that we are eyeing is December 1st-4th…if you have been following along you'll remember this is the timeframe we picked out to correlate with the SOI drop earlier this week….unfortunately the European operational doesn't go out that far, but both the GFS and CFS are picking up on a healthy looking system to move through the core of the Country.
SOI drop…add ~20 days to this drop and you have the dates of this system in December:

GFS/CFS solution early December system…very similar in nature, this system needs to be watched closely:
Concluding thoughts: With the AAM now trending in a more neutral phase going forward and with the European Weeklies last night having a favorable pattern into December, our activity has definitely started to pick up. With this being said, we need to keep an eye the strength of the Pacific jet…if we notice a true weakening and a strengthening Walker Cell then it's game on! It's only a matter of time before a real "wintry" system moves through the Ohio Valley…if we were to see similar systems move through as these currently, later in winter they would certainly merit more talk of snowfall. Here's a look at the GFS ensemble pattern entering into December, we have a good west-based -NAO, a strongly negative AO and look to be transitioning into a -EPO and neutral PNA…as well as no high pressure off the East Coast which allows storm systems to filter better into the Ohio Valley and recycle. A very good sign for things to come in December!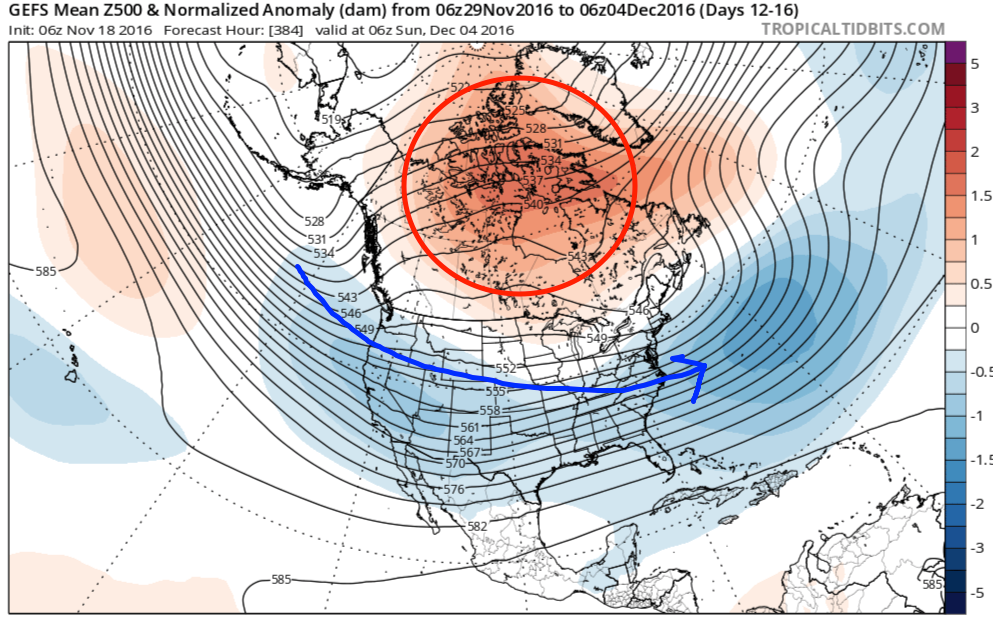 Confidence and Risk:
– Average to above average confidence in our current pattern to continue to be active as we end November and begin December
– Below average confidence in our system ~Nov 28th having "wintry" potential, but it is good to see the Euro/GFS in agreement on timing
– Below average to low confidence in our system Dec 1-4th, with that being said it would correlate very well with our recent SOI drop
–

 Confidence is starting to increase from low to below average of a more favorable pattern as we enter December for a more cold air supply, which increases the chances for any system to move through to be "wintry" in nature.
Interested in getting the details any of these systems within 7 days, including timing, intensity, precipitation-type etc? Send us an email to "Info@BAMwx.com" expressing your interest and we will get you taken care of! 
Thanks for checking out the latest Winter Threat Assessment blog! Here at BAMwx, we specialize at giving you the most accurate weather information possible for when you have to make those high-cost decisions such as whether to plow or not, to pre-treat, lay salt, etc. We take the guesswork out of your daily weather-related tasks, no longer will you need to waste precious time and money averaging out 5 different forecasts from the local newstations to still not have a clear picture what's going to happen. You also get the option to speak to an on-call meteorologist 24/7, so your needs will always be met. We provide verified snow totals as well to certify your work. We make weather as simple as possible for you, while providing exemplary customary service.
-Kirk