Key Points – Tuesday, November 15, 2016 – next week
FORECAST DISCUSSION:
***DON'T FORGET! Our final winter outlook will be posted this night at 8:00pmEST with a live Q/A on Periscope…we will tweet the links closer to broadcast***
Synopsis: Intermittent sun and clouds expected today, some residual fog across portions of northern Illinois may hang around into the morning hours before burning off to a nice day. Upper 50s to lower 60s expected today, low to mid 60s with 70s in southern IL expected tomorrow and more widespread 70s expected Thursday ahead of our powerful system. Big time wind gusts are in the forecast from Thursday evening into the weekend across our Zones, expect wind gusts up to 40-45mph+ at times, sustained winds more like 15-20mph. Right now we are targeting showers and maybe some thunder to enter western IL by Friday afternoon moving east fairly quickly…expect showers to exit the state just after midnight Saturday morning. Brutal wind chills will be on the backside of this system as winds turn to the NW; wind chills in the teens widespread expected Sunday morning, more of the same on Monday more just a few degrees warmer…a "winter" feel will be in the air. Targeting a system moving through next Tue-Thu Thanksgiving week, stay tuned to the long-range for more updates on timing and precipitation type. Lastly, check out the latest European ensemble 45 day snowfall totals…this has been consistent over the past week, 6″+ of snowfall through now until Christmas would not be out of the question at this point.
Patchy fog possible again tomorrow morning across eastern Iowa and northern Illinois.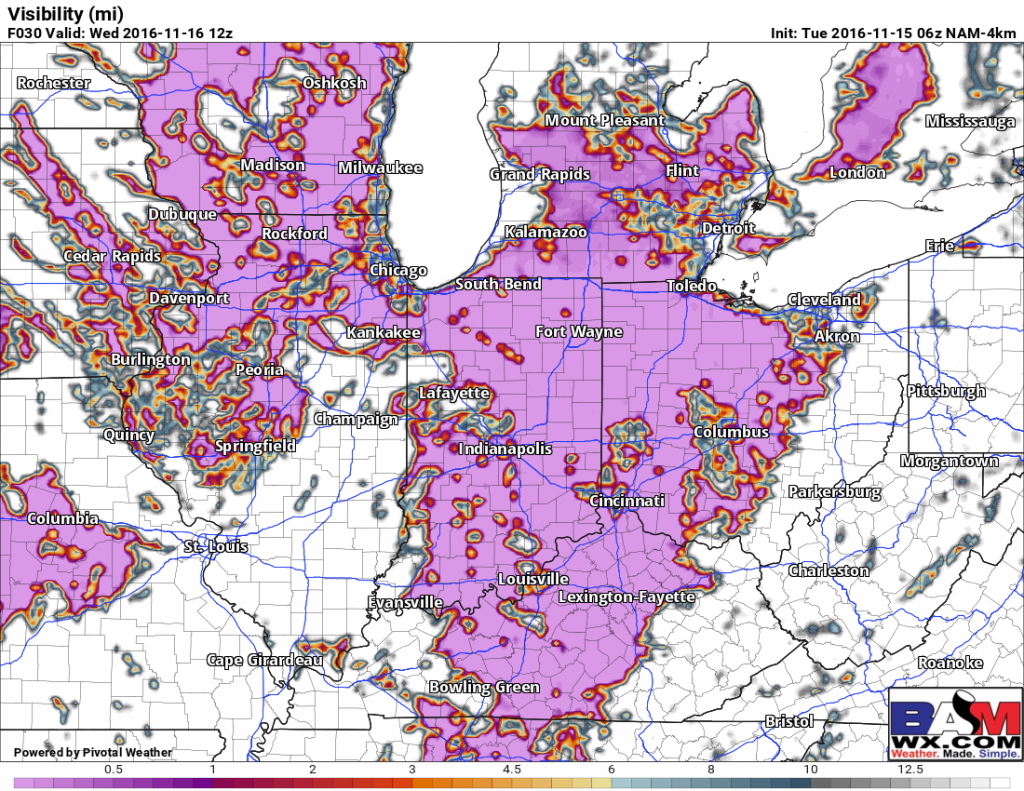 End of the week: temps increase over the next few days, wind gusts increase from Thursday on as well. Check out these wind gusts Friday evening into Saturday…gusts up 45mph+ are expected.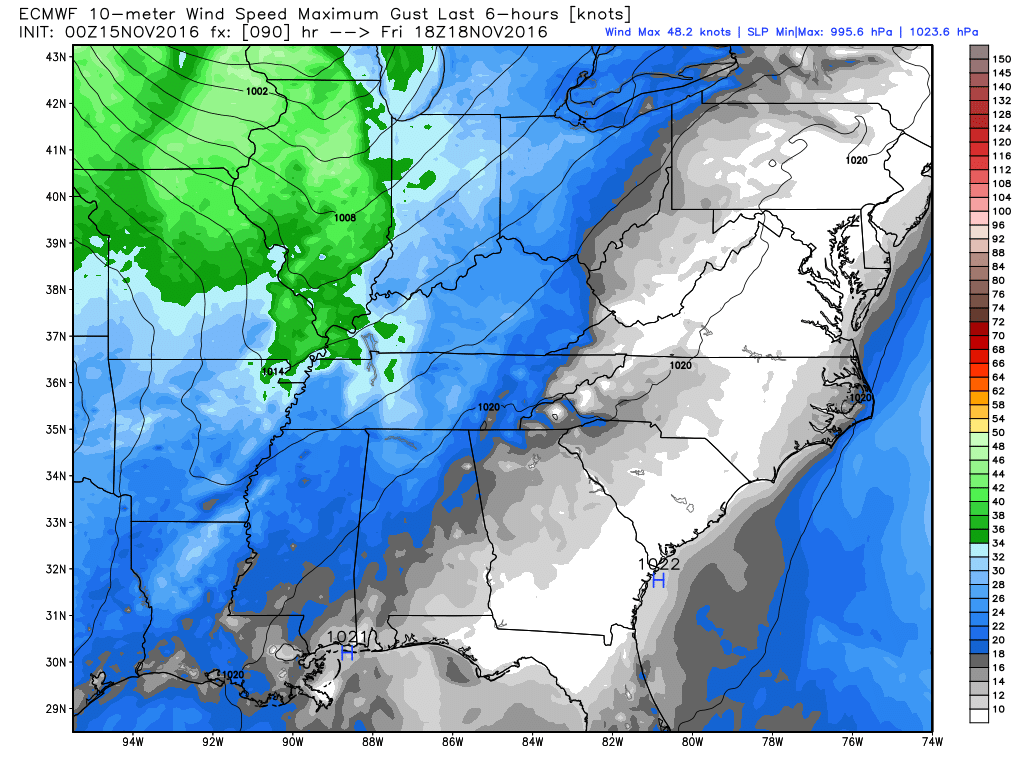 Friday into Saturday: Targeting showers across western IL afternoon Friday moving quickly east…all showers likely out of the state by midnight.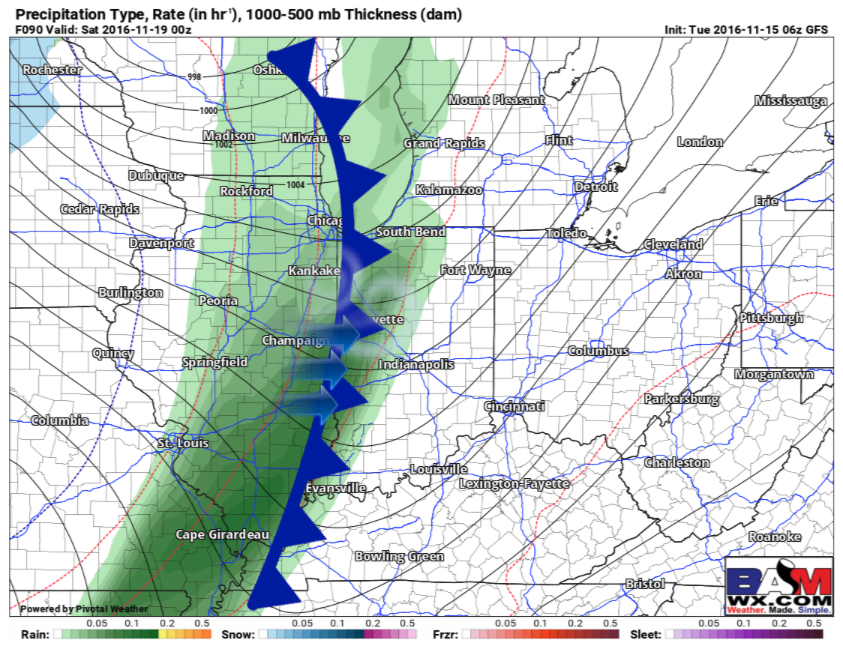 Rainfall totals from this system have shifted slightly south more aligned with the European runs, 0.1-0.25″ possible across Zone 4, 0.25-0.50″ likely in Zone 3 with isolated higher amounts possible.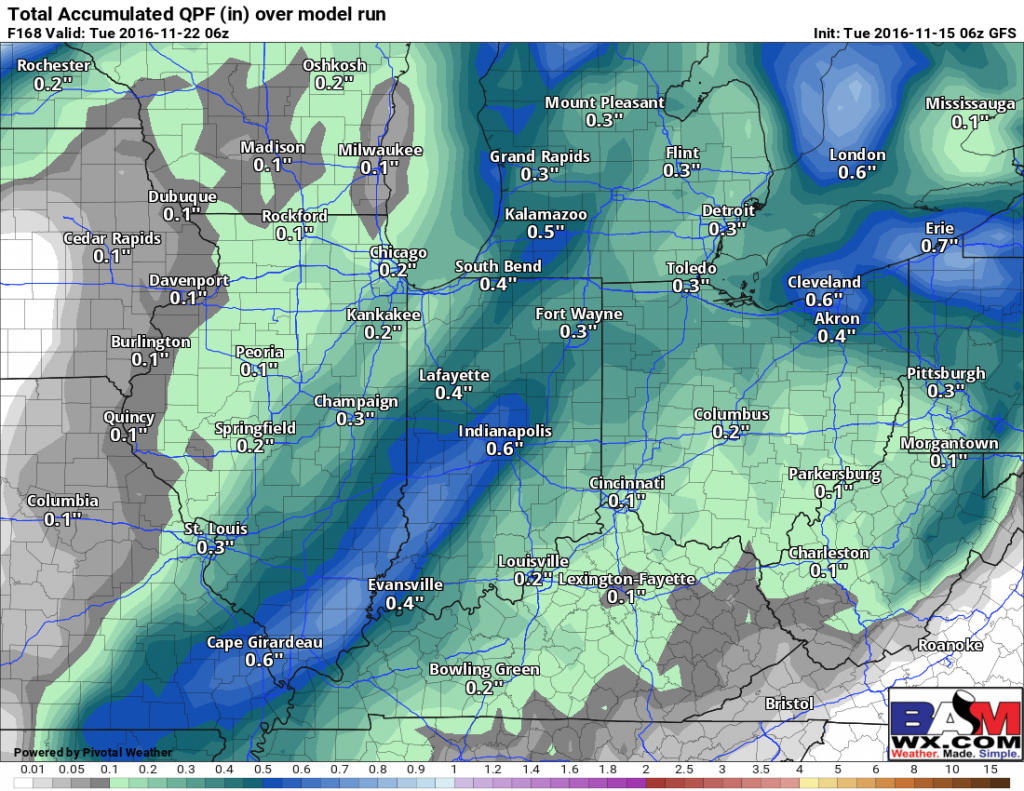 Check out these wind chills Sunday morning as this system pushes east ushering in a "winter-like" feel…it'll feel like the teens outside, frigid!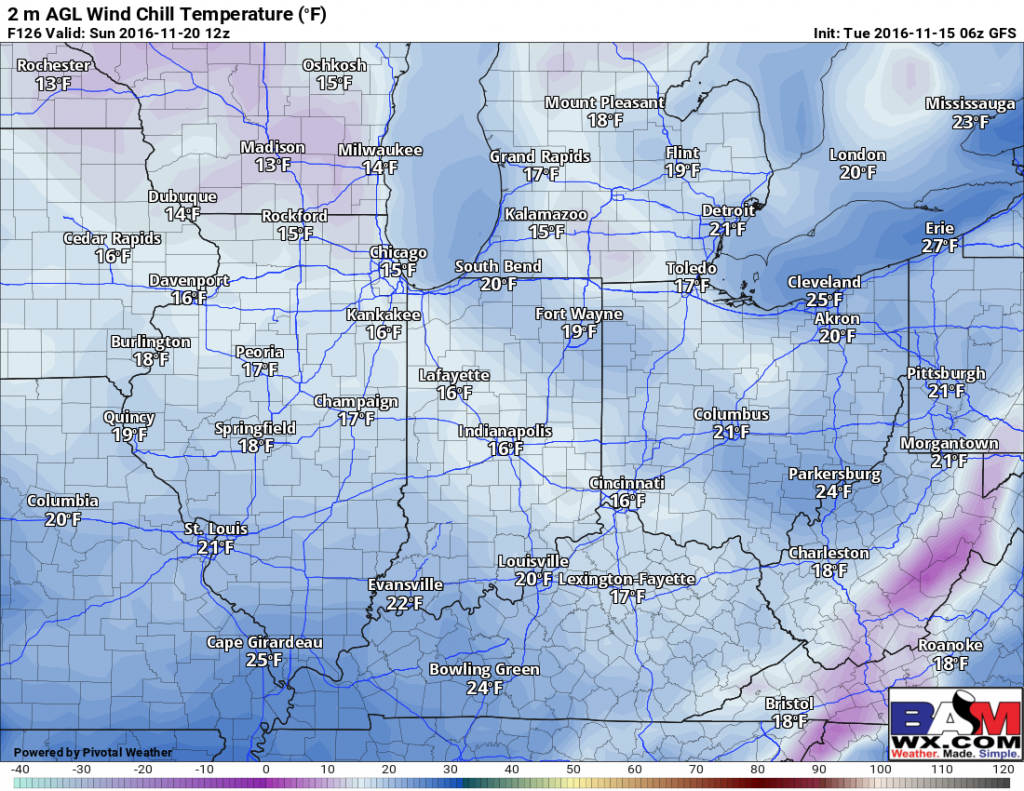 If you read our winter threat assessment blog post yesterday, you'll remember we are targeting a system moving through Thanksgiving week next week. Details still need fine-tuned, but there looks to be cold enough air associated with it to bring "wintry" potential.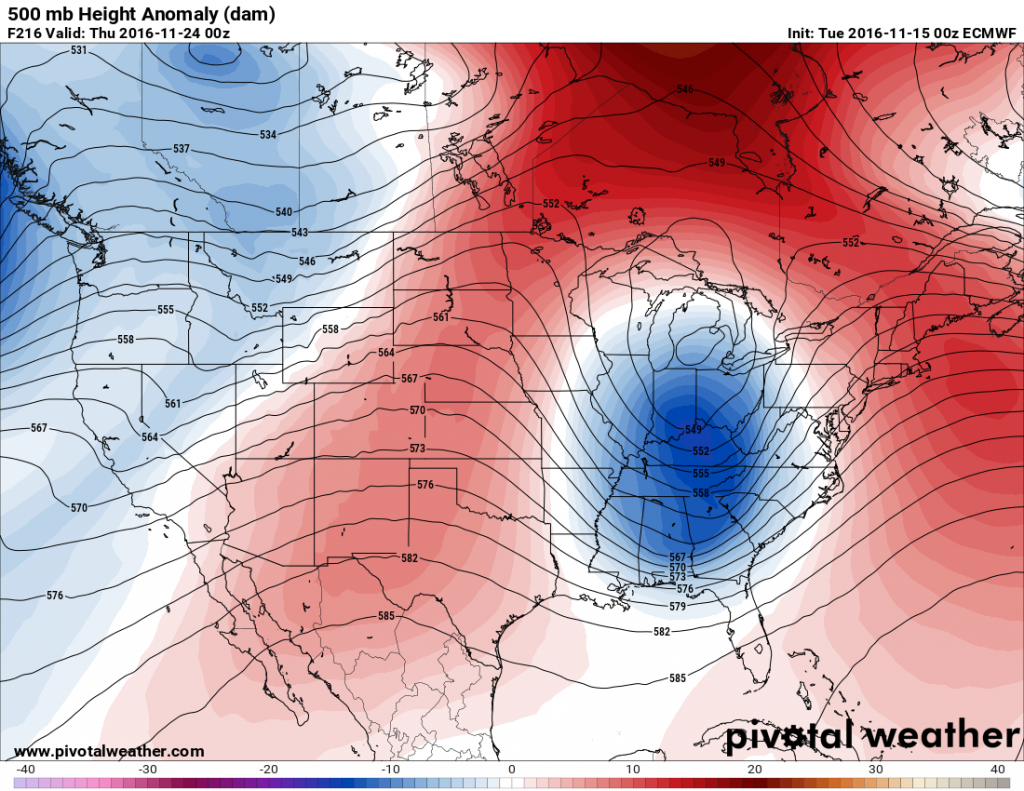 Briefly, check out the latest European Ensembles snowfall totals over the next 45 days…it is very encouraging to see snow creeping into the Ohio Valley and Midwest…details will be ironed about, but we are definitely starting to see a more active pattern as we end November and usher in December.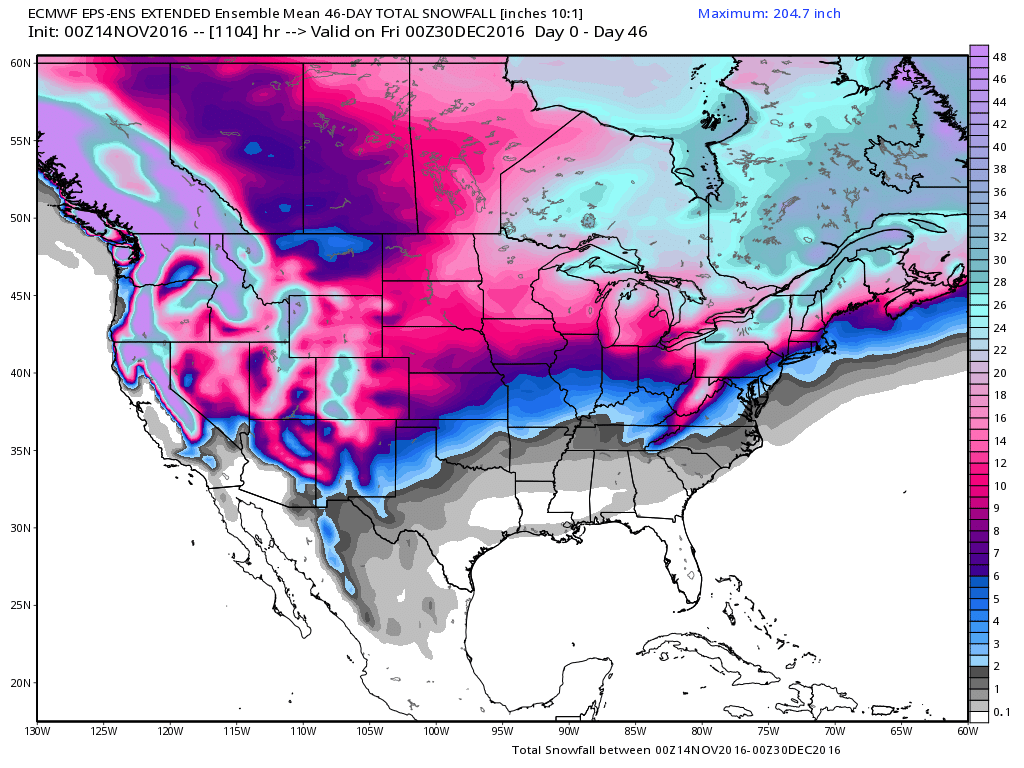 Confidence and Risk:
High confidence another nice day is in store today with temps in the upper 50s to lower 60s
Average confidence in patchy fog across Zone 4 tomorrow morning
Above average to high confidence wind gusts up to 40-45mph possible Friday into early weekend across our Zones
Average to above average confidence in the timing of our cold front moving through IL from west to east, before moving out after midnight Sat morning
High confidence of winter-like wind chills Sunday/Monday morning as this system pushes east ushering int much colder air
Below average confidence in the details of our system Thanksgiving week
Today's Video (5 min):