11/14/16 Winter Threat Assessment Blog – Targeting Thanksgiving Week System
Our annual Black Friday Cyber Monday subscription sale is getting closer! Our weather subscriptions are excellent "stocking stuffers"!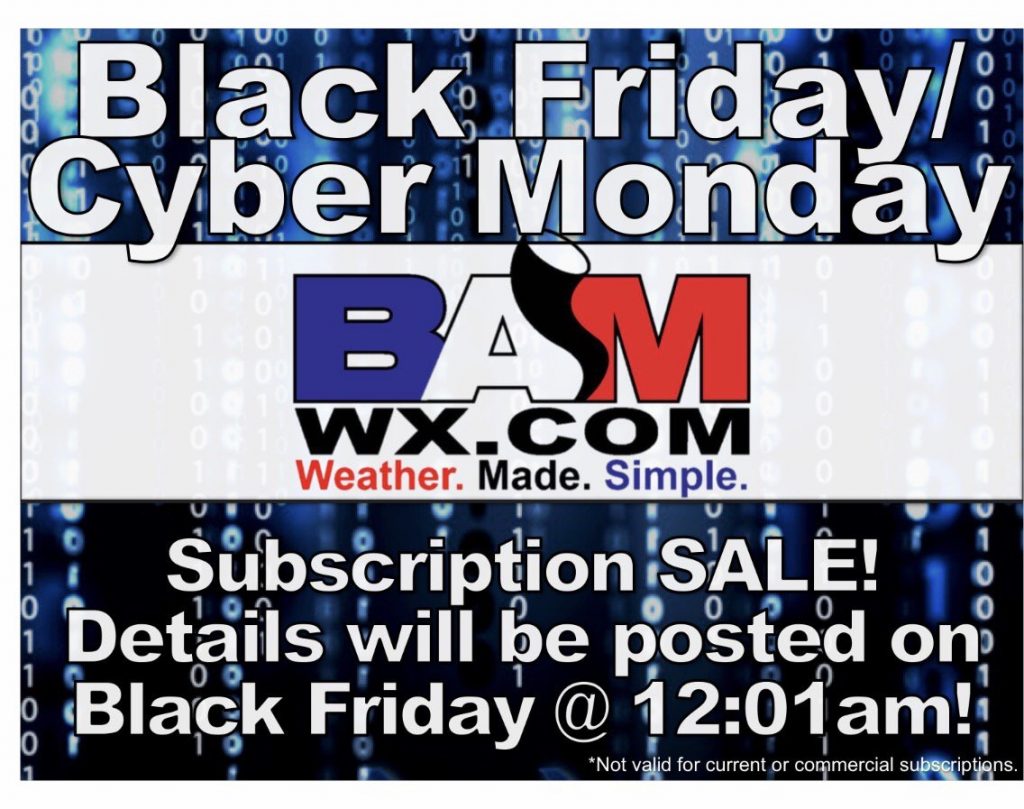 Synopsis: I wanted to briefly cover the system we had mentioned last week we were targeting from the 19th-21st; with that being said, it is getting beyond the 7+ day mark of our target dates for this blog, so if you are wanting specifics for this system, please send us an email at: Info@BAMwx.com for access to our forecasts! All of our top forecast models are picking up on this system, for example, here is the Canadian 10 day snowfall forecast vs the rough area we had drawn last week…pretty spot on if you ask me! 
Canadian 10 day snowfall accumulation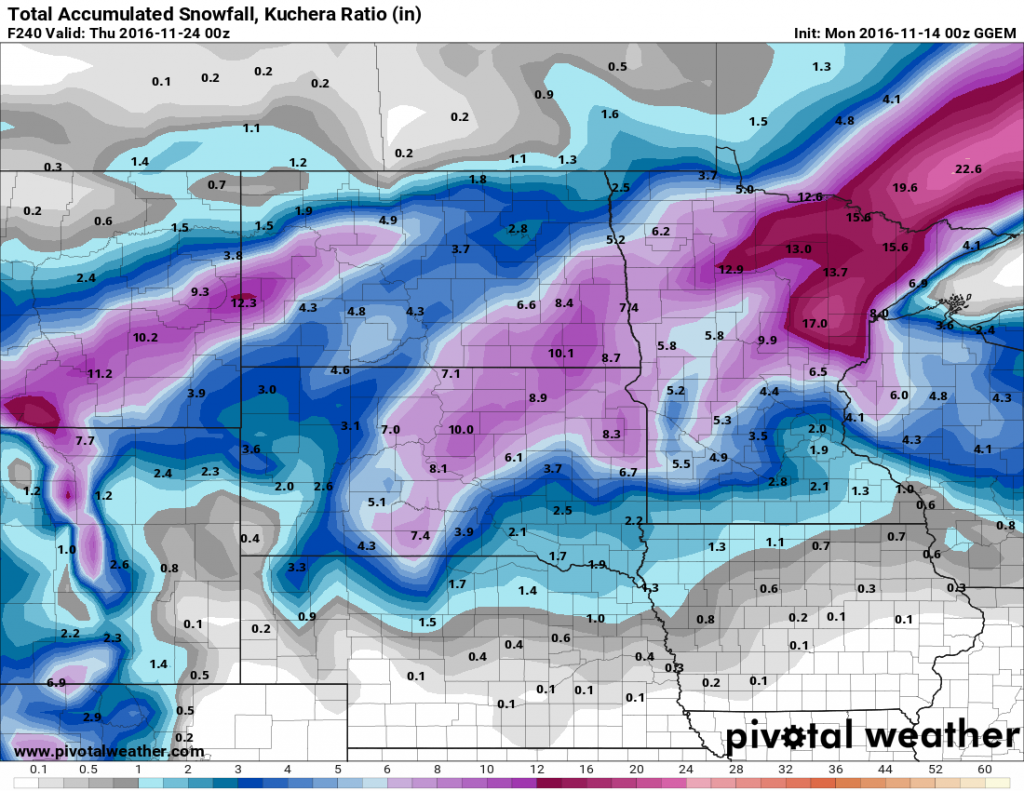 Here's our target area for this system…not bad for 7+ days out.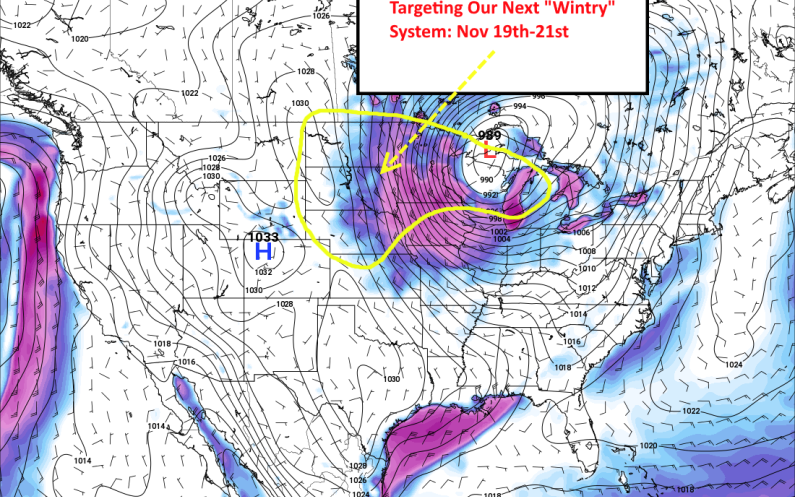 Check out these winds associated with this system…mix heavy snowfall with gusty winds and that's a recipe for a nasty winter storm. Below also is the Canadian precip-type map that shows the snow (heavy?) on the backside of this system in the area where we targeted as well.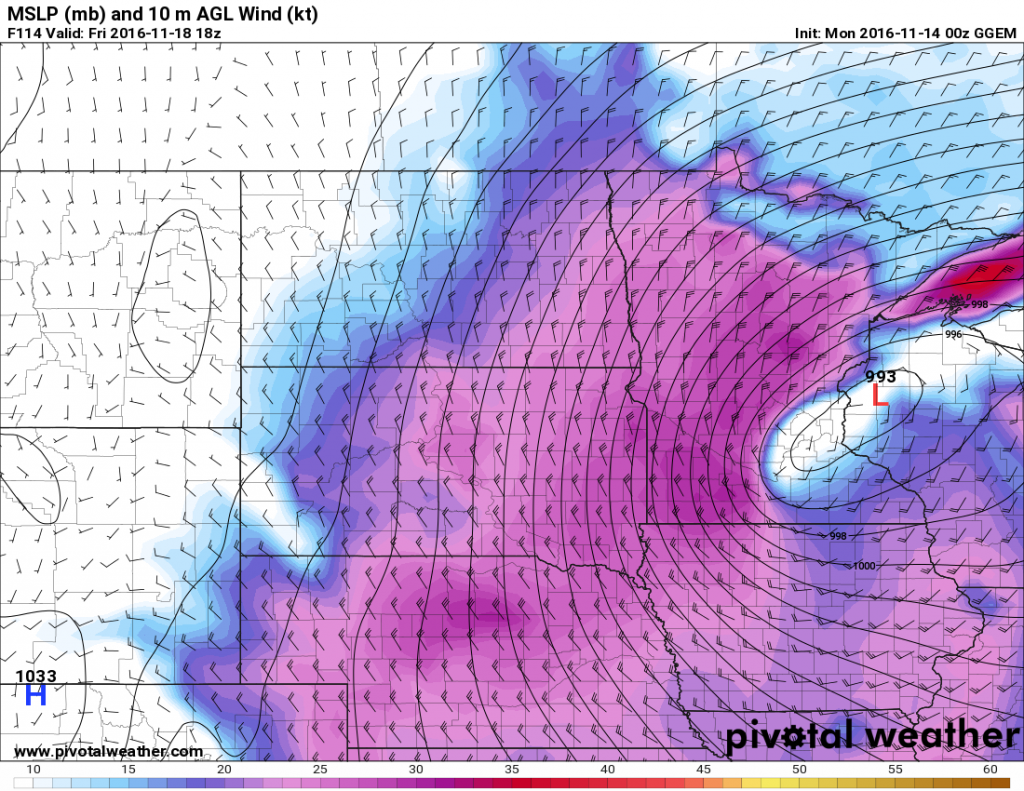 Precip-type: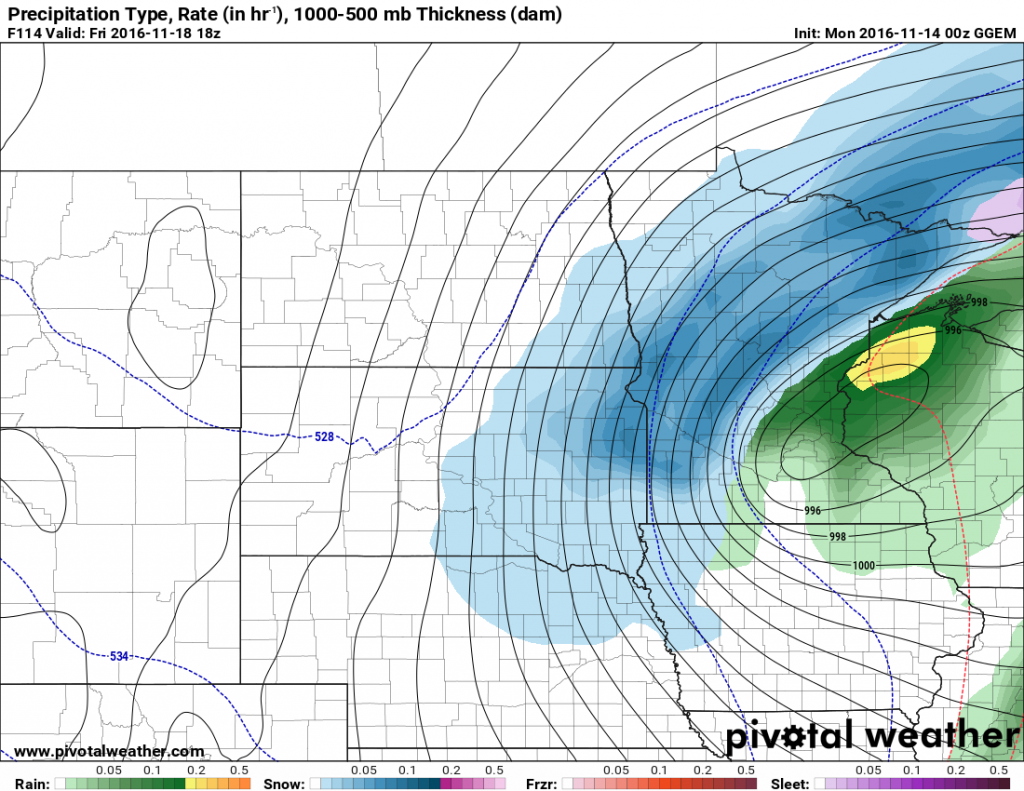 Lastly with this system next weekend, I wanted to briefly touch on our teleconnection pattern set-up that gives us more growing confidence in this being a "wintry" system. Remember in previous blogs where we mentioned our "favorable" teleconnections were a negative EPO and a neutral to negative PNA to set-up? Check these out below with the 19th-21st timeframe in mind…fairly spot-on. If we would've had a -EPO with a neutral to slightly positive PNA, it would've been more of an Ohio Valley storm track because of a weaker southeast ridge.
EPO forecast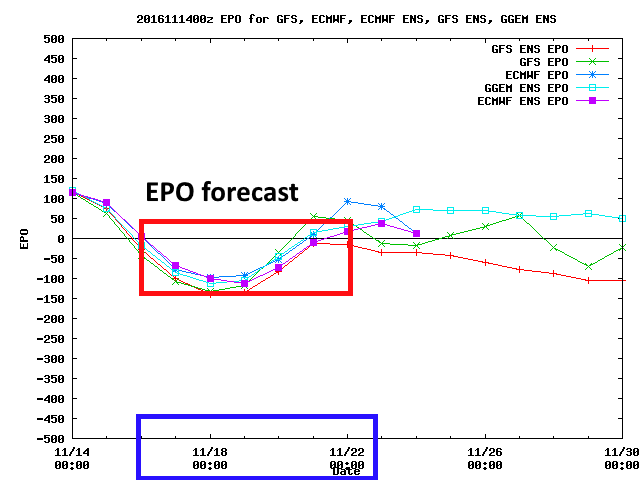 PNA forecast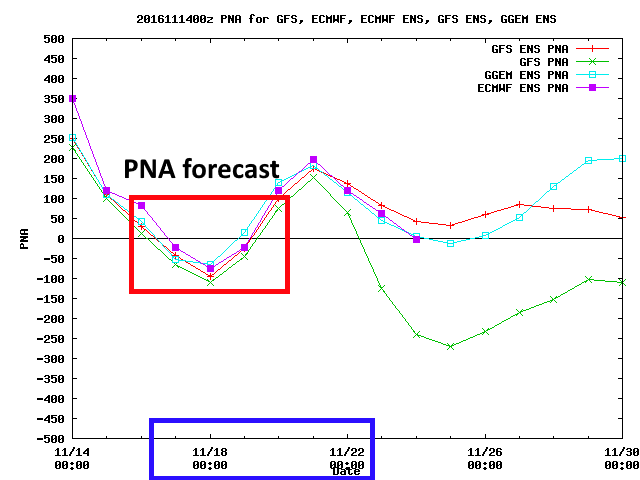 Going Forward: Latest Pacific jet forecast over the next 10 days shows a continued strong influence…what this tells us is that yes there may be cold shots in our current pattern going forward, but it will be hard for any cold air to hold out and be sustained. The pattern will be very up and down as we going into December.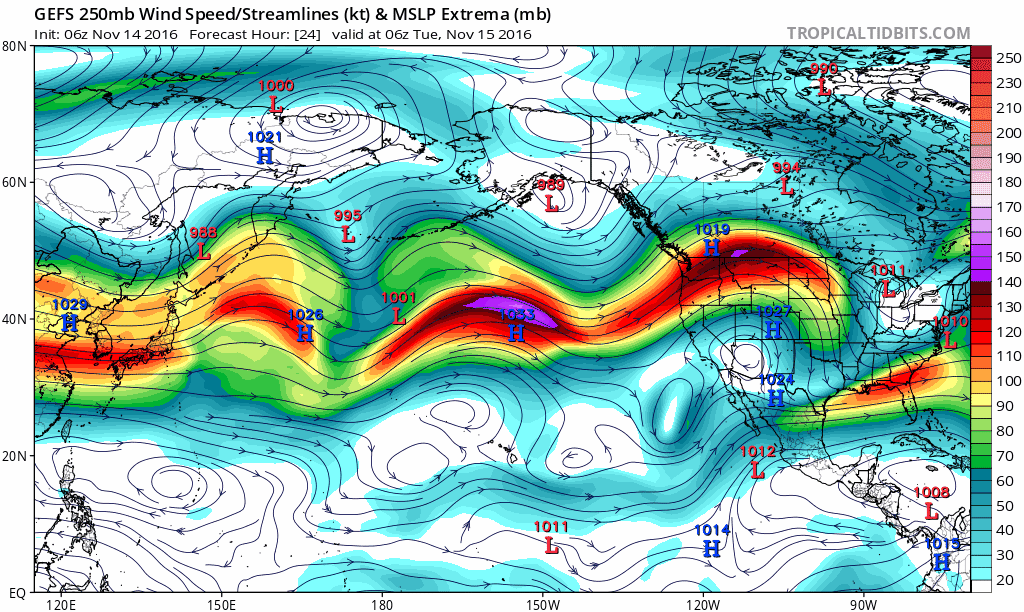 Next Targeted System: Right now we are eyeing the 25th-28th for our next potential "wintry" system. If you subscribe to our services already or follow us on Twitter, you'll remember how we've mentioned for over a month now to look for ~25th of November for a powerful system to move through via the BSR. Below is the reference to the 25th on the BSR and you can note how powerful of system this was moving through the Bering Sea as a 964mb low. 

Confidence with this system right now is very low, as we are lacking much support for this in East Asia right now. With that being said, this morning's GFS run is starting to pick up on a system moving through our timeframe. Please note that the models will definitely wobble a lot with this system as we are 10+ days out right now, but given what we've seen on the BSR for a while now we believe the 25-28th has potential to bring our next wintry system.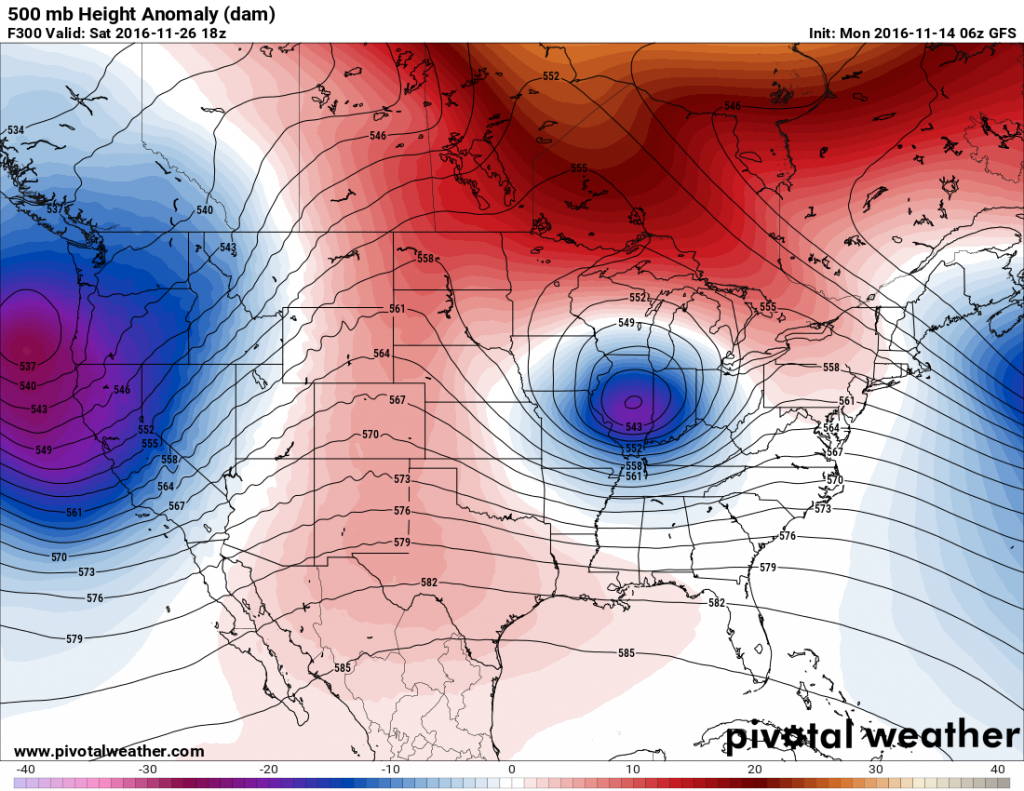 Notice the cold air being wrapped around on the backside of this system similarly to what this system late week/weekend will do. It's not as prominent right now to be sure, but it has the "look" of a potential wintry system.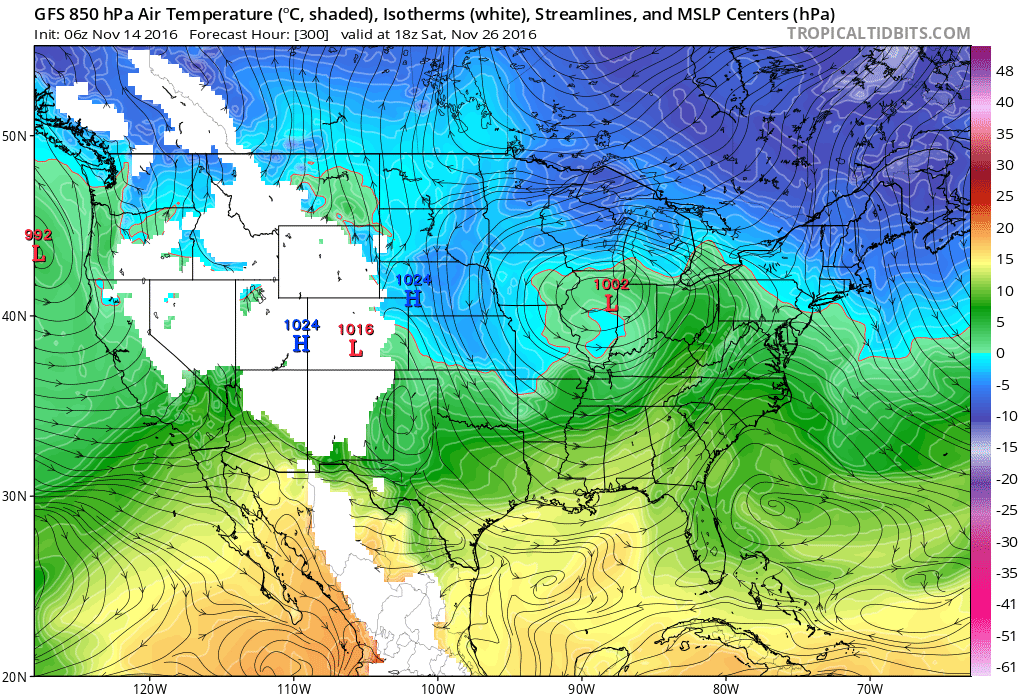 End of November into December: We wanted to take a look at East Asia to get a glimpse of our pattern to end November and to start December. Notice the consistent lower heights move through the Korean Islands forecasted 10 days from now. If we add 6-10 days to this timeframe we would get the end of November into early December where we could see another shot of cooler air and maybe a wintry system. We did want to note also that the BSR suggests a potential ridge popping in the east prior to this timeframe, which fits the continued "roller coaster" pattern we are in currently. Confidence is obviously very, very low at this time but it is worth nothing the consistent trough over East Asia, as this is where we look for our weather patterns to impact the Midwest.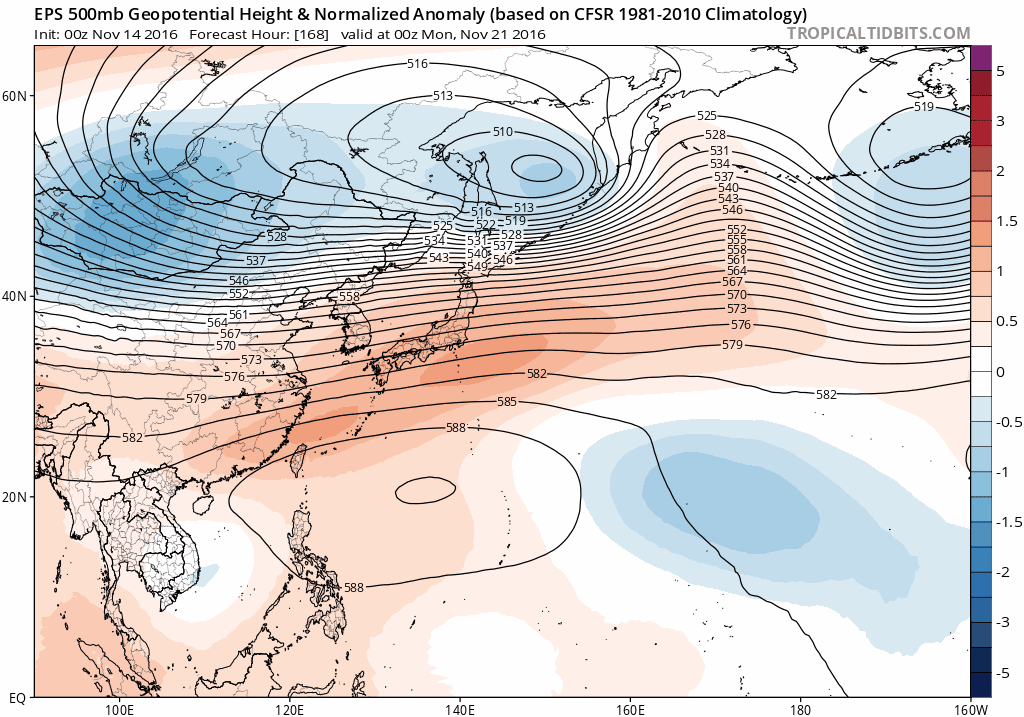 Confidence and Risk:
We have average to above average confidence in the system ending this week into this weekend will bring a big snow-maker for portions of northern Plains…it may even bring the first snowflakes of the season to portions of the Ohio Valley late this weekend
We have above average confidence we will continue to feel the affects of the Pacific jet over the next 10 days, not allowing that sustained "cold" pattern to set-up
We have low confidence in our a "wintry" system moving through the Heart of the Country the 25-28th 
Interested in getting the details on this system as we progress into next week, including timing, intensity, precipitation-type etc? Send us an email to "Info@BAMwx.com" expressing your interest and we will get you taken care of! 
Thanks for checking out the latest Winter Threat Assessment blog! Here at BAMwx, we specialize at giving you the most accurate weather information possible for when you have to make those high-cost decisions such as whether to plow or not, to pre-treat, lay salt, etc. We take the guesswork out of your daily weather-related tasks, no longer will you need to waste precious time and money averaging out 5 different forecasts from the local newstations to still not have a clear picture what's going to happen. You also get the option to speak to an on-call meteorologist 24/7, so your needs will always be met. We provide verified snow totals as well to certify your work. We make weather as simple as possible for you, while providing exemplary customary service.
-Kirk