11/10/16 Winter Threat Assessment Blog – Targeting Our Next Winter Threat
Synopsis: Hey there and thanks for checking out the latest edition of the Winter Threat Assessment blog. The focus of today's post is to express our concerns of a strong system that looks to be moving through the Plains eastward late next week into the weekend…which is in our 7+ day timeframe for this blog. Let's first touch on the influence of the Pacific jet extension going forward since our last post.
Pacific Jet Influence: To put it simply, the jet extension is still there over the next 2 weeks which will really keep any sustained cold at bay. Here's the forecast for the jet over the Pacific tomorrow vs about 2 weeks out…yes the ensembles want to "weaken" its influence, but the influence is still there. 
Tomorrow: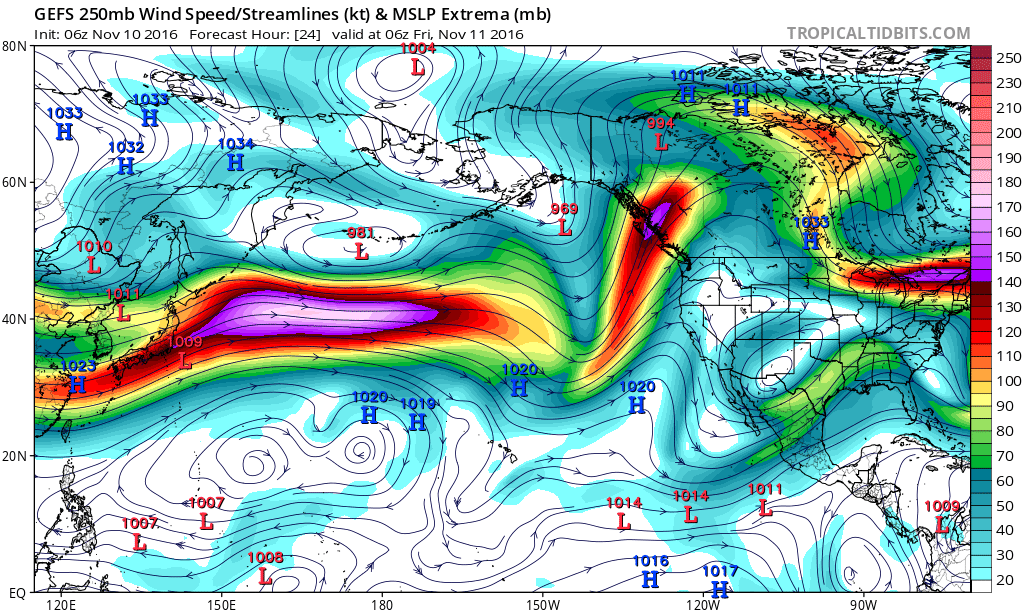 ~ 2 weeks time forecast: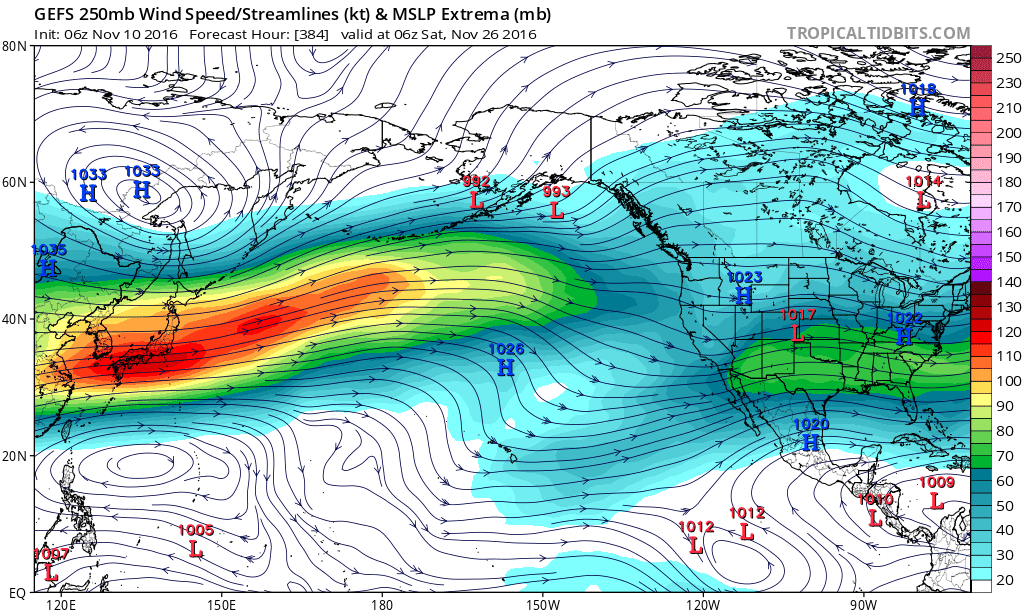 Something we haven't touched on yet in this blog is the "why" behind why the strong Pacific jet extension is a problem for sustained cold. This simple graphic below should help illustrate this nicely…notice the warmth of the waters that are "below" the Pacific jet…there's nearly no cold water beneath those 100kt+ winds. So all of that warm air gets pumped into the US without much of anything in the way to stop it.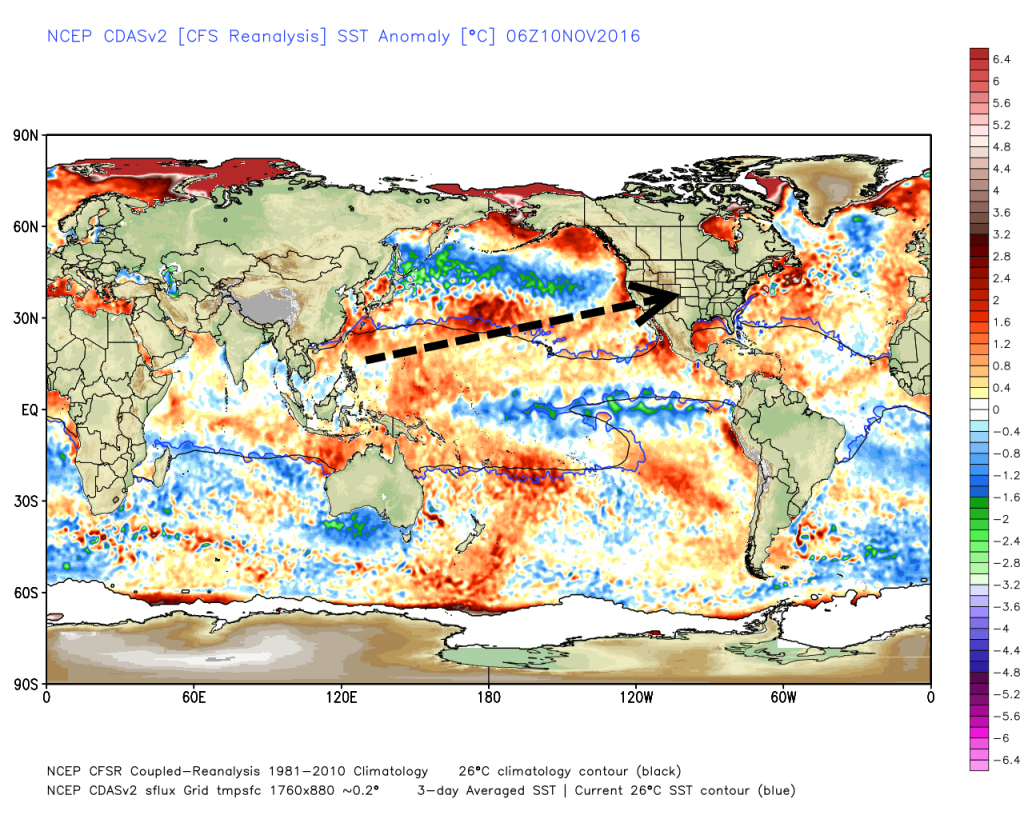 AAM: Before diving into our actual system, I wanted to cover another "driver" behind the influence of our current pattern. The AAM, or atmospheric angular momentum, basically tells us the background state of the atmosphere whether it's El Nino, neutral or La Nina-like conditions. Yes, we've technically been in a weak La Nina state with the waters in the ENSO region, but you can see below the AAM is actually still in an El Nino-like state (anything north of zero on the graphic is El Nino, below is La Nina). Until we start getting a negative AAM and a negligible Pacific jet influence, it will be difficult to get a consistent cold supply of air to support "winter" weather.
Current ENSO status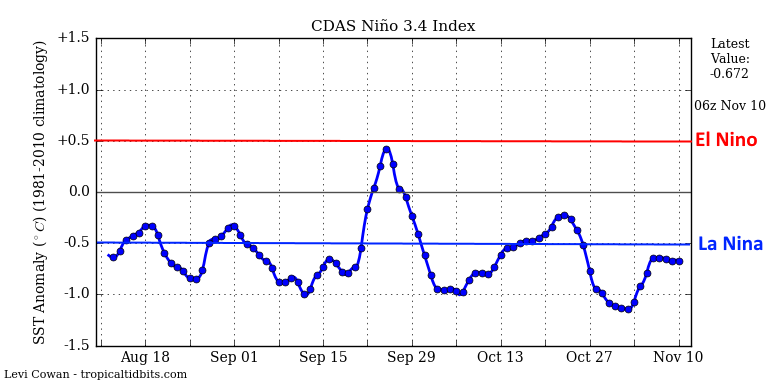 Current AAM forecast via GEFS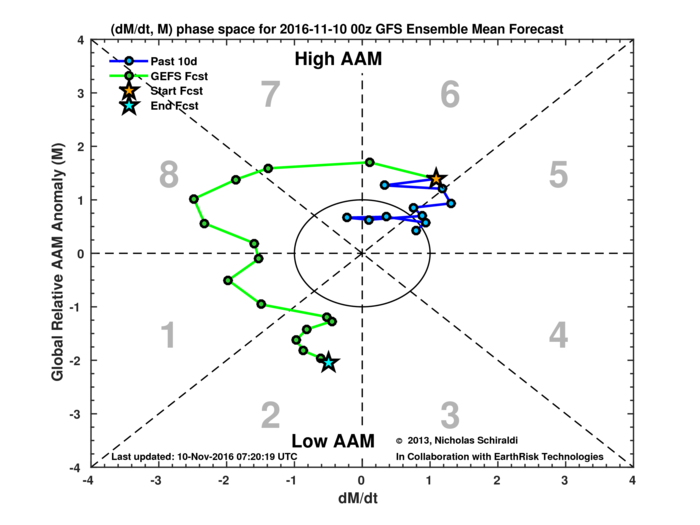 Here's another great graphic of the AAM state where it shows the trend of positive to negative over the next 2 weeks. It should be noted also that the GEFS has had a bias of over-strengthening a negative AAM (or La Nina-like conditions) in the long-range, so this is something that will need monitoring going forward. With that being said, it's a very good sign to see the trend heading in the right direction towards a La Nina background state.

Targeting our system: Our dates we are focusing in on right now are the 19th-21st next weekend. Firstly I wanted to take a look at the trends of the last 5 GFS runs…you are seeing that right, we are trending a deeper trough further west with each of the last 5 runs.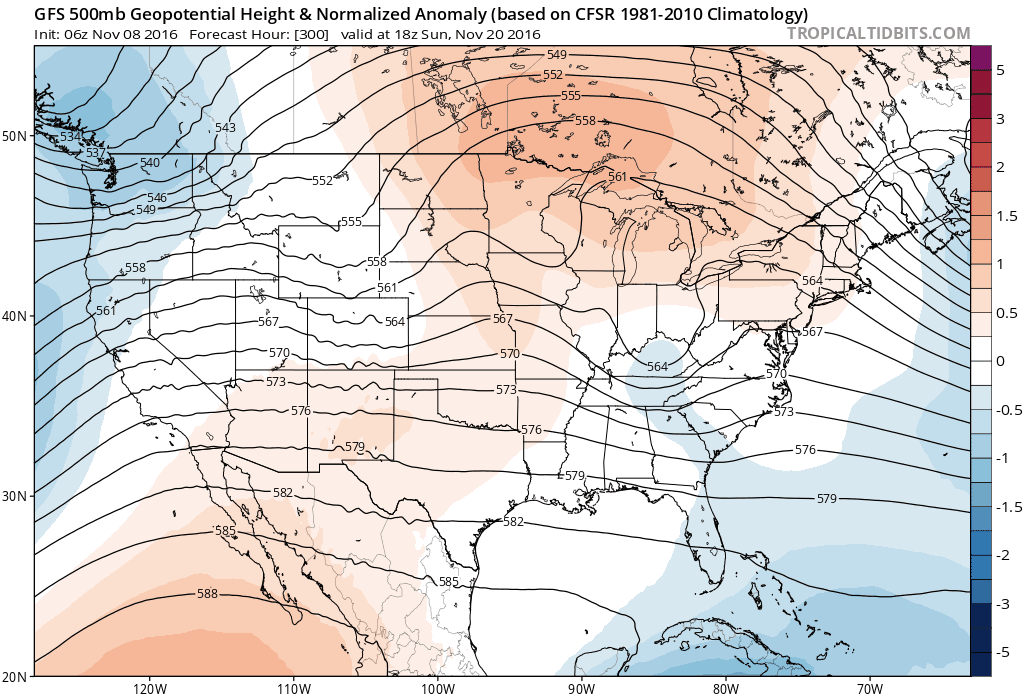 The question now becomes will it be cold enough to support a "wintry" system. If this trough continues to deepen west and pull down colder air from Canada, we could see some frozen precipitation on the backside of this system. Below is this morning's GFS run showing temperatures at the 850mb (5,000 ft up) level. There still isn't a large supply of cold air above that would suggest this system has frozen precipitation widespread potential…but if this current pattern were to happen tomorrow for example, I would not be surprised to see some snowflakes on the backside of this system.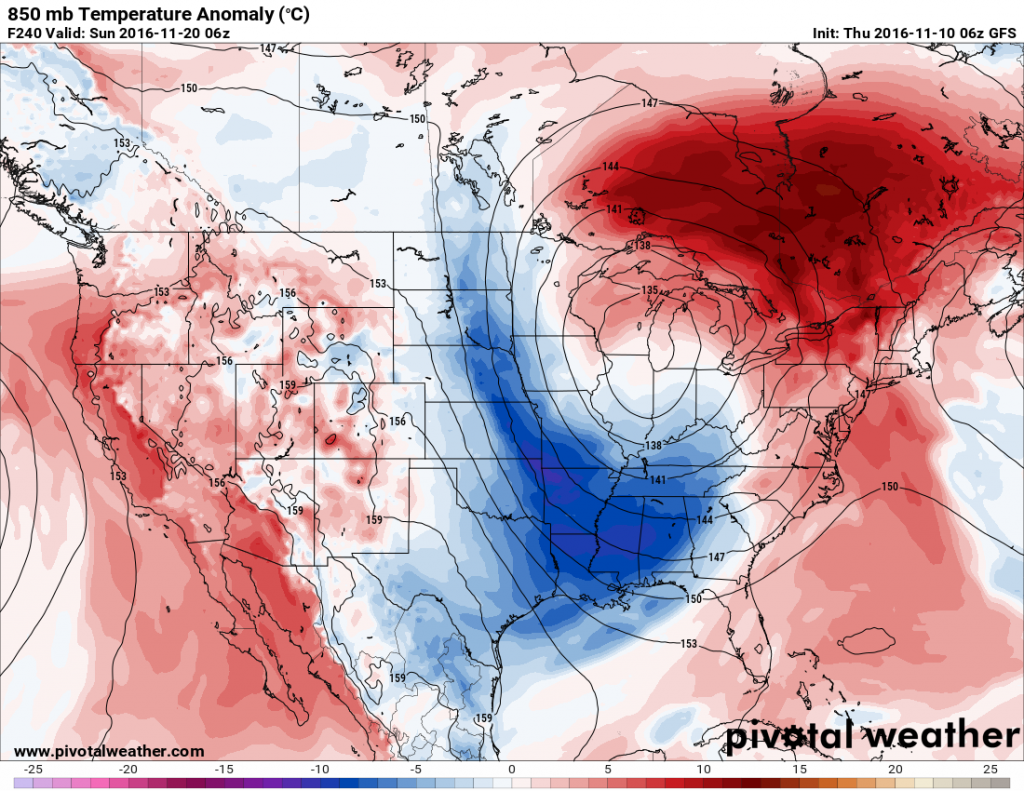 Here's the European take on this system below. Notice how it also has a trough digging in in the same time period, but the cold air supply at 850mb is definitely warmer than the GFS solution. At this juncture it's not safe to say which is right or wrong, or whether either solution has true merit. With that being said, even if we have very low confidence in this system bringing wintry weather to portions of the Corn Belt/Midwest/Ohio Valley, it's worth mentioning 7+ days out.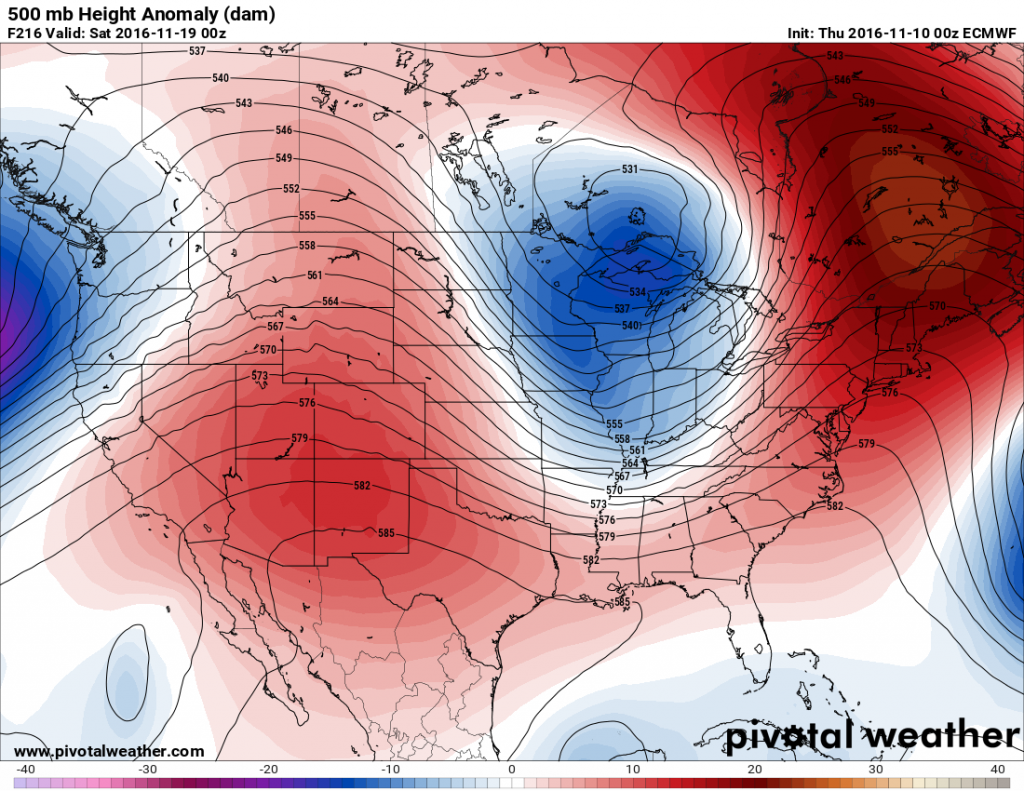 850mb temps (Euro)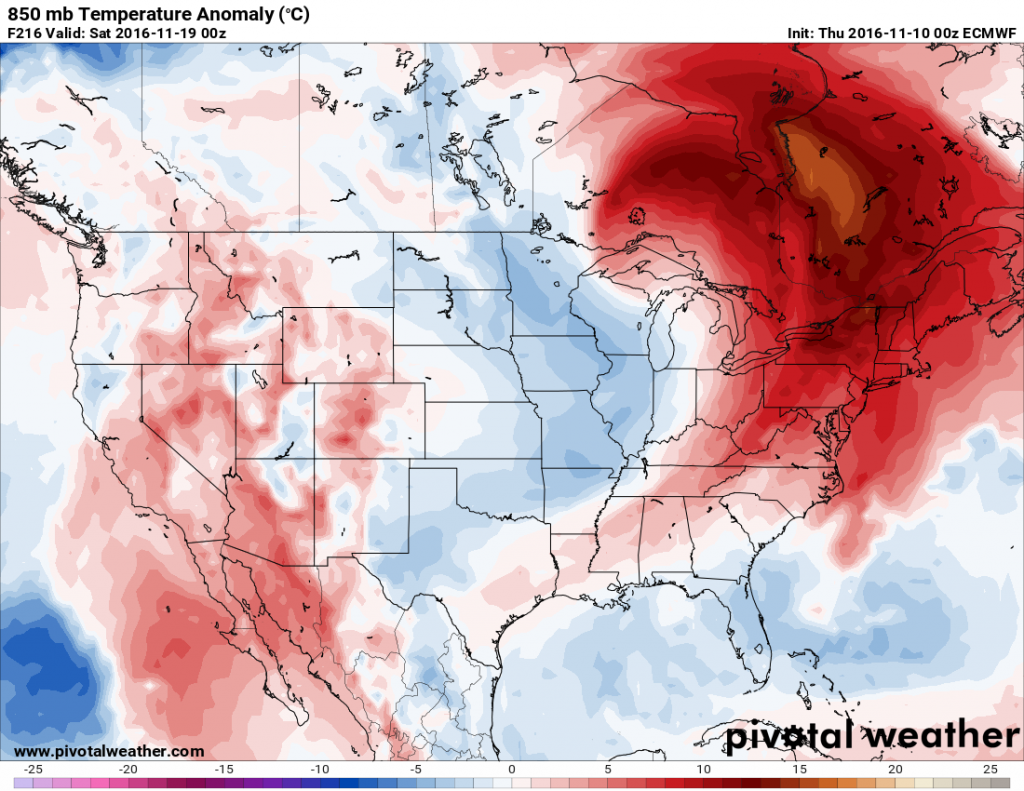 I know you are all asking, yes this is all fine and dandy but WHERE will this potentially occur? Here's my best interpretation based off of current data: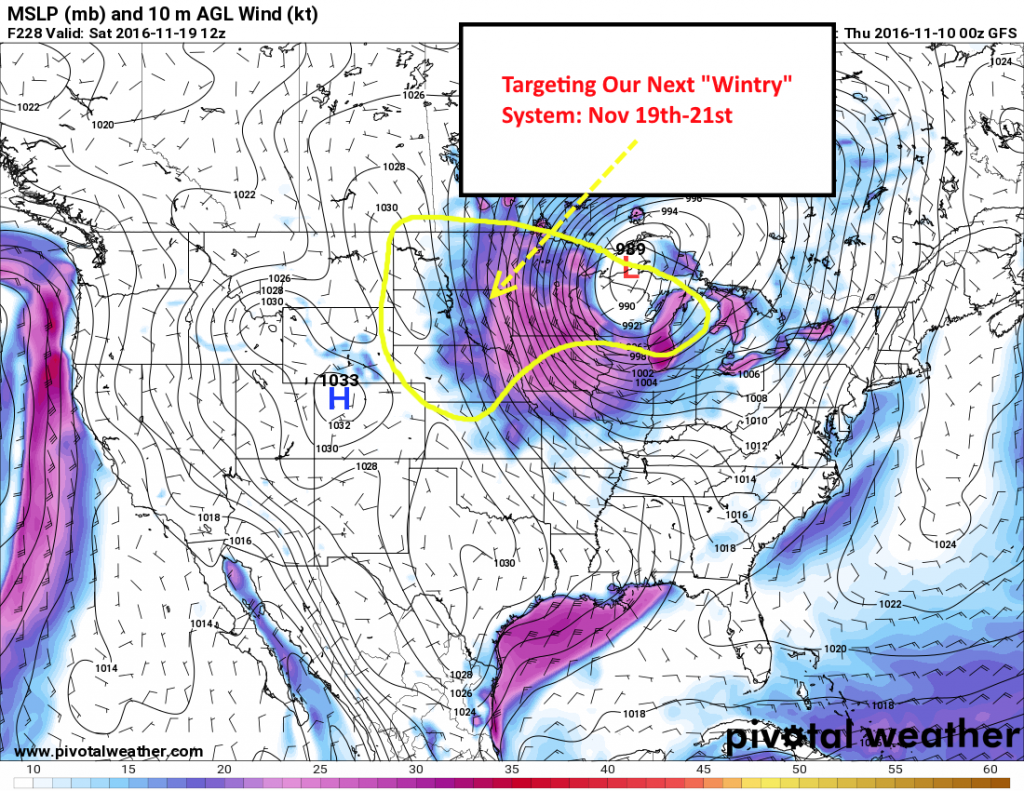 Summary: Confidence with this system right now is below average to low because of our forecast models variability in timing, location and intensity. However, it is a positive sign that the GFS has continuously deepened this system and pulled it west over the past 5 runs. The issue will be the cold supply at the surface and up above in the atmosphere. If we aren't below 0°C at  the 850mb level there's virtually no chance the precipitation that falls will be frozen. On the other side of things, if this system continues to deepen and get colder up above, we could see some frozen precip on the backside of this system where winds will be pulled down from the north ushering in cold Canadian air. Also worth mentioning is the potential for this being a lake effect event "IF" the air flowing over the Lakes is cold enough on the backside. 
Confidence and Risk:
Confidence still remains above average we continue to feel the affects of the strong Pacific jet over the next couple of weeks

Confidence is below average in the latest AAM forecast taking us from an El Nino background state to a La Nina background state

Confidence is low regarding the timing, intensity and location of potential any potential "wintry" weather next week…forecast needs a lot of fine-tuning
Interested in getting the details on this system as we progress into next week, including timing, intensity, precipitation-type etc? Send us an email to "Info@BAMwx.com" expressing your interest and we will get you taken care of! 
Thanks for checking out the latest Winter Threat Assessment blog! Here at BAMwx, we specialize at giving you the most accurate weather information possible for when you have to make those high-cost decisions such as whether to plow or not, to pre-treat, lay salt, etc. We take the guesswork out of your daily weather-related tasks, no longer will you need to waste precious time and money averaging out 5 different forecasts from the local newstations to still not have a clear picture what's going to happen. You also get the option to speak to an on-call meteorologist 24/7, so your needs will always be met. We provide verified snow totals as well to certify your work. We make weather as simple as possible for you, while providing exemplary customary service.
-Kirk