11/7/16 Winter Threat Assessment Blog – Targeting Our First Winter Threat
Synopsis: Hey there and thanks for checking out the latest edition of the Winter Threat Assessment blog. Today we wanted to cover the potential for our first "wintry" system in the long-range; notice how I did not mention "snow", as the details need to be fine-tuned, but this system is on our radar ~10 days out.
Pacific Jet Influence: Let's touch first on how our Pacific jet extension is shaping up currently vs the over the next couple of weeks. Here's current analysis…notice the influence is still high: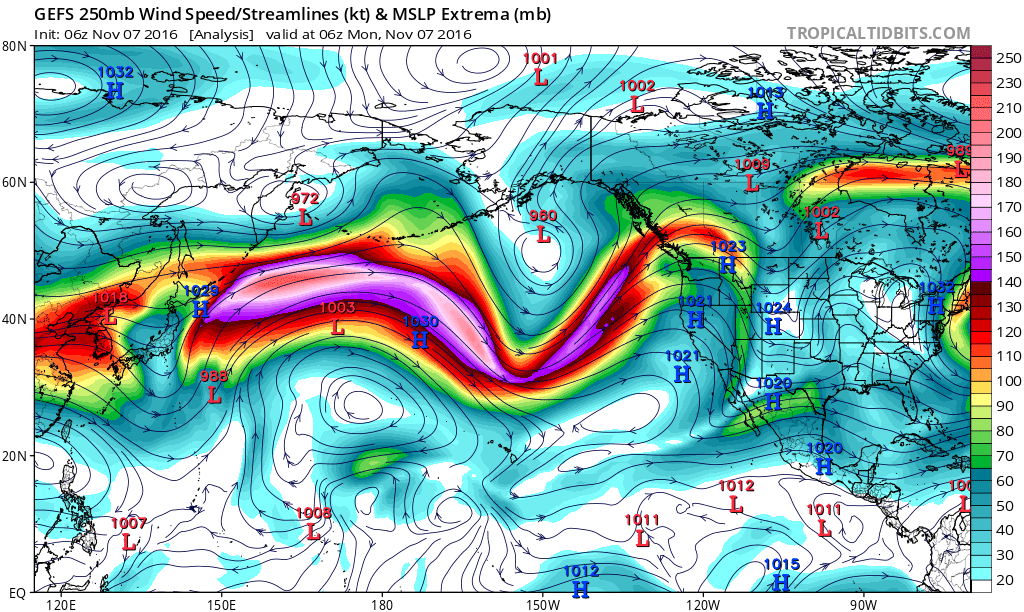 Here's roughly 2 weeks from now…notice the weakening of the strength in the Pacific jet. The influence of the jet will still have a small impact, but it's becoming a more favorable scenario to allow for a cooler pattern to set-up. We are still targeting the 15th-25th for this cooler shift and Thanksgiving week onward for a "colder" shift into December overall. However there is still some "flux" likely in this pattern as we head into December which means overall the warmth is not done yet esp east but the trend is not doubt colder. We realize that this is still a HIGH RISK mention and confidence is somewhat low, but we can't ignore the potential that we've seen in the data lately and it's lining up with our team's research. 
MJO: To continue to breakdown the Pacific jet extension to "feel" an actual difference and see a cooler pattern shift, we need something to break the cycle…or cause a "wave-break". The latest look at the MJO takes us into a Phase 7, 8 and into a 1 which historically has been favorable for cool to cold weather (indicated by the blues below). Confidence in the MJO wave-break is average, but there's no denying that these are favorable "phases" for the MJO to bring a cooler shift. Some of the data does try to suggest a phase 2,3 which for the time of year would be very warm phases into first few weeks of DEC. This however is not supported by much at the moment but it is worth the mention.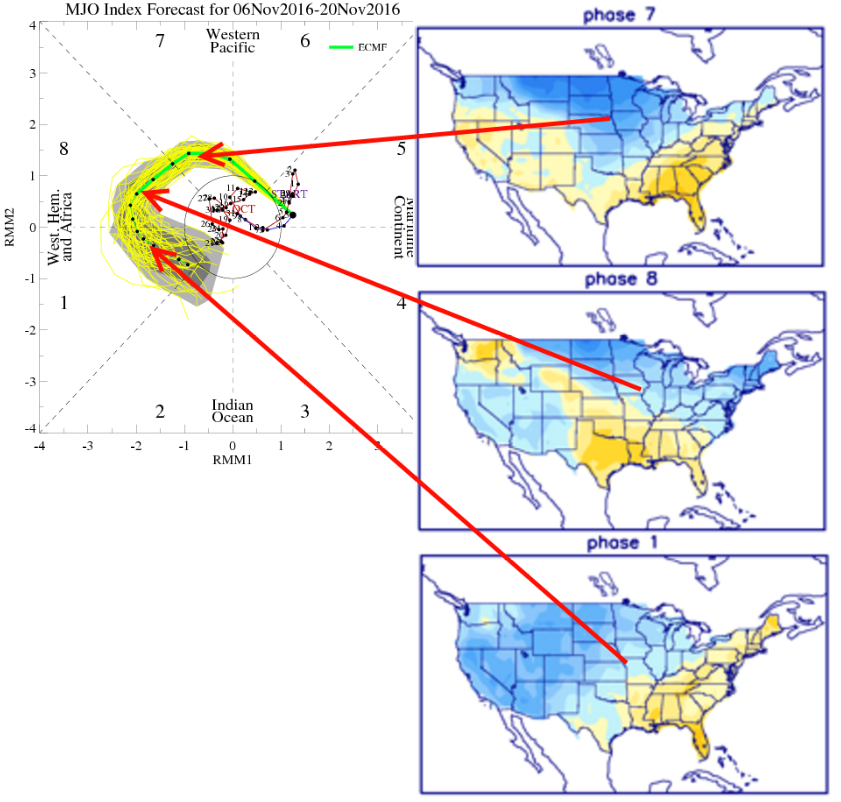 QBO (Quasi-Biennial Oscillation): There's been a lot of chatter lately about the influence of the QBO state and winter impacts. You can see here with this graphic we created of the analog years we are referencing in our winter outlook (1950, 1966, 1983, 1995, 2000, 2005 and 2013), that there is virtually no correlation between the state of the QBO IN OCTOBER (whether it's very negative or positive) as to what the actual temperatures turned out to be. This winter is a culmination of many different factors, not just singling one out like the QBO and focusing on how it impacted winter. We've had cold winters with both negative and positive QBO's, and vice versa.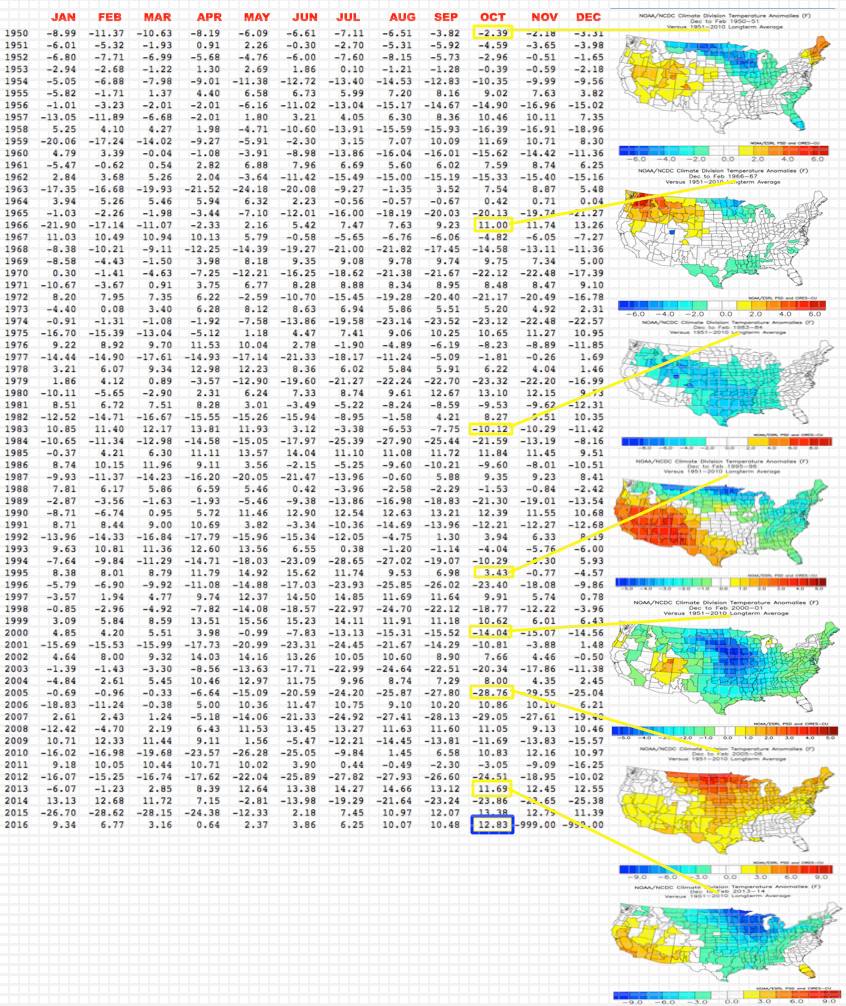 Teleconnections/Pattern: It's important to continue to cover the influence of our teleconnection indices, specifically the PNA and EPO, which have the biggest impact on our weather here in the Midwest/Plains. We are seeing a lot of our "winter pattern" in our targeted system which we are eyeing between the 15-17th next week. Our latest data suggests a neutral PNA and a negative EPO pattern to set-up, which gives us favorable conditions for that cooler Canadian air to filter any with any potential storms.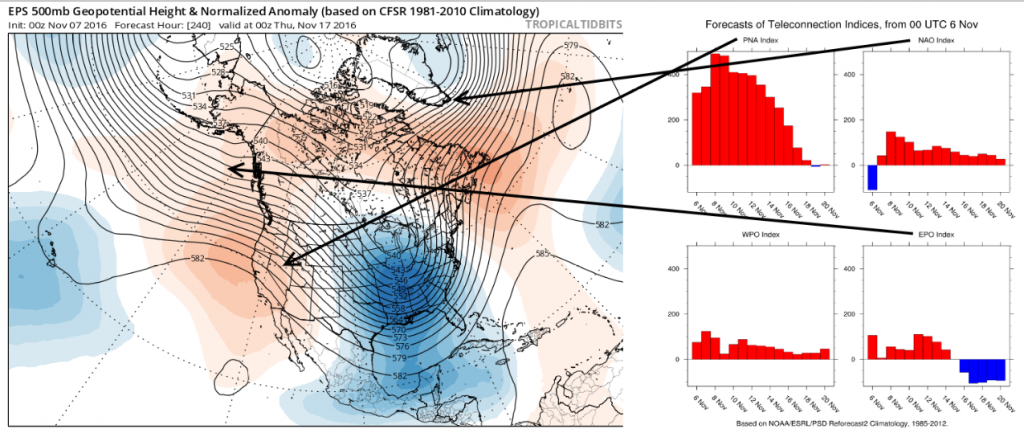 Below is reanalysis of how December shaped up in 2013. Notice how similar our targeted pattern above is to how Dec '13 turned out…negative EPO, neutral to maybe even -? PNA. If you take a look below also at the stats for Indy Dec '13 you can see this pattern gave us 8.8″ of snow and a -1.7°F below normal temperature departure. NOTE: we are not saying late November into December is this pattern, we are simply making comparisons to how similar the teleconnection patterns were. This is similar to how we use our analog years as reference to this coming winter, where we compare current conditions with what we've seen in the past and their results.
December 2013 heights…notice the orientation of the below normal heights
December 2013 temperature summary: (pretty good idea here)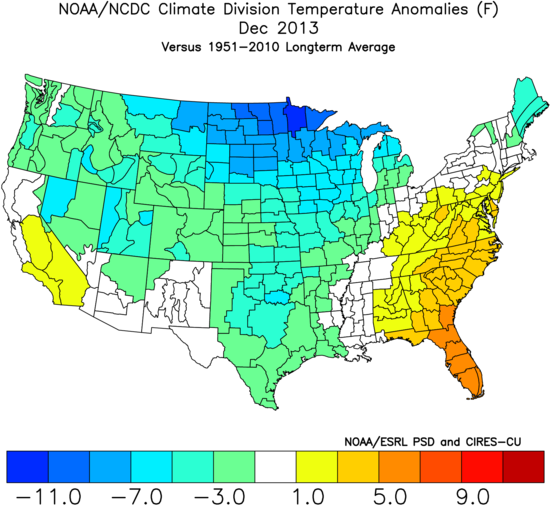 December weather stats for Indy just a general reference point…8.8″ snow, -1.7°F below normal temp departures (matches our current DEC outlook)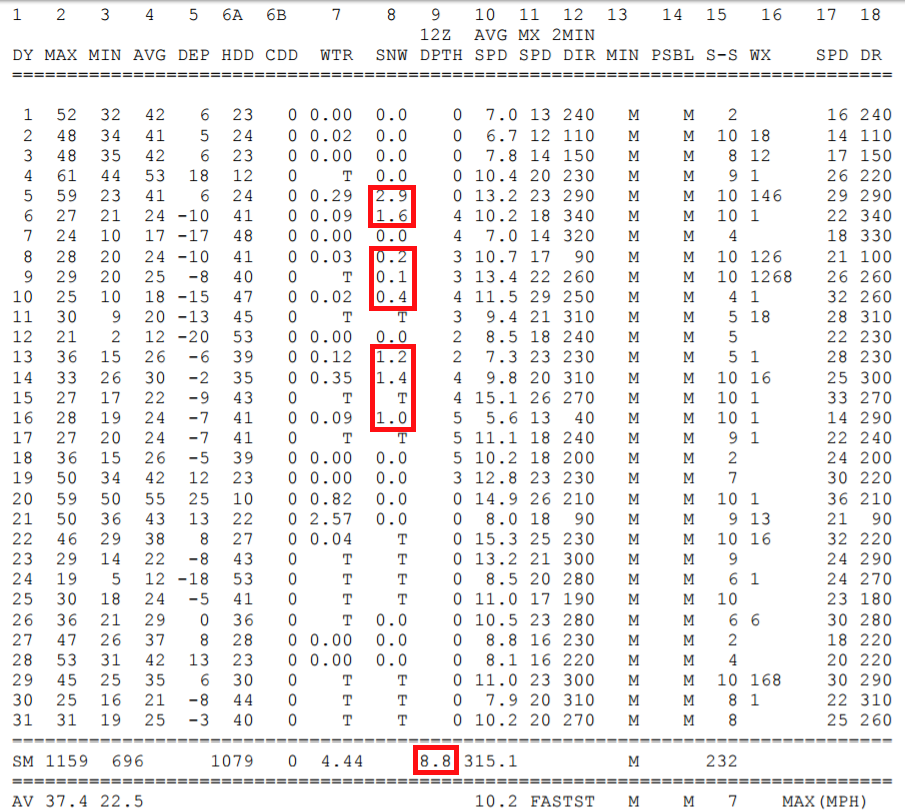 Potential "wintry" pattern: As we mentioned above, the system we are targeting is between the 15-17th next week. We aren't mentioning precipitation-type, totals or specific locations…if you'd like access to those details, please send an email at Info@BAMwx.com to subscribe today! Here's a VERY GENERAL idea of "if" this system panned out right now, where we'd look for a "wintry mix"  or POSSIBLY snow.  Also below is the 850mb temps which show where the coldest anomalies will set-up in this timeframe IF this run of the ECMWF were to be spot on which we will probably see some noticeable adjustments next several days as event nears. There is concern that the air above will not be cold enough to sustain frozen precipitation, so that will need fine-tuned over the next couple of updates also. Keep this system on your radar going forward.
Targeting our first pattern Nov 15-17th (Long time date to Bamwx.com clients via the BSR)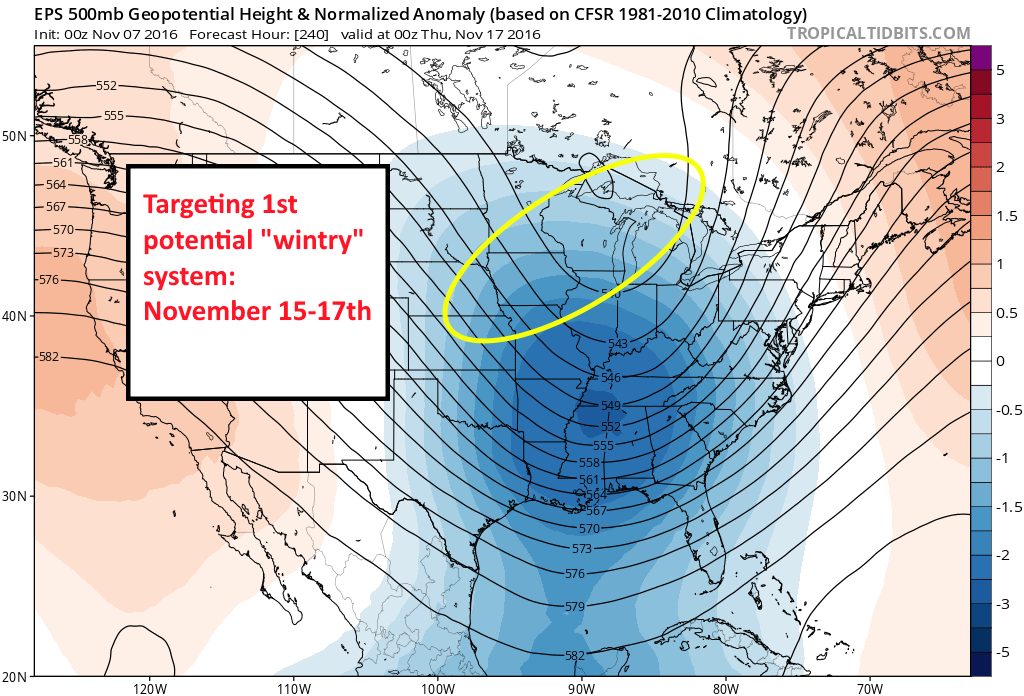 Temps at 850mb (~5,000 ft above the surface)…the colder the anomalies are at this level of the atmosphere, the more likely our precipitation is to fall as "frozen". Notice that that yes they are cold (near-freezing), but are they cold enough? This needs major fine-tuning, confidence is low to very low at this time with this system.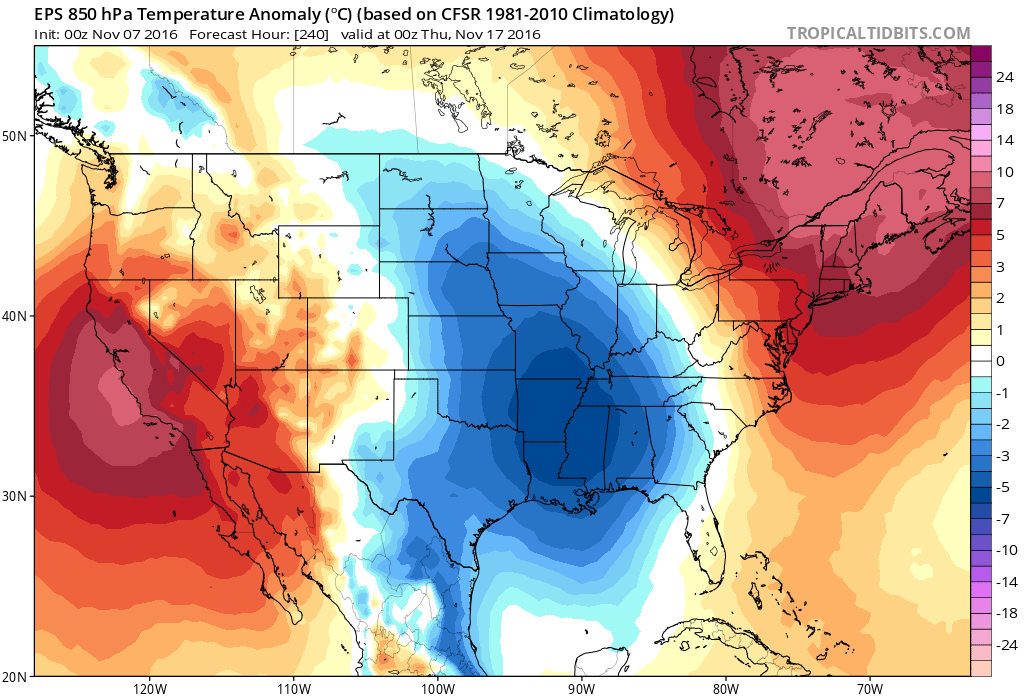 Summary: It's absolutely a "step-down" process to getting into a consistently cooler pattern. We need multiple things to happen almost simultaneously, including the weakening of our Pacific jet, something to actually weaken it enough to reverse the pattern (MJO wave-break) and for a favorable teleconnection pattern to set-up (~neutral PNA with a -EPO). If these pieces of the puzzle happen consecutively, we will see our pattern shift to cooler to colder the 15-25th and colder POSSIBLY into December for the Midwest and Ohio Valley. The east coast and NE may have more of a struggle. If the Pacific jet influence does not experience that "wave break", all bets could be off and the above normal temperature anomalies could continue. The risks are VERY HIGH and confidence is still low to very low in the timing this will take place, but it's important for us to relay the latest data to you, even if it's not in our best interest for a cold/snow winter.
Confidence and Risk:
We have above average confidence in the Pacific jet extension to continue to keep temperatures above normal throughout the core of the US over the next week

We have average confidence right now in an MJO pulse breaking down that Pacific jet extension

We have above average confidence that the state of the QBO in October has little to no impact on the result of the winter pattern

We have average to below average confidence in a favorable teleconnection pattern into mid-to-late November that would allow cooler/stormier Canadian air to filter into the Plains eastward

We have below average to low confidence in our system Nov 15-17th bringing "wintry" weather to portions of the Midwest and Ohio Valley…details need a lot of fine-tuning.
Thanks for checking out the latest Winter Threat Assessment blog! Here at BAMwx, we specialize at giving you the most accurate weather information possible for when you have to make those high-cost decisions such as whether to plow or not, to pre-treat, lay salt, etc. We take the guesswork out of your daily weather-related tasks, no longer will you need to waste precious time and money averaging out 5 different forecasts from the local newstations to still not have a clear picture what's going to happen. You also get the option to speak to an on-call meteorologist 24/7, so your needs will always be met. We provide verified snow totals as well to certify your work. We make weather as simple as possible for you, while providing exemplary customary service.***
Contact us today! Info@BAMwx.com
-Kirk